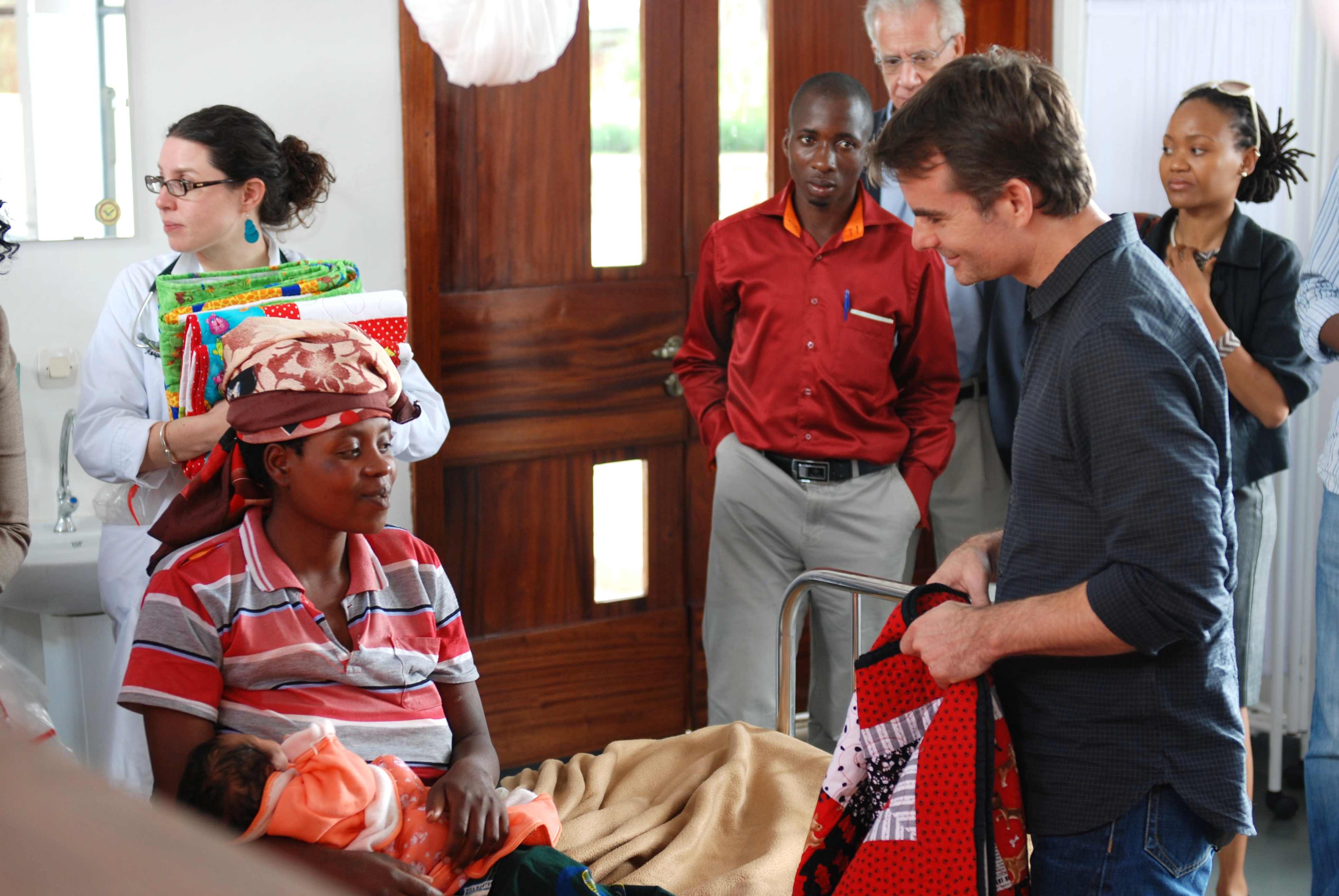 One of NASCAR's top drivers, Jeff Gordon, is taking on a challenge that may not move at the velocity he's accustomed to, but requires the kind of strength, endurance and teamwork that he can relate to. He's tackling cancer in Africa.
This week Gordon visited three hospitals in Rwanda, including Butaro, a facility that Global Health Frontline News reported on earlier this year.
The hospital has transformed health care in Burera, one of country's poorest districts. It links rural community health centers with a well-equipped hospital that provides some of the best facilities and staff in the region.
Now Butaro Hospital plans to add a cancer center that will serve children from across Rwanda. It hopes to open its doors in May next year, providing diagnosis, chemotherapy, radiation and surgery. Preventive and follow-up care will also be incorporated.
The cost of equipping and staffing the center is being shared by the Jeff Gordon Children's Foundation, which is committing $1.5 million, the Dana Farber Cancer Institute, the U.S.-based NGO Partners in Health and Rwanda's Ministry of Health.
This is the first international donation by Gordon's foundation, and it's desperately needed. Partners in Health, which runs numerous projects in Rwanda, says the country currently does not have a single oncologist.
"We're committed specifically to eradicating cancer for all children -- regardless of where they live," said Gordon.
In addition to the hospital visits, the four-time NASCAR champion met with Rwandan officials and representatives of the cancer center's partner organizations to discuss the next steps.
Training of the new center's doctors and nurses will be led by the Dana Farber Cancer Institute and Partners in Health, who will remain closely involved on a daily basis once the facility is operational.
While cancer is a top priority in industrialized nations, it is often overshadowed elsewhere by diseases like HIV/AIDS, malaria and tuberculosis. And yet, according to the World Health Organization, 70 percent of cancer deaths are in developing countries, where treatment is limited or non-existent.
In Rwanda's case, the challenges are still greater. The country's infrastructure is still recovering from 1994's genocide, which left an estimated 800,000 people dead.
"It's been a difficult road in Rwanda," said Gordon, "but I know that we will do great things there and that many of the children that I have now met will go on to live long, healthy lives because we chose to act."
REAL LIFE. REAL NEWS. REAL VOICES.
Help us tell more of the stories that matter from voices that too often remain unheard.