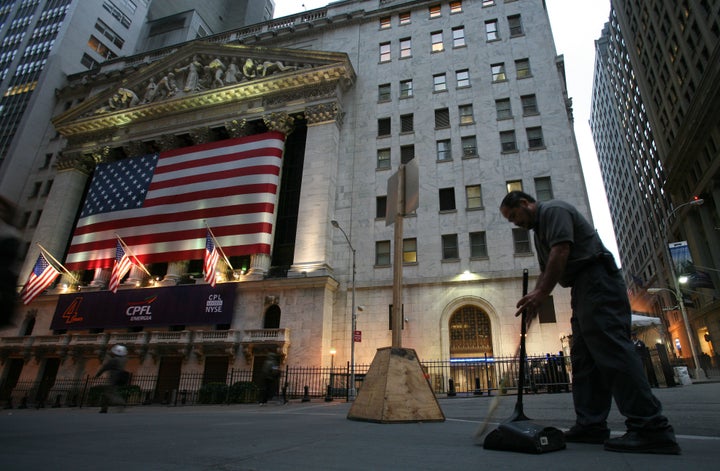 NEW YORK/TORONTO (By Paritosh Bansal and Jonathan Spicer) - Nasdaq OMX Group Inc could launch a rival bid for NYSE Euronext to avoid being left on the sidelines, a source said, as traditional exchanges race to merge to see off upstart electronic rivals.
This is one option Nasdaq, valued at $5.7 billion, is considering as a spate of deals shakes up an industry under intense cost pressure from new entrants such as BATS Global Markets, which last week snapped up rival Chi-X.
Nasdaq's alternatives include tying up with IntercontinentalExchange Inc or the Chicago Mercantile Exchange (CME) to wrest NYSE from its planned $10.2 billion takeover by Deutsche Boerse, the source familiar with the matter said.
Meanwhile, Toronto market operator TMX Group Inc pressed the case for its agreed deal with London Stock Exchange, warning lawmakers opposing the tie up that Canada risked damaging its free-trade credentials if it blocked it.
TMX Chief Executive Thomas Kloet told Reuters he was taking political opposition to a deal "very seriously."
Even so, he said Canada was putting its reputation on free trade and competition on the line as it considers a proposal to create a transatlantic operator worth $7 billion in market value and the world's fifth-largest exchange ranked by trading volume.
"One of the things Canada has to make sure to consider as it goes through this is what if it says no," Kloet said.
But outside Canada, most attention had focused on merger talks between Deutsche Boerse and NYSE Euronext rather than LSE and TMX. The propose combination is drawing comparisons with CME, the world's biggest derivatives marketplace.
Shares in Deutsche Boerse fell 0.6 percent Wednesday, with traders saying that the group's stock was coming under pressure from the NYSE deal. The German group's shares have lost 6.1 percent since the deal was announced.
Nasdaq focuses on intensely competitive, low-margin equities trading, so may feel vulnerable to more price-competitive exchanges that could result from the wave of merger plans.
The Wall Street Journal said Nasdaq may also consider selling itself or buying another competitor if it is unable to compete with Deutsche Boerse on the NYSE deal. A Nasdaq spokesman was not available to comment.
NYSE Euronext and Deutsche Boerse dominate futures and options on European bonds, shares and rates, with Deutsche Boerse's Eurex unit focused on the long end of the interest rate curve and NYSE Euronext's Liffe unit on the short end.
The Deutsche Boerse-NYSE Euronext merger would give the combination annual trading volume exceeding $20 trillion. But to succeed it needs approval from a host of regulators.
The latest wave of consolidation was kicked off by a $7.9 billion bid by Singapore Exchange for the Australia stock exchange operator ASX Ltd late last year. A previous flurry ended with the financial crisis.
NO BIG ASIAN M&A
Asia runs the risk of being left behind in the sudden wave of transatlantic stock exchange consolidation, given its tough regulatory regimes, cumbersome ownership structures and protectionist minded governments.
Thailand's market regulator said that most of South East Asia's stock exchanges are several years away from getting involved in global bourse consolidation.
Exchanges in Malaysia, the Philippines, Singapore, Vietnam, Indonesia and Thailand are setting up electronic trading links between their markets with the eventual aim of having cross-border dealing in all their listed shares.
The exchanges of Southeast Asia, including Indonesia and Vietnam, have a combined capitalization of about $2.4 trillion and were the darlings of emerging market investors last year.
"Right now the only linkage is through the electronic means of this project, and that is the only likely option for now," Tirachai Phuvanatnaranubala, Secretary General of Thailand's Securities and Exchange Commission, told Reuters.
(Additional reporting by Michael Erman; Rachel Armstrong in Singapore; Writing by Anshuman Daga and Alexander Smith; Editing by Neil Fullick and Jon Loades-Carter)
Calling all HuffPost superfans!
Sign up for membership to become a founding member and help shape HuffPost's next chapter