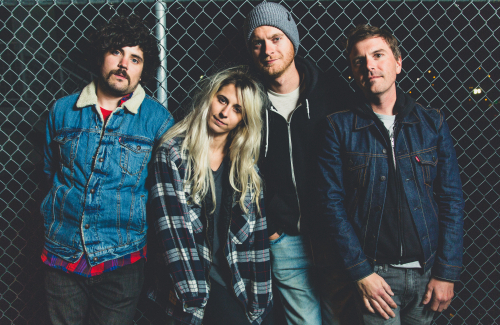 (Photo Credit: Pooneh Ghana)
When listening to the music of Nashville-based indie rock band Bully, there's a little grunge, a little punk, and a little stoner rock, but it really never dives deep into any style in particular. Its controlled chaos is its charm. As the brainchild of singer/songwriter Alicia Bognanno, there's an underlying lackadaisical attitude of Bully that revels in an unpolished sound evident on their debut album Feels Like.
Recently, while on their current tour with Best Coast, I was able to chat with Bognanno about how the band got started, among other things.
You've been a part of the Nashville music scene for a little while in some way or another, why did you decide to start this band Bully?
I guess I've always wanted to start a band. I was playing music before in other people's projects and I just wanted to write my own stuff. I started writing some stuff while I was in Chicago for an internship and then I brought it back to Stewart [Copeland], our drummer, and he really liked it. He was just 'You should just do your thing and I'll play drums for you'. He's a really good drummer. It all started from there.
What was your vision going into it about how this band should sound?
I had no idea how it sounded. Maybe other people don't think this, but sometimes when you write music, you don't actually know how it sounds because you're the one writing it. I didn't have a goal. I just picked up the guitar and started playing. I knew I wanted it to be some sort of rock. I didn't want to start like a country band or a folk band or a pop band.
What is your songwriting process?
Usually what happens is I'll sit with a guitar and I usually write songs in two's. I don't know why. It just happens that way. I'll come up with the verse, the chorus, the guitar part, and then lyrics, and then just the melody. Then, I'll bring it to the band and describe how I think it should sound and we go from there. If it's sounding like I imagined, we'll keep it. If its kind of something that I'm not very into, then I'll just scrap it and start another one.
What do you want your music to mean to your listeners?
I guess if they can feel anything that would be good. I don't have anything that I'm dying for them to take away from it specifically. If it can just brings out some sort of emotion than that would be fine with me.
What's your biggest challenge with being an artist?
There's a lot of difficult parts to it. The biggest challenge is trying to figure how to write when you're gone all the time. I guess you really have to learn to let things go because lots of times when you are getting written up about, not everything is going to be exactly how you want it to be or say exactly what you want it say. At least for me, just remembering that it's not going to be perfect or exactly how you want it. It's not about the write-ups about the band. Not like they're bad, but that's just a big part of it.
Describe the live show.
Everyone just plays how they feel like playing. There's no forced enthusiasm. We don't have anything planned out. I don't want to say it's basic. I don't think its basic. I think it's energetic. Its pretty natural.
Bully is currently on tour with Best Coast and will be performing at the Majestic Theatre (4140 Woodward) in Detroit on Friday, June 19th. Its an all ages show and tickets are $15. For more information on the show, visit majesticdetroit.com. Bully's debut full-length album "Feels Like" is out June 23rd. For more information on Bully, visit bullythemusic.com.
Calling all HuffPost superfans!
Sign up for membership to become a founding member and help shape HuffPost's next chapter