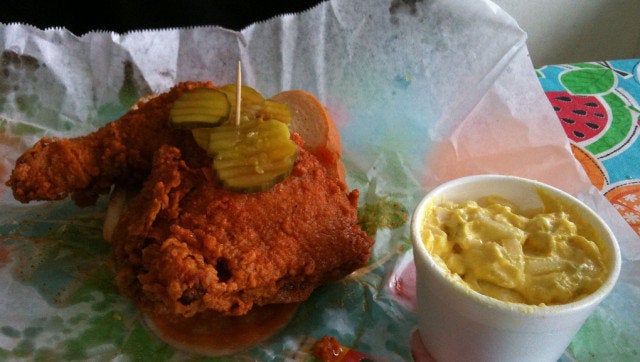 How do the regulars describe their beloved Nashville hot chicken? "Your mouth starts burning, then your lips. Then your endorphin rush, your body -- you feel it going through your body. Then you just start heating up and you start sweating a little bit. And then, next thing you know, it's running down your neck. Then you take your second bite."
Does it sound like a punishment? That's probably because it is -- or that's why it was invented anyway. André Prince Jeffries, owner of Prince's Hot Chicken Shack, tells the tale in the amazing video below: her uncle had incurred the ire of his lady companion and she tipped just a little (a lot) extra hot pepper into the fried chicken seasoning. Instead of repenting under the burn, he fell in love with it and asked her to make it for everyone he knew. That's how Prince's Hot Fried Chicken, the most well-known Nashville hot chicken, was invented.
Make no mistake, this isn't Buffalo-style hot chicken, or any other spicy fried chicken you may be acquainted with. This chicken isn't basted in hot sauce, the "hot" is all in the fried chicken crust itself. Served with dill pickle chips and a bit of white bread to counteract the heat, this regional specialty has become the stuff of legend -- it's even rumored to have aphrodisiacal properties. But don't just trust us, listen to the Prince's regulars tell you how it is below.
The menu at Prince's is simple: fried chicken, a few sides like potato salad and baked beans, pickles and ranch dressing to help put out the fire. You have three choices at Prince's: mild (which, to put it plainly is not mild), hot (which will as they say "put hair on your chest -- hair made of fire") and extra hot (which, we don't even know why you don't have to sign a waiver). If you can't get to Nashville, you can try making your own with one of the many Nashville hot chicken recipe copycats out there, which is great for those who want to control the level of heat themselves.
As one local said, "Just like anything else that's addictive, it can get you, but you don't quit. And this chicken is addictive."