Millennial Muslims in Music City, USA, are searching for a spiritual leader with a big personality to guide their community.
The Islamic Center of Nashville posted a colorful "Imam Wanted" ad on its Facebook page on Jan. 30 to spread the news of its imam search across the country. The mosque, founded in 1979 with a donation from musician Yusuf Islam, hopes the ad will attract the right kind of leader -- someone who can meet the needs of its young population.
"With a farm-to-fork foodie culture, a fast growing economy, and numerous universities in town, Nashville is the country's red hot city," the ad reads. "This progressive community with a passion for engaging the youth, seeks an imam excited about serving the Muslims in Music City alongside an innovative board. We are looking for someone who can continue to spiritually revive the residents of Nashville," it continues.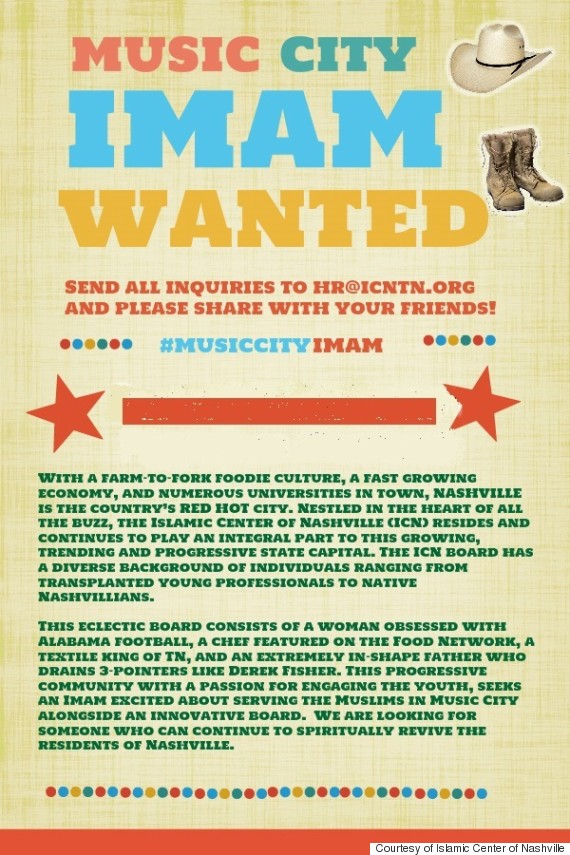 Afnan Adam, a member of the search committee, knows it's a tall order.
"Going in, we did realize it was going to be a pretty daunting task," the 26-year-old Nashville resident told HuffPost. "The supply isn't large and the demand is high. Every community needs a good person who can relate with the youth, but there are not many people out there."
It's a problem likely to get worse as the Islamic faith grows in America. Although Muslims from Africa have been part of this country since its founding, not until the mid-20th century did heavy waves of Muslim immigrants begin arriving from the Middle East and Southeast Asia. Their second- and third-generation descendents now want spiritual leaders who can teach Islam in an American context.
There's no single pathway for becoming an imam and no formal ordination process. Imams are usually faithful and respected community members who are "hafiz" -- that is, can recite the Quran from memory.
According to Adam, the norm for U.S. mosques is to bring in an imam who has studied abroad. He said that applying from abroad wouldn't be a deal breaker for the Nashville job, but that his mosque would "prefer" someone who was raised in America and thus could more easily serve as a role model for the younger generation.
"Someone who grew up here and who understands the struggles of Muslim youth and will be able to relate," Adam said about the ideal candidate.
Azhar Azeez is president of the Islamic Society of North America, a national organization that represents the interests of American Muslims. Over the past decade, he said, he's seen a "paradigm shift" in the qualities mosques are seeking from imams.
"Prior to 9/11, all people would look for is a good reciter of the Quran, someone who can do the basic jobs," he told HuffPost. "But now, as the community is growing, the needs are also growing."
The Islamic society's official magazine, Islamic Horizons, provides listings of mosques looking for spiritual leaders. These days they want individuals who are good communicators and who can be the face of the Muslim community in their respective neighborhoods, Azeez said. They want inclusive imams who will empower women and won't focus on just one ethnicity or school of thought. And they want imams who are dedicated to interfaith work and social justice.
Rashed Fakhruddin, president of the Nashville mosque, said that dedication to those last two issues is key for his community.
"We feel like it's so important that we're part of creating an environment where our differences can be accepted and celebrated," said Fakhruddin, who was born and raised in Nashville. "Being able to speak and work with other faith leaders is so important for our mosque."
A group of visitors from Teach for America stand in the front of the Islamic Center of Nashville. Mosque President Rashed Fakhruddin said that schools, churches and other groups visit frequently, which is one more reason the members need an imam who shares their vision of a community-focused mosque.
Lay leaders have done their best to fill in since the previous imam's contract expired, Fakhruddin said. Volunteers have been giving sermons for the 500 members who show up for Friday prayers. Lay leaders have also stepped in whenever Nashville's Metropolitan Council asks for an invocation at a city meeting.
Fakhruddin has given sermons encouraging the community to participate in volunteer efforts, like the mosque's Friday outreach to the homeless. But having an imam of their own would really make a difference, he said.
"We need an imam to help inspire the congregation to be involved and to believe in this work," Fakhruddin said. "People would listen more to an imam than to a layperson."
The search, which really ramped up at the beginning of the year, has been conducted largely through word of mouth, according to Adam. Out of about 15 applications received, he said, two or three look promising.
He thinks that the shortage of U.S. imams exists in part because many Muslim-American parents don't see the religious life as a viable career for their children.
"There hasn't been much support for it from the family structure or from the community," Adam said. "Generally mosques have been run by donations from community members, and quite a few mosques have been struggling for funding. A lot of parents want their children to be doctors, engineers, lawyers -- careers with higher earning potential."
But Azeez suggested that this attitude is beginning to change. He pointed to several centers of Islamic education in America -- like Zaytuna College in California and the Bayyinah and Qalam institutes in Texas -- that are teaching future leaders.
The Islamic Center of Nashville is trying to stay hopeful and practical at the same time.
"You want someone to come in and fix everything, but realistically that's a lot to ask for from one person," Adam said. "For any congregation, whether it's a church or a synagogue, you're just looking for someone who can lead the community and do good work."
Before You Go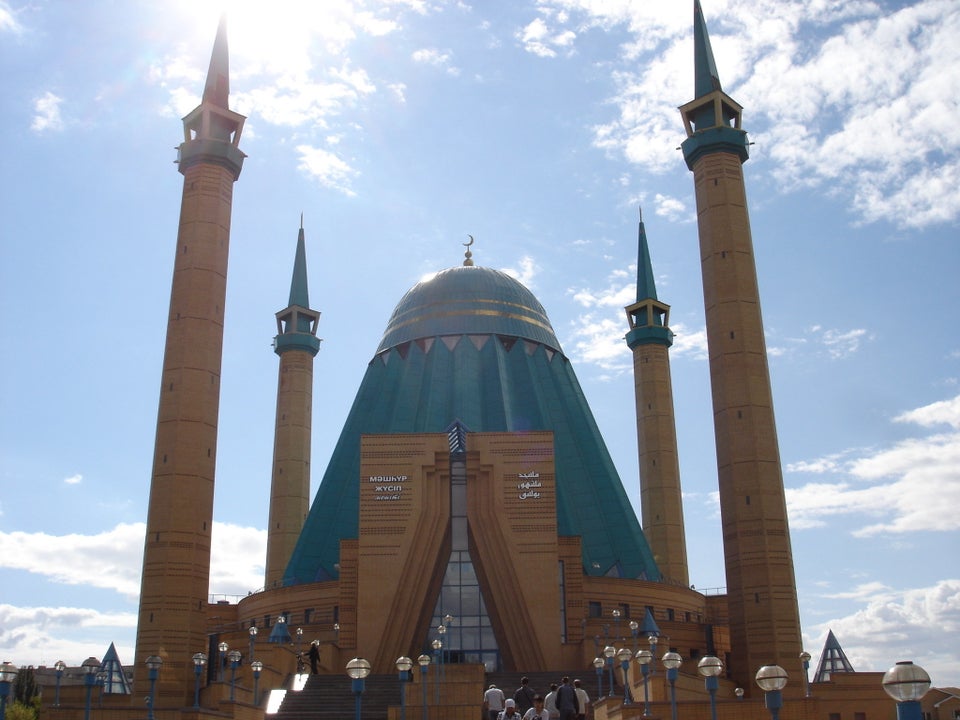 Amazing Mosques
Popular in the Community