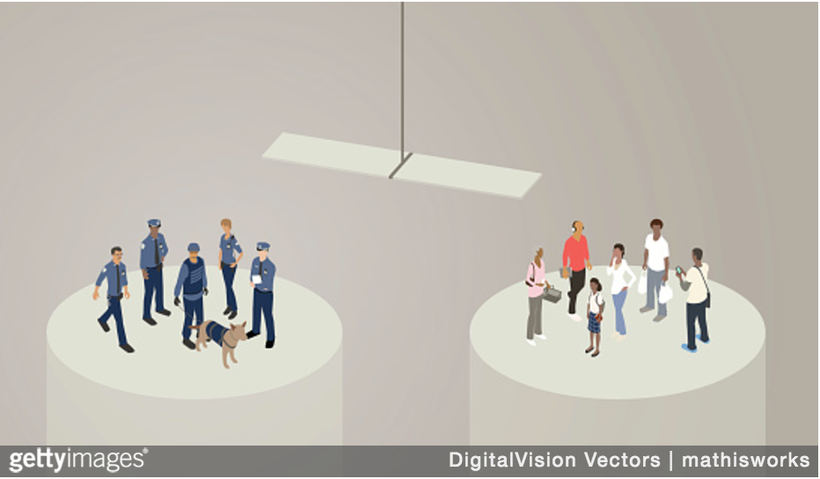 When Matthew Lewis walked into the police station in Nashville, North Carolina, in late 2016, he had no idea how much his life was about to change.
"I had been using heroin for a while," he says. "At that moment I was lost and confused and didn't think there was a way out. But I had heard about a program where I could walk into the police station and ask for help without being arrested."
After Matthew explained his story to a Sergeant and was shown a comfortable place where he could sit, the Chief himself came out to talk to Matthew – and personally drive him to a detox facility at the local hospital.
It might sound odd for a Chief of Police to take the time to drive someone to a local detox, but Chief Thomas Bashore of Nashville has been deeply invested in this program, dubbed The HOPE Initiative, since day one.
"It really comes down to showing compassion to people with a substance use disorder," says Chief Bashore. "These folks have run across a lot of people who stigmatize them and they are often embarrassed to seek help. We try to show them that there is no shame in asking for help."
The HOPE Initiative was the original brainchild of Nashville's Town Manager, Hank Raper, who was inspired to implement the program after seeing positive results from a similar program in Gloucester, Massachusetts.
"I talked about it with Chief Bashore and neither of us had any hesitations," says Hank. "The biggest question on our minds was whether there were any legal barriers to implementing this program. When we found there really aren't any, we decided to go for it."
The HOPE Initiative launched on February 9, 2016 and its first participant walked up the station steps on February 17, 2016. In its first year, 112 people sought help from Nashville Police and received assistance towards recovery from drug addiction, whether through medication assisted treatment, detox and inpatient treatment, outpatient services, or other recovery paths. Over 100 of these individuals were there for opioid use and their average age was 26 years old. They came from all over the state to find hope in Nashville, a tiny town with a population of just over 5000 people.
"Whatever your criminal justice philosophy, there is something to like about this program," says Hank Raper. "We are putting the true spirit of community based policing into action by extending a helping hand to those having the most difficulty."
One challenge that came up during program implementation was that many of the people who come through the HOPE Initiative have pending justice charges or are on probation and are not allowed to leave the county to seek treatment (Nash county has no inpatient treatment facilities). To assist with this, Hank Raper and Chief Bashore enlisted the help of their local District Attorney's office. When appropriate, the D.A. may drop a person's charges to enable him or her to leave the county and seek treatment.
A second issue is cost. People might wonder how a small town with no inpatient treatment facilities is able to find, much less afford, treatment for 112 people. Well, the answer might shock you. The entire annual cost to treat 112 individuals last year came out to just over $11,000.
One of the HOPE Initiative's secret weapons to providing low treatment costs is Amanda Flory, the Transitional Care Social Worker at the Coastal Plain Hospital. The hospital created her position to help assist HOPE Initiative participants in finding treatment programs.
"I try to help people with problem solving and empower them to make choices about what treatment will look like for them," says Amanda. "Most of the people I see don't have insurance, so we try to get creative about how to pay for treatment. Sometimes we can sign the person up for insurance, other times the family is willing to help pay or we might get the faith community involved with financial assistance. Some treatment programs are free if you can get in, so we have a team of volunteers who call treatment programs around the state and country looking for an opening. For people who want medication assisted treatment and can't afford it, I may help them get a job first so they can pay for the program."
Thanks to the HOPE Initiative, people like Matthew Lewis are able to get a second lease on life. After entering detox for a few days, Matthew was taken to a 10-week inpatient treatment program. He now has a job in the service industry and is living drug free.
"Once you get involved and educate yourself about the true nature of addiction, your eyes will be opened," says Chief Bashore. "It's very rewarding when someone comes through the program and you see the transformation that occurred."
For more information on the HOPE Initiative, contact Chief Thomas Bashore at (252) 903-8155 or thomas.bashore@townofnashvillenc.gov.
Calling all HuffPost superfans!
Sign up for membership to become a founding member and help shape HuffPost's next chapter
This post was published on the now-closed HuffPost Contributor platform. Contributors control their own work and posted freely to our site. If you need to flag this entry as abusive,
send us an email
.