Authorities identified the three children and three adults who were shot to death at a private Christian school in Nashville on Monday ― a horror the city's police chief said he hoped "would never, ever come here in the city."
The student victims at The Covenant School were identified as Evelyn Dieckhaus, Hallie Scruggs and William Kinney ― two of whom were 9 years old and one was about to turn 9. The three adults killed were 61-year-old substitute teacher Cynthia Peak, the 60-year-old head of school Katherine Koonce and 61-year-old custodian Mike Hill.
"When we send our kids to school or to any place of safety, we expect them to live, learn, have fun and come back from that day's experience. We don't anticipate things like this," John Drake, chief of the Nashville Metropolitan Police Department, said at the third press briefing of the day.
Authorities identified the shooter as 28-year-old Audrey Hale, who was killed by officers at the scene. Police believe Hale was a former student. They said the shooter was in possession of three weapons at the school: a rifle, an assault-style pistol and a handgun. Two of the three weapons were obtained legally in the Nashville area and the shooter has "no history at all" of past criminal activities, Drake said.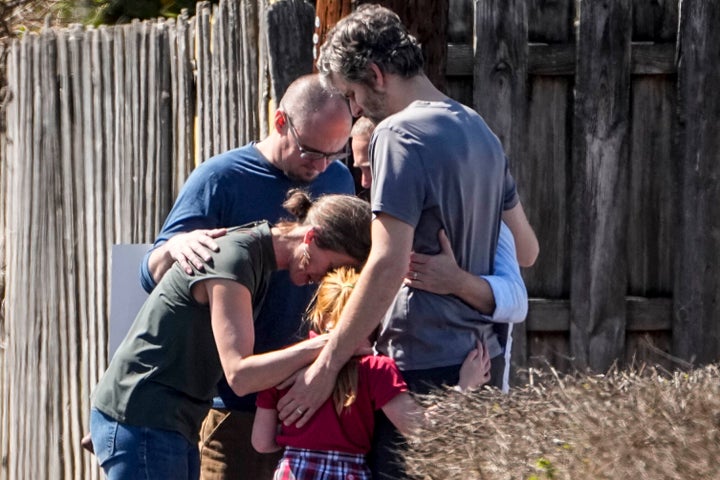 Police are investigating a "manifesto" they found at Hale's house that includes a "map drawn out of how this was all going to take place," the chief said. There is no confirmed motive, Drake said, but police have a "theory that we may be able to talk about later."
A two-minute video of school surveillance camera footage showed Hale driving to the school and then shooting through a glass door to enter the building.
Once inside, Hale can be seen walking through the hallways holding an assault-style weapon.
"There's some belief that there was some resentment for having to go to that school," Drake told NBC's Lester Holt.
On Tuesday, authorities released body camera footage from the scene, showing how the five officers who responded to the scene killed Hale, whom they believe gained access to the school by shooting through a door to the building.
Nashville Mayor John Cooper, who also spoke at the latest press conference, denounced the frequency of gun violence.
"The leading cause of kids' death now is guns and gunfire, and that is unacceptable," Cooper said. After decades of automobile accidents being the top killer of children in the U.S., the New England Journal of Medicine published findings last year that firearm fatalities were now the top cause.
"Guns are quick; they don't give you much time," Cooper added. "So even in a remarkably fast response, there was not enough time. And those guns stole precious lives from us today in Nashville."
Tennessee has some of the weakest state gun laws in the country and lacks many of the safeguards wanted by gun reform advocates, including universal background checks, waiting periods for firearm purchases and assault weapon restrictions.
Marita Vlachou contributed reporting.
Popular in the Community