At least two tornadoes and one funnel cloud have passed through the Nashville area, according to reports received by the National Weather Service.
The Tennessean reported that the first tornado was spotted one mile west of Nashville's CoolSprings Mall at about 2:10 p.m. local time. The second was nearby Dickson, west of Nashville. A funnel cloud was seen five miles southeast of Nashville.
The Weather Channel tweeted this picture with the caption, "Multiple trees snapped in this photo from Nashville, TN. Indication of a tornado."
More than 68,000 are without power, the Nashville Electric Service posted on its website.
Follow live updates below.
04/04/2011 5:51 PM EDT
Fire Department Update
Maggie Lawrence of the Nashville Fire Department tells The Huffington Post, "We did not have a confirmed touchdown. We did have some tornadic activity, but, as of right now, we are not saying we had a tornado touchdown. As far as the casulties are concerned, we're still doing an assessment of that at this time, so we don't have anything definitive we can tell you."
04/04/2011 5:46 PM EDT
Photo: Power Line Down In Franklin
This photo from Franklin, Tennessee, south of Nashville, was submitted by HuffPost reader Al Llamas: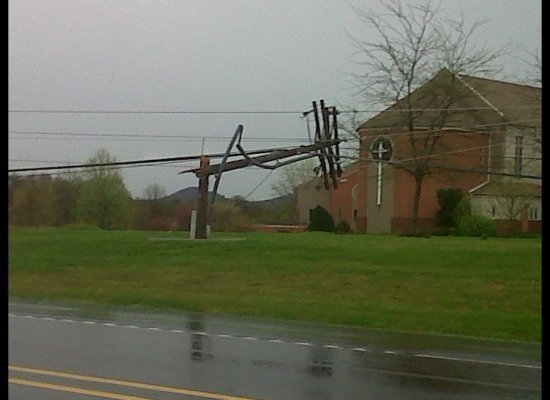 04/04/2011 5:24 PM EDT
Map Of Storm Damage
The Tennessean is mapping out storm damage, where tornadoes have been reported, trees are down, and more. Sources for the map include National Weather Service, police and eyewitness reports.
LOOK:
View
Tornadoes, storms rip through Middle Tennessee
in a larger map
04/04/2011 5:21 PM EDT
Tweets From Around Nashville
Brian Sneed of Hendersonville, Tennessee: "Terrible way to start out the week. Broken down truck and tornadoes. 600students in the basement of the school...awesome. #seriously?"
Maggie Donaldson, of Hendersonville, Tennessee: "Grill blown into the pond, shingles on the front porch, a leak in the ceiling, part of Main Street closed. Gotta love April storms."
Eliza Wines, of Nashville: "Storm took out the cable. Looking at a black screen :-("
Nate, of Nashville: "The storm decided to rearrange our patio furniture for us http://twitpic.com/4h00ka"
04/04/2011 4:54 PM EDT
Tornado Warnings Still In Affect
Tornado warnings are still in affect for some counties in Tennessee, though have since expired for Nashville/Davidson County. Find the latest warnings here.
04/04/2011 4:53 PM EDT
Storm Chaser: "Take Cover"
Leading up to the storm, a Twitter user who identifies himself as Storm Chaser Nick posted this map with the text, "Residents in and around Nashville, TN please take cover now. #tornado"
04/04/2011 4:43 PM EDT
Hopkinsville Manufacturing Plant Hit Hard
Serious damage and injuries to a manufacturing plant in Hopkinsville, Kentucky, northwest of Nashville, suggest a possible tornado touchdown.
Click over to Nashville's News Channel 5 for video and photos.
04/04/2011 4:35 PM EDT
On The Ground: "It Touched Down In A Couple Places"
Don Peterson, 86, in the Nashville suburb of Bellevue, told The Huffington Post by phone:
"Evidently it touched down in a couple places but we have not been affected by it. Rain to beat hell here. Winds are up to 70 miles an hour. In fact, we had some bradford pear trees in our yard and they were bent over about half-way because the wind was so strong, but thankfully they survived."
REAL LIFE. REAL NEWS. REAL VOICES.
Help us tell more of the stories that matter from voices that too often remain unheard.