Ashley Lewis and Alex Dennison of Australia's New South Wales are proud parents to a now-8-month-old German shepherd named Nasra. Knowing that Nasra wouldn't stay small forever, the couple documented the puppy's growth by taking a photo of Lewis holding Nasra about once a month.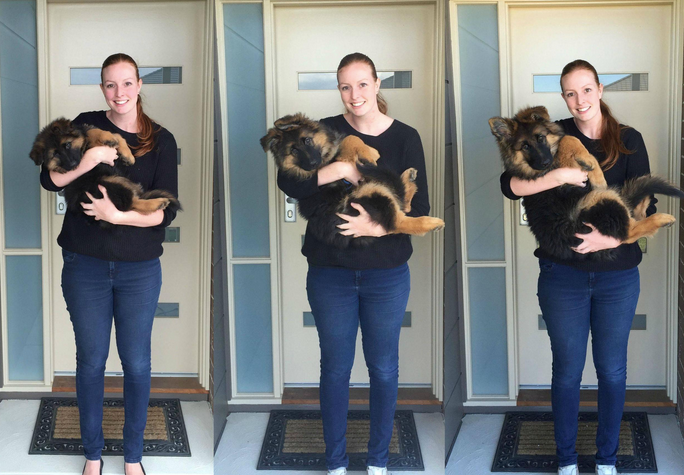 The result? An adorable photo project showing the pup's evolution from a little, fuzzy 8-week-old baby to a ginormous 8-month-old pooch.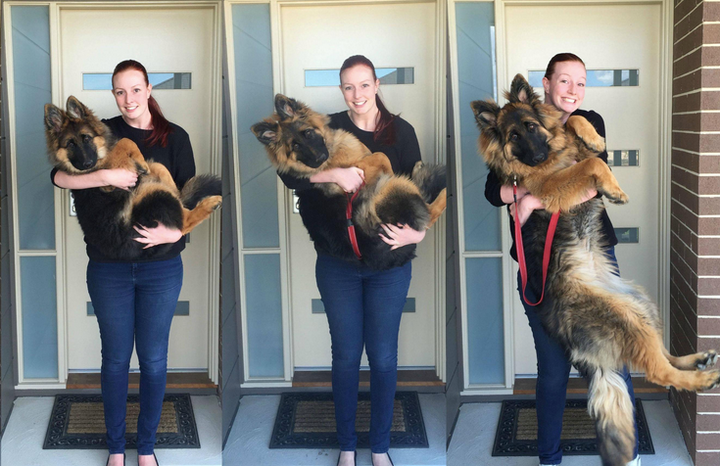 The photos were shared on Reddit earlier this month. To the couple's surprise the post quickly went viral with more than 6,200 upvotes and over 3.1 million views on Imgur as of Friday afternoon.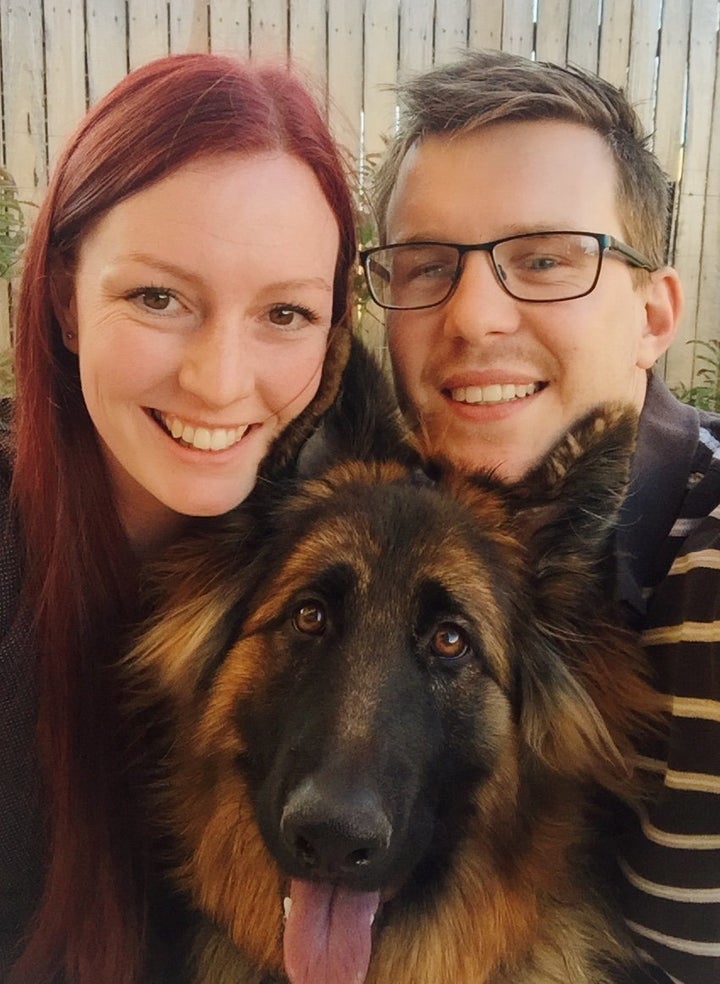 "We were completely blown away by the response [and] still are," Lewis told The Huffington Post. "We never in a million years thought it would be seen outside our friendship circles, let along seen around the world."
Lewis said the couple wanted to emphasize Nasra's change in size and to do so, they made sure the photos were taken in the same spot each time. Lewis also wore the same clothes in every picture.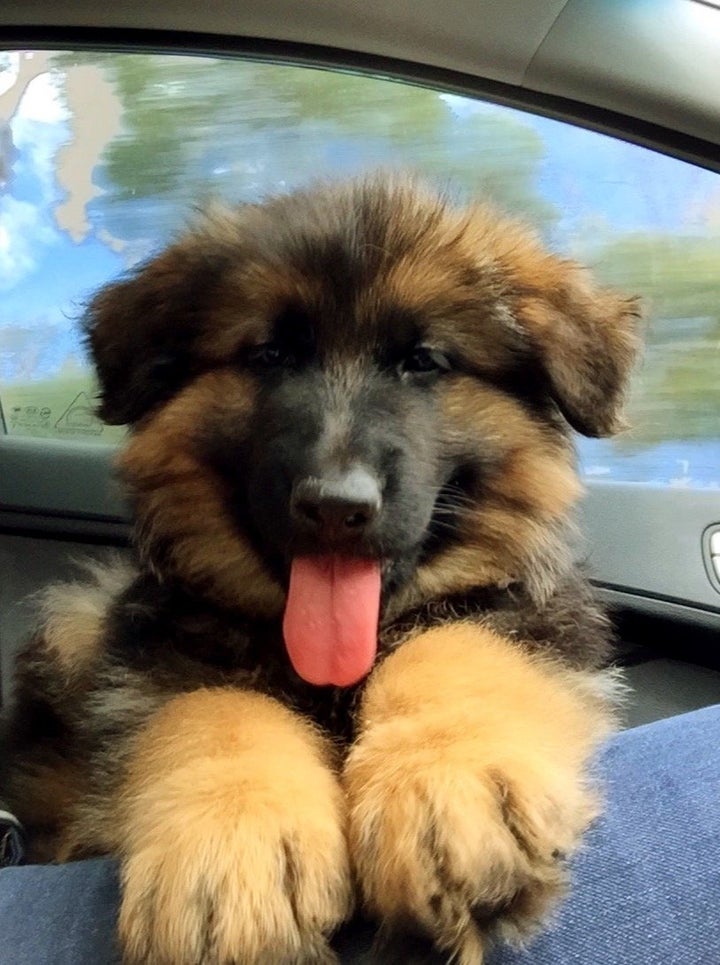 While it was easy to pick Nasra up at first, holding the pup became increasingly difficult for Lewis because of the dog's tremendous growth. 
"The first four I could hold her easily but the fifth was difficult and the last had to be taken very quickly!" she explained.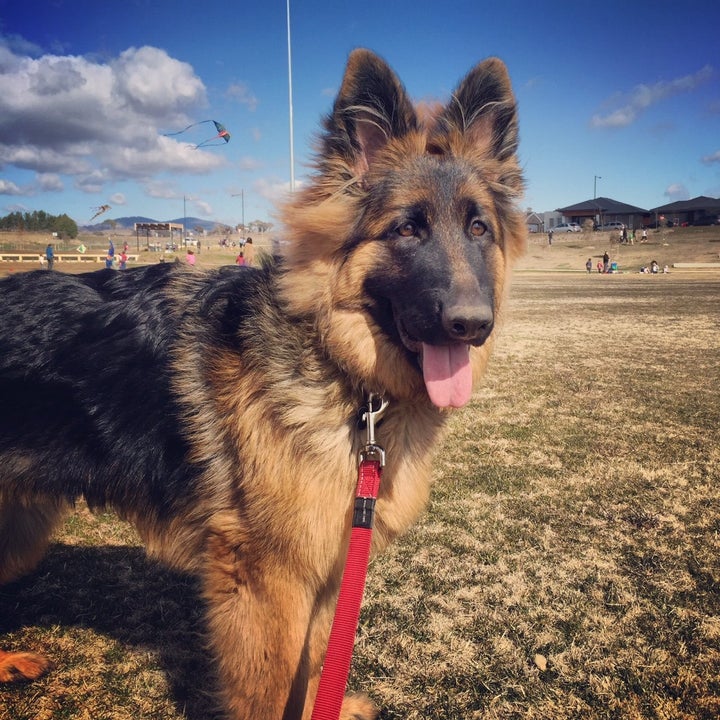 But the dog owner maintains that Nasra is a "born model" and is a pro at looking at the camera when her photo is taken. 
Though the fluffy pooch is almost all grown-up, Lewis says she'll always be a silly pup to the couple. 

"She loves to play constantly and her favorite game is to pick up something she knows she's not allowed to have so that we chase her around the house," the owner said. "She's always so happy and cheeky, and our big beautiful fur baby."
Nasra is absolutely adorable, so we wouldn't blame you if you want to grow up with a furry friend, too. But if you're looking to get a fluffy buddy, consider giving a shelter pup a forever home. Check out the ASPCA -- it's a helpful place to start your search! 
PHOTO GALLERY
Dog And Cat Friends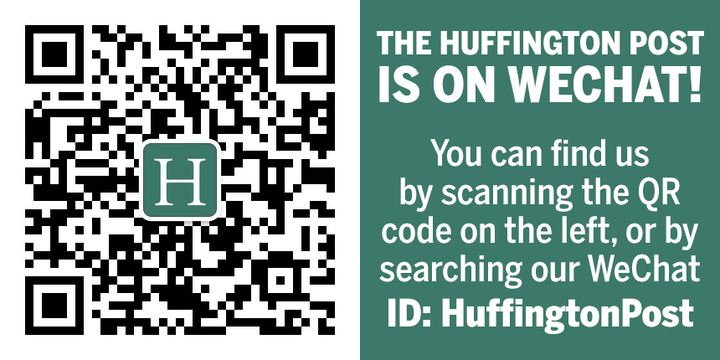 Calling all HuffPost superfans!
Sign up for membership to become a founding member and help shape HuffPost's next chapter