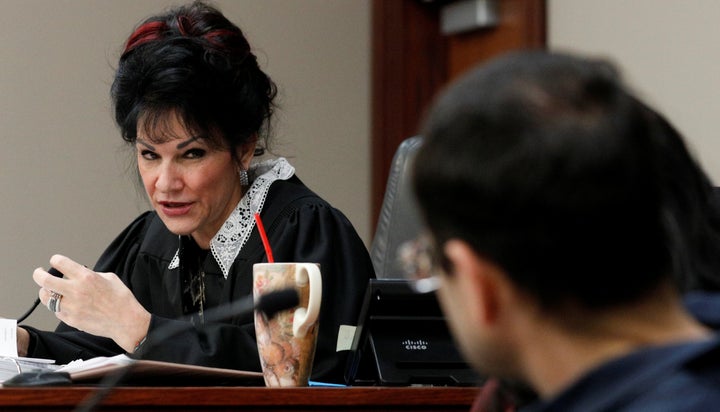 Rosemarie Aquilina, the judge who presided over the now-imprisoned former USA Gymnastics and Michigan State University team doctor Larry Nassar's sentencing hearing, has finally broken her silence. 
"I support the girls," Aquilina told The Detroit News on Tuesday. "I said that at the sentencing. Nothing has changed there."
"I don't like girls being shut down. Everyone has the right to be heard," Aquilina said.
"I'm not fair and impartial. The case is over," she added, referencing that she couldn't speak about the case until Nassar's appeal to her sentencing was over. "No judge is fair and impartial (after the verdict). That's for before the sentencing." 
After each survivor spoke, Aquilina reiterated that the abuse was not their fault and instructed the survivors, many of whom were young women, to leave their trauma and pain in court with her. 
"You are worthy," she told a survivor named Danielle Moore on the first day of the hearing. "This was done to you. It was not done by you." 
To another survivor, she said: "Leave your pain here and go out and do your magnificent things." 
At the conclusion of the hearing, Aquilina said it was her "honor and privilege" to sentence Nassar to 40 to 175 years in prison for crimes involving the sexual abuse of young girls. After Nassar's third sentencing hearing on additional child pornography and child sexual abuse charges, over 265 people had accused him of sexually abusing them under the guise of medical treatment.  
"I won't get into a political mess. I'm supporting the girls," she said. 
Some criticized Aquilina for being so outspoken during the hearing, citing a moment at the beginning of the trial where she suggested Nassar deserved sexual abuse himself for his crimes. She also said the now-infamous words, "I've just signed your death warrant," after sentencing Nassar. 
"Judge Aquilina, I applaud you," the father of one survivor told Aquilina after his daughter read her impact statement in court. "We applaud you. This room applauds you."
REAL LIFE. REAL NEWS. REAL VOICES.
Help us tell more of the stories that matter from voices that too often remain unheard.