Larry Nassar's defense attorney, Shannon Smith, told Detroit radio WWJ on Thursday that she has a "very hard time believing" her client sexually abused hundreds of young girls and women.
Smith, who has represented the disgraced doctor since December 2016, commented on his ongoing sentencing that has taken place in recent weeks.
"I have a very hard time believing that my client could have even possibly assaulted that many people day in and day out in front of their parents. And that every single one of those things was a crime, but he was such a manipulator he got away with it," Smith said. "I just can't imagine that's true." 
Nassar has been accused by over 265 women of serial sexual abuse under the guise of medical treatment. His victims include Olympic gymnasts Aly Raisman and Simone Biles, along with dozens for former Michigan State University athletes. One of his victims was as young as 6 during the time of the abuse.
Nassar pleaded guilty to 10 of those accusations in November and was sentenced to 40 to 175 years in prison last week on seven of those charges. On Wednesday, a sentence hearing for the remaining three counts began. 
Smith added that she believes many of the survivors are confused and that Nassar never actually sexually abused them. 
"Some of those girls, to be quite frank, they didn't even know what to think because they never felt victimized. He was never inappropriate to them. And because of everything they've seen, they just feel like they must have been victimized. And I think that's really unfortunate," she said.
She insinuated that media reports influenced the 156 women who gave victim impact statements in court during Nassar's first sentence hearing.
"As much as they were allowed to speak at sentencing, and that was something we agreed to, even during the sentencing, more and more people were coming forward thinking 'I was fine my whole life and now all of a sudden I have realized I was a survivor,'" Smith said. "I think that's really sad."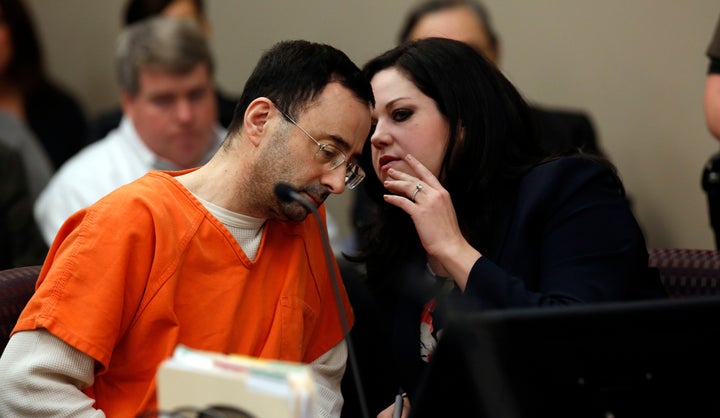 She went even further, saying that Nassar's behavior was appropriate because "there is a legitimate medical treatment that involves touching sensitive areas and even penetrations." Smith added that Nassar's case should serve as a warning to other doctors because they need to "protect" themselves "from false allegations." 
HuffPost guest writer and physical therapist Lori Mize recently wrote about how Nassar's treatments were nowhere near what a legitimate pelvic floor exam looks like. 
"Nassar's victims have described an environment antithetical to standard pelvic physical therapy practices," she wrote. "There was no chaperone, parent or guardian in the room during his 'treatments.' He didn't use gloves, and one athlete said she was under the influence of a sleeping pill during a 'treatment' session. In many cases, Nassar performed intra-vaginal 'exams' on athletes whose injuries had nothing to do with the victim's pelvic area."
Nassar's attorneys said that they've received several death and rape threats, along with hate mail and threatening phone calls. Smith, however, said it is her job to "make sure the process is fair." 
There is no doubt he did a lot of good for a lot of his patients.

Defense attorney Shannon Smith on her client Larry Nassar
"Everyone is entitled to a defense under the constitution," she told WWJ Radio. 
She said that Nassar "comes off as a really great person" and added: "There is no doubt he did a lot of good for a lot of his patients. While people are criticizing the techniques he used, there is undeniably proof that those techniques would take a girl who came into his office unable to walk and fix her in a way that she was able to compete the next day. So, I see good in Larry Nassar."
In their victim impact statements, dozens of women detailed the physical pain they still suffer from years after seeing Nassar because he failed to treat the injuries that brought the girls to his exam room in the first place.  
Criminal defense attorney Stuart Slotnick told HuffPost that while Smith's comments are part of her job to defend Nassar, they do seem unnecessary. 
"The issue here is what purpose is served in questioning whether or not Nassar molested all the women that have spoken out, especially after he has pleaded guilty," Slotnick said.
"That ship on asserting his innocence has sailed. He has pleaded guilty, he is guilty, and there is no benefit in suggesting that he only molested dozens of children instead of hundreds of young girls," he added. "He has been given a sentence that will keep him out of society for the rest of his life and denials, at this point, will not help him." 
Calling all HuffPost superfans!
Sign up for membership to become a founding member and help shape HuffPost's next chapter