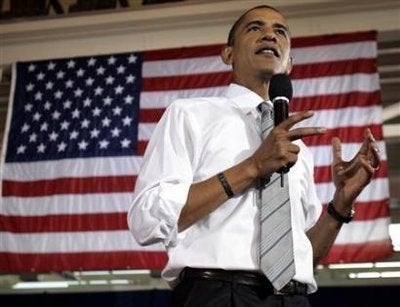 Two individuals in Ohio have described an identical push poll being conducted in their home state that presents Barack Obama as a quasi-radical leftist, uses inflammatory quotes from Reverend Jeremiah Wright, and offers risible interpretations of the Senator's policies on everything from sex education to abortion.
The poll -- conducted by the Long Island-based Opinion Access Corporation, a telephone survey firm -- represents, perhaps, the most negative messaging yet to be witnessed this campaign cycle.
A reader named Rachel from Strongsville, Ohio alerted the Huffington Post to the calls on Wednesday. Later that afternoon, Marc Ambinder of the Atlantic received a similar email from a reader named Jared in Columbus, Ohio. Both recipients of the push poll described the experience in nearly identical terms. Wrote Rachel:
I received an incredibly offensive, anti-Obama push-poll tonight from 'Opinion Access Corporation.' When I said that I was voting for Obama, they asked if I would be more or less likely to vote for Obama if I knew that he voted to let convicted child sex offenders out early, voted to allow convicted child sex offenders to live near schools, is for sex education in Kindergarten, voted for some offensive and incredibly graphic abortion procedure, and so on and so on for 5 minutes. This was a really offensive push-poll. They also brought up the statements of Rev. Wright and Michelle Obama."

[snip]

"They also asked me several agree/disagree statements before and after the statements... They asked me agree/disagree that Obama is too inexperienced to be President, agree/disagree that Obama is too risky of a choice for President, agree/disagree that Obama as President would pose a threat to our national security, and so on. They asked me this before they read the statements that I had notified you about and then again after reading me those statements "to see if my opinions had changed." Apparently, those types of suggestive questions are deemed 'push polls.'
Compare that description to the one offered by the reader over at the Atlantic.
...just got off the phone with a polling company. While I do not know that I can technically define their questions as a push poll, the company, Opinion Access, was definitely testing negative statements about Barack Obama to see if it would sway my vote. They began with baseline questions to determine my support for Obama, and th[e]n proceeded to read/refer to the following issues to see if it would make me more or less likely to vote for him (or I could say that I wouldn't believe it):

Spiritual adviser said American brought the 2001 attacks on itself

Voted against requiring schools to install monitoring software for pornography

Obama's spiritual advisor stated that US created HIV to kill people of color

Has voted to restrict 2nd amendment rights, voted against toughening policies against gang members, only legislator that refused to support legislation that would force adult stores to not be near schools or churches, voted for sex education for kindergartners, born alive education

They then re-asked the initial baseline questions to see if my support for Obama had changed at all.
On Thursday morning, Ambinder posted similar testimonials from readers in Michigan and Pennsylvania.
Push polls are designed, by definition, to sway public opinion by "pushing" a negative message. The most famous one this election cycle occurred when a bevy of calls were made about former Massachusetts Governor Mitt Romney's Mormon faith. The party responsible for those calls was never revealed. Calls to Opinion Access Corporation were not immediately returned.
Popular in the Community