An official Twitter account for President Donald Trump's reelection campaign engineered an apparent self-own while attempting to defend him Saturday.
The "Official Trump War Room" account angrily declared it "fake news" that Trump had called Meghan Markle "nasty" — while posting a clip of him using the word while discussing the Duchess of Sussex.
The war room account tweeted: "Here is what he actually said. Listen for yourself!"
Sure enough, that's exactly what he said.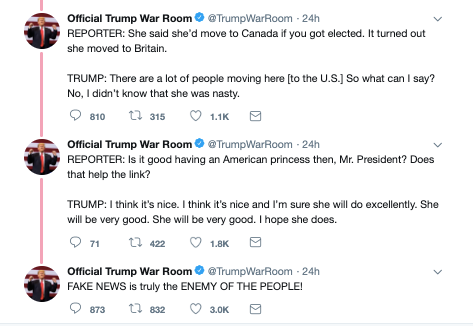 Trump himself tweeted Sunday that he "never" called Markle "nasty" and accused the "Fake News Media" of fabricating the story, despite the audio released and transcribed by his own campaign that suggests otherwise.
"Will @CNN, @nytimes and others apologize?" Trump tweeted. "Doubt it!"
A White House official told HuffPost on Sunday that Trump's "nasty" remark had been referring to Markle's past comments about him, not the duchess herself.
"He wasn't saying she was nasty," the official said. "He was responding to the reporter reading things she had said about him in the past and he was saying he didn't realize she had said nasty things towards him. He said very nice things about her, including he thought she would do an excellent job as princess, etc."
Twitter users — including lots of journalists — were nonetheless amused and startled by the comments from the president and his team.
Here's another tape to check out:
Discussing environmental issues, he also said of the U.S.: "I can say we have among the cleanest climate in the world right now. Our air and water are doing very well."
British Foreign Secretary Jeremy Hunt said he didn't believe Trump's comments about Markle would "disrupt" his upcoming U.K. visit.
"The other thing that we've learned from the president is that, you know, regularly we have to agree to disagree," Hunt told CBS's "Face the Nation" on Sunday. "And there's a whole list of things that we don't agree with the administration on."
This story has been updated with comment from a White House official and the British foreign secretary.
Support HuffPost
The Stakes Have Never Been Higher
Popular in the Community