"In our America, all people are equal; love wins; black lives matter; immigrants & refugees are welcome; disabilities are respected; women are in charge of their bodies; people and planet are valued over profit; diversity is celebrated."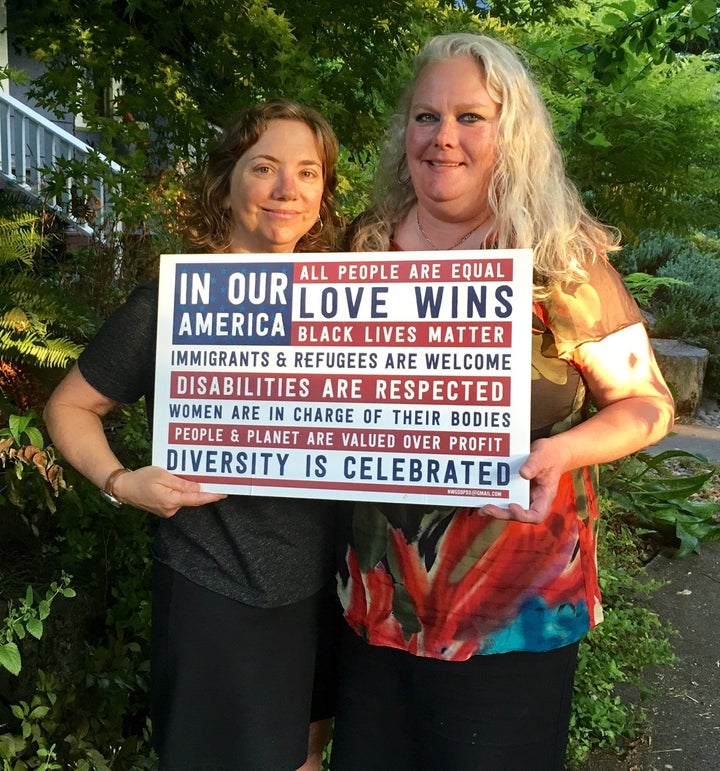 Feeling alone and devastated by the presidential election outcome in 2016, Ali King of Portland, Ore. was determined not to give in to her fears of what was to come. Instead, the 47-year-old assembled a small group of her friends for support, including her best from high school, Kirsten Hunter, who coincidentally had also moved to Oregon from their hometown in Florida.
"When Clinton was referred to as a nasty woman during the campaign, all I could think was, 'I'll show you a nasty woman' and I took to Facebook," said King. Nasty Women Get Sh*t Done PDX (NWGSDPDX) was formed. Less than a year later, the group includes over 6,000 members on its Facebook page and has donated over $50,000 to organizations supporting the social issues that have been under fire by the White House.
King started the Facebook group for like-minded people to work together to take political action in anticipation of an administration with messages opposed to their values. The group wanted to create a design worthy of the definition of patriotism ― "love for or devotion to one's country." They collaborated with local artist Jason Maxfield and graphic designer Sean Donnell to create the "In Our America" design, a modified version of the United States of America flag which upholds the rights of all people and touts the preservation of our planet.
"My definition of what it means to be American is to live up to our potential to treat every person as equals, just as our founding fathers promised," said King. "Sadly, our history, up through present day, has not delivered on that promise. But I know that we can get there, and I have hope that we will continuously improve to that ideal. That is the premise of our group's mission. This is the part of America that we want to see more of."
HuffPost is hitting the road this fall to interview people about their hopes, dreams, fears ― and what it means to be American today.
When the group launched in November 2016, it printed 250 yard signs of the design. At $10 each, the signs sold out immediately. The group committed the money raised to donate to local organizations that uphold the values displayed on the flag design. Demand grew stronger as word got out, and the "In Our America" image expanded from yard signs to posters, postcards, stickers, shirts, and beyond. Sales from the fundraising items grew at a steady pace, and the first $10,000 was donated to Lutheran Community Services Northwest's Housing Emergency Fund, which subsidizes rent for incoming refugees.
For months, volunteers blanketed the community, giving away free posters to schools and businesses willing to display them and keeping stores stocked with inventory. To date, 30 retail businesses have volunteered to sell the group's products at their stores without compensation for sales. The group also sells the "In Our America" materials on the Nasty Women Get Sh*t Done website and on the Syracuse Cultural Workers website. All the while, King's home is being used as a fulfillment center.
Sales of the organization's materials work double duty by helping to spread the messages of how the group defines America while raising money for organizations that make an impact, such as CAUSA which supports Latino immigrants and Trans Assistance Program (TAP) for transgender support.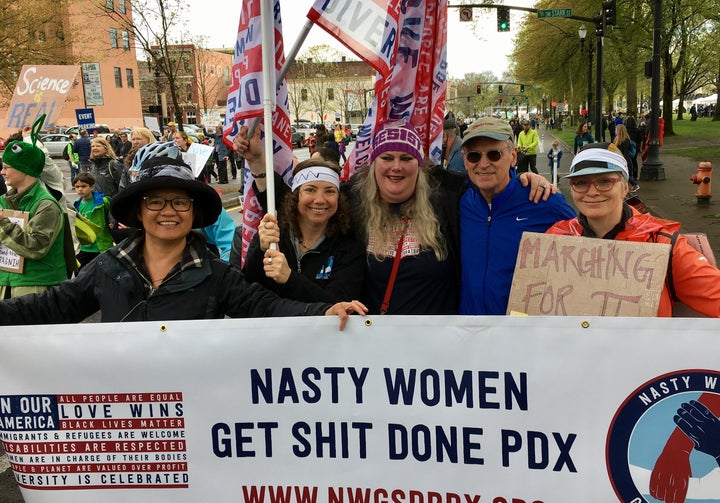 As a 501(c)(4) organization, NWGSDPDX can be politically active and endorse candidates. Congressman Earl Blumenauer of Oregon's 3rd District has been a big fan of the NWGSDPDX group, recognizing the members and their mission in his speeches and his website. Each of his offices in Portland, Oregon and Washington D.C. boast an "In Our America" banner.
Since that first print run, NWGSDPDX has printed and sold tens of thousands more fundraising materials. The design has been translated into 14 languages. In addition to raising money for a variety of non-profit organizations, the group has taken action by organizing "postcard parties" and phone call campaigns where members reach out to political representatives nationwide. They attend peaceful protests and host monthly meetings with guest speakers on topics that include micro aggressions and white privilege. In May, they organized a social justice conference for over 250 attendees.
On September 11th, NWGSDPDX hosted a concert and silent auction called United We Stand to benefit Unite Oregon, a non-profit organization with the mission to work across Oregon to build a unified intercultural movement for justice.
"This is what this country was founded on: all of us are created equal," said King. "How we define America clearly resonates with many other Americans nationwide who are proudly displaying their yard signs and becoming increasingly politically active in their respective communities. We are working to ensure that what it means to be an American, at its core, is upheld, valued, and progressing forward."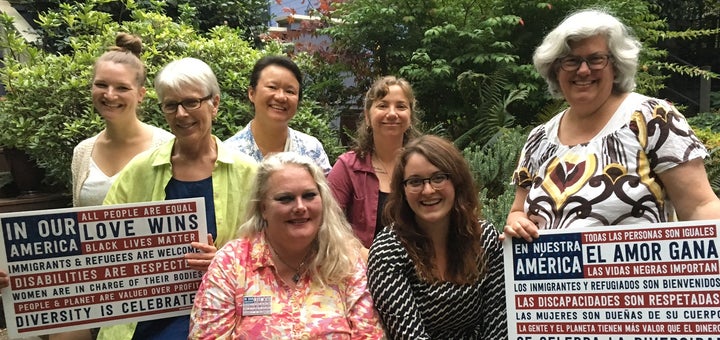 Calling all HuffPost superfans!
Sign up for membership to become a founding member and help shape HuffPost's next chapter