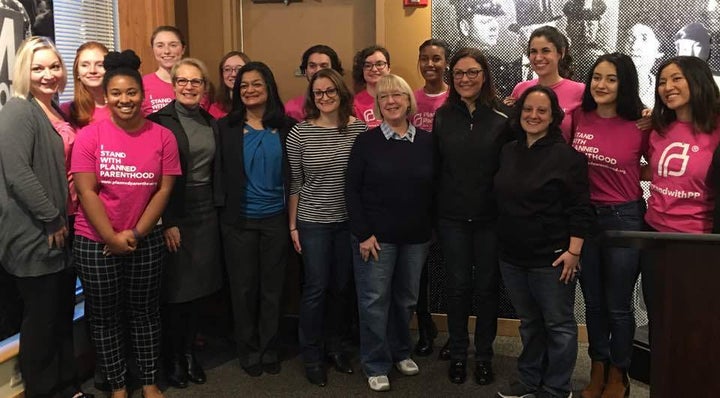 Well, at least this one did - with a 14-month-old. You have to admit, it's a headline the GOP would have loved to have thought up first.
On Saturday, January 14, 2017, I attended a press conference wherein the topic was the GOP's efforts to defund Planned Parenthood along with the repeal of the Affordable Care Act (ACA). The start of the presser was immediately following my daughter's class at The Little Gym so I did what any working mother in the independent progressive media would do: I buckled her into the car seat while my wife drove us to Planned Parenthood - pumping all the way (yes, sung to the tune of "Jingle Bells" because, quite frankly, there's a corny Christmas song for just about everything these days).
Ironic? Maybe, but I prefer to use the term "appropriate" because, after all, patients of Planned Parenthood are not all there for the one reason GOP lawbreakers (we'll be frank) would have you believe. In fact, if you truly want background on services offered at Planned Parenthood, check out this handy guide.
Senator Patty Murray (D-WA) and Representatives Suzan DelBene (WA-01) and Pramila Jayapal (WA-08) joined advocates, patients and supporters of Planned Parenthood inside the building on Madison while protesters waved their "helpful" pamphlets outside near the sidewalk at anyone minding their own business walking nearby because, don't we all love to be accosted when we're minding our own business? Meanwhile, my little Harriette the Bunny (if you get this reference we really should connect because "Harry the Bunny" is my daughter Sophia's world nowadays and, therefore, ours as well) took her place inside the lobby.
The main takeaway from the event: women are once again about to become a "pre-existing condition" for the simple act of being born female.
"By repealing the Affordable Care Act, Republicans in Congress will strip health care away from thousands of people struggling to make ends meet," said Jayapal. "If Republicans have it their way, being a woman, once again, will become a pre-existing condition. Women would lose access to preventative care like cancer screenings, birth control and Pap tests. Health care is a fundamental right, not a privilege. Instead of rolling back the progress we've made, we should be strengthening and expanding health care to cover all who live in our nation."
Watch the Facebook live video below and also here.
"Repealing the Affordable Care Act – with no plan to replace it – will create chaos. This isn't just my view or Suzan's view or Pramila's view – it's a view shared by the majority of independent experts, including state leaders – from both parties – across the country," Murray said as she addressed the media. "As if this weren't enough, extreme Republicans have also announced that they plan to defund Planned Parenthood as part of their effort to repeal the Affordable Care Act. It's shameful. That's why I sent a very clear message to Republicans this past week: not on my watch and not without a fight."
"House and Senate leaders are working on a dangerous plan to repeal the Affordable Care Act and strip more than 20 million Americans of their health insurance. And if they succeed, it will have devastating consequences for our constituents, particularly women," DelBene said. "Make no mistake – dismantling it now means being a woman will once again be treated as a pre-existing condition. It will mean fewer options, less access and higher costs for tens of millions of women. What's worse, Speaker Paul Ryan is also calling for the defunding of Planned Parenthood. We should be building on the progress we've made, not turning back the clock. Women deserve better."
As soon as the 115th Congress went into session, Republicans made it clear that they plan to rip apart our health care system, and at the same time defund Planned Parenthood – the nation's largest provider of women's health care. If the Affordable Care Act is repealed, nearly 30 million Americans stand to lose their coverage. Planned Parenthood serves roughly 2.5 million patients in all 50 states and the District of Columbia and many families rely on Planned Parenthood as their primary source of health care.
So, women and men with 14-month-old babes in arms, I have one thing to say: be vigilant. Now is not the time to low the roll; seize every opportunity. If this mother can do it, so can you.