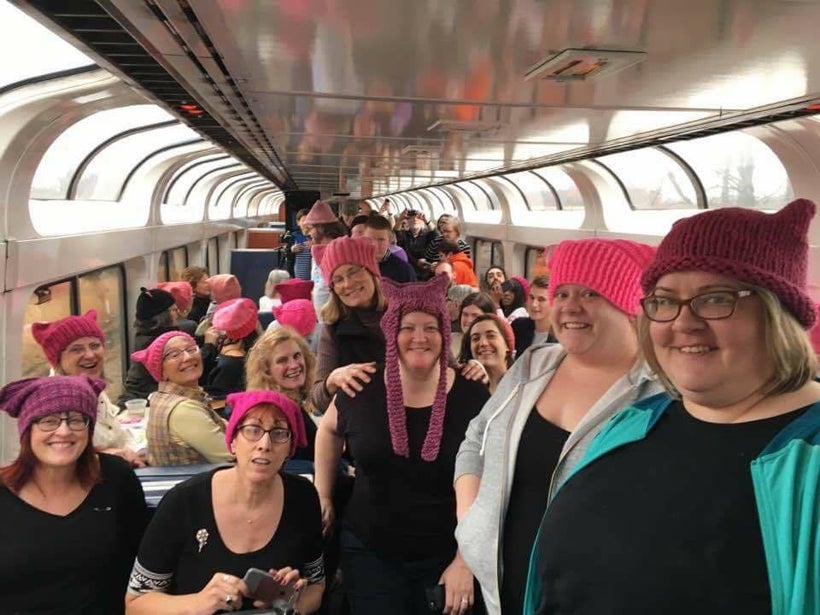 As women descend upon over 616 locations in the United States, including the largest gathering in Washington, DC to peacefully march as one group is definitely making a name by redefining the term Nasty Women. One particular group of women are being certain that their faces are seen and their voices are heard as they have mobilized in numbers to march in Washington, DC as well as San Diego, Sacramento, Los Angeles, Oakland, CA; Denver, CO; Cincinnati, OH; Springfield, IL; Houston, Denton and Austin, TX; Indianapolis, IN; Philadelphia, PA; Portland, OR; Des Moines, IA; Tucson, AZ; Las Cruces and Santa Fe, New Mexico; St. Paul, MN; Tallahassee, Miami, FL; Park City, UT, Kansas City, MO; Chicago, IL; Lexington and Nashville, TN; Anchorage, AK; Charlotte, NC; Augusta, GA; Seattle, WA and New York City, NY just to recognize some of the cities from which these women will make their presence known. They are joining together and marching peacefully to show the world and "him" what a real nasty woman looks like.
The word "nasty" defined as an adjective, by Websters dictionary "highly unpleasant, especially to the senses; physically nauseating." Which is exactly how then candidate, Donald Trump, (referred to above as "him") was using the word when he referred to then candidate, Hillary Clinton. "Such a nasty woman", when he felt insulted by her suggesting "he would find a way to get out of paying his sure to increase, social security contribution" during their final debate before the elections. As we have all witnessed, he favors name calling and particularly to those who do not bow down to him.
Name calling didn't sit well with a collective of very diverse WOMEN, in every aspect; they took this personally and they have taken action.
They have taken a stand using their voices and stories to redefine nasty. Nasty Women will not sit quietly and watch their sisters be targets and victims of abuse. Nasty Women speak up, speak out, and unapologetically speak the unpopular truth. They are women of intelligence, talent and grace who are willing to go to battle for one another. They are women who speak with purpose and power even in the face of adversity and oppression. They are unstoppable in the name of empowerment. And they are pissed!
Nasty women affect change. This #WhyIMarch video created by Elizabeth Tambascio (a proud Nasty Woman from Boston) represents the passion, bravery, and action in motion these women are taking to the streets.
They are daughters and mothers, they are all races, they are from all socio-economic backgrounds. They are women who are inspired to be stronger, braver and more courageous for other women, for their children and for the future based upon centuries of history being underestimated.
This is the same group of women who have announced the March 2017 release of a book (with all proceeds going to Planned Parenthood) by the same name "The Nasty Women Book Project" as their movement; sharing stories, poems and their voices to connect with other women who have felt isolated, angry, misunderstood, rallied against, called names, discriminated against, scared for their lives and the lives of their families.
These women say they have only just begun. They are committed to empowering women across the nation along with supporting women's causes and political agendas. They are committed to growing in numbers and creating a series of books, historical memoirs while expanding their reach and making a difference.
For downloadable and printable signs for the march visit their website by clicking here or on facebook For more information on the project and movement visit their website www.nastywomenproject.com
REAL LIFE. REAL NEWS. REAL VOICES.
Help us tell more of the stories that matter from voices that too often remain unheard.
This post was published on the now-closed HuffPost Contributor platform. Contributors control their own work and posted freely to our site. If you need to flag this entry as abusive,
send us an email
.