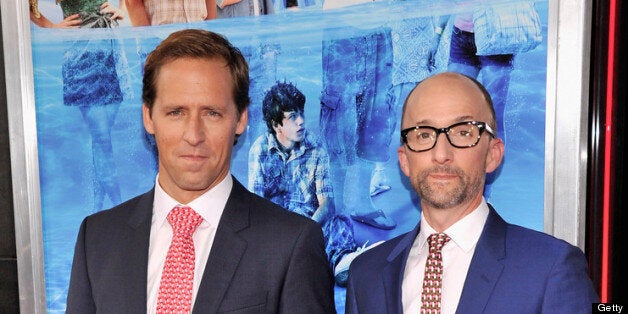 Nat Faxon and Jim Rash may have won Oscars for co-writing "The Descendants" with director Alexander Payne, but that doesn't mean they had carte blanche for their directorial debut, "The Way, Way Back."
"We fought just to have a boat scene," Rash, best known as Dean Pelton on "Community," told HuffPost Entertainment. "To shoot on a boat was as if we were asking them to build a quick pyramid. It worked out. It turned out to be one of our easiest days to shoot, save for logistics. But it was as if we were parting the red sea."
Based, in part, on Rash's own youth, "The Way, Way Back" focuses on Duncan (Liam James), a 14-year-old introvert who comes out of his shell during one crazy summer spent working at a water park. The film, which stars Sam Rockwell, Toni Collette, Allison Janney and an against-type Steve Carell as the jerk dating Duncan's mother, premiered to raves at the Sundance Film Festival and also big business: Fox Searchlight picked up "The Way Way Back" for $10 million and released the comedy in limited engagements on July 5 with further expansion to follow throughout the month. (Thus far, "The Way, Way Back" has earned a very strong $575,000.)
Before the film's debut, HuffPost Entertainment spoke with Faxon (of the now-canceled sitcom "Ben & Kate") and Rash about their own origin story, why Carell was so key to the film's success, and whether their collaboration will end with "The Way, Way Back." (It won't.)
You both met at The Groundlings, but do you remember your specific meet-cute?
Nat Faxon: I remember the first time seeing Jim and just being awed by his beauty. It just literally my jaw dropped.
Jim Rash: It's so weird. That's literally 100 percent of peoples' reaction to meeting me. I never thought 100 percent of people would say "beauty" -- but, you know?
Faxon: No, I do remember a workshop that we both did in The Groundlings. When you're waiting for your other level to start, you do these workshops to stay sharp to keep your improv skills in tune. I remember doing one that Jim was doing and thinking how funny he was and that I needed to grab onto his cape as fast as possible. We became friends in the Sunday Company -- that's when we started to get to know each other and write together. We wrote a lot of things that didn't work, but then we finally got one that did.
Before deciding to direct "The Way, Way Back," did you consult any friends about what to expect?
Faxon: We sat down with friends. Just friends. [Laughs.]
Rash: Real estate people. Financial advisors. We blew up an earth ball and went into a field with a bunch of financial advisors and just tried to get up a hill. If we got up the hill, we realized we could direct a movie.
Faxon: We did sit down with people who had just gone through this experience or were on their second movie. You try to gain as much knowledge as you can before you sort of walk into something. But nothing prepares you for this until you're doing it. We had no prior experience. So it was extremely stressful and challenging. You really have to put your head to the grindstone. Is that right? [Laughs.]
No. "Nose to the grindstone."
Rash: You'd just die if you put your head to the grindstone. Like, "Wait, he died."
Did you find that your relationship as co-directors was different than your relationship as co-writers?
Rash: It's sort of similar, right?
Faxon: Yeah, I think we work very well together. We have the same sensibilities. We certainly share the same vision and are unified in that front. We try not to contradict each other -- at least not in front of the crew. We'll have discussions and disagreements but we'll work through them. For the most part, though, it's pretty seamless. The benefit of having two brains is that when one is overwhelmed or stressed, the other one is a little sharper and pick up the slack.
Rash: We're not twins, though. We can operate a little bit different.
Did you always envision casting Steve Carell as a villain?
Rash: It was going against type. It was intentional in finding this innate likability that Steve has, because you didn't want Trent to be some demon. You wanted him to be this complicated, tragic male character. Where you go, "I sort of have sympathy for you, because you're really fucking up." Steve jumped into that idea.
Related to Steve's likability, everyone in this cast just seems so nice.
Faxon: That was totally intentional. That went into the process. We, as first time directors, had a tight schedule. We didn't have a huge budget. We didn't have the time to deal with problematic people. We were like, "Who can we populate this movie with who are not only people who we admire and love as actors, but also are good, genuine people, who want to be in this for the collaborative, ensemble spirit?" All these people represented that and exhibited those characteristics. It made making the film so much fun and so much easier than dealing with anybody who might have brought drama to the set that we wouldn't have been able to handle.
Fox Searchlight picked this film up for $10 million at Sundance. How much pressure does put on you guys?
Faxon: I haven't felt that. Maybe I haven't put enough thought into it, but I don't feel that pressure personally. I just feel so proud of what we did. That we were able to direct it ourselves after many years of that not necessarily going to happen. To get to the point where we put this incredible cast together, we had this incredible crew that helped us. We sort of all did this thing together and now we're here and talking about it -- you can't beat that. Obviously I want the movie to do well. I'm not blind to all the numbers and how they all factor in, but at the same time, I just feel like it's been such an awesome ride up until this point that I'm appreciating the moment we're in.
Do you plan on directing together again?
Rash: No, we broke up. I just decided that based on his last answer.
Faxon: I'll re-do my answer!
Rash: No. It's in that recorder. Unless you know how to pull it out of there. [Laughs.] I certainly hope we get another opportunity to direct. We certainly want to. At this stage, we're in writing mode. We're writing two things in tandem: staying in the Fox Searchlight family and writing a "Way, Way Back"-size dysfunction thing, and then also an action-comedy for Kristen Wiig. Which will certainly stick in our world of loving ensembles, but maybe be tonally darker. Hopefully one or both of those will allow us to say, "Action!"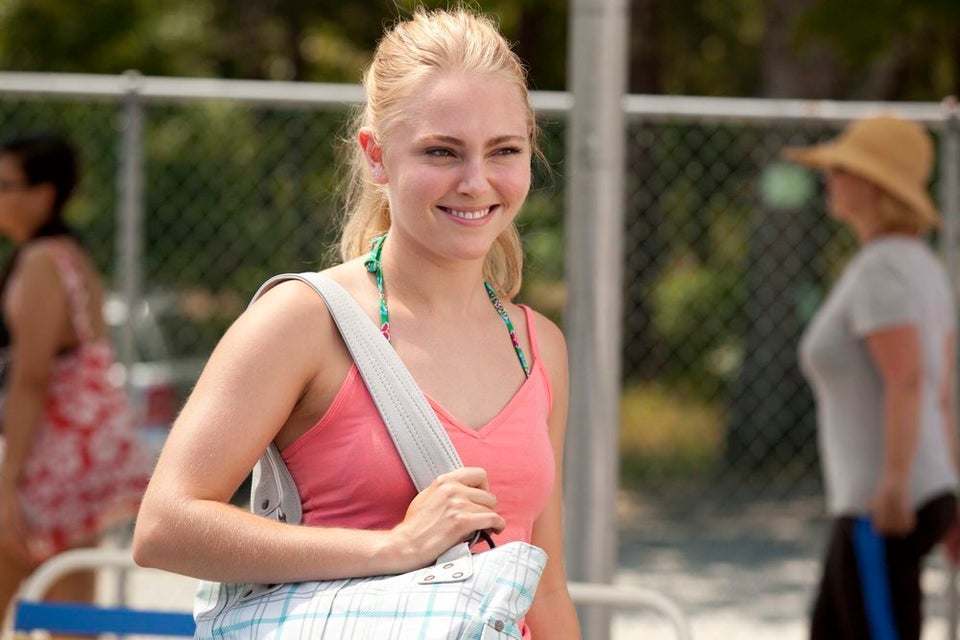 'The Way, Way Back'
Popular in the Community