National Geographic is debuting a powerful and evocative new film tonight that offers a comprehensive exploration of gender that its producers hope will act as a resource for furthering public compassion and understanding.
The "Gender Revolution" is a two-hour documentary released in conjunction with the magazine's January issue of the same name that made history by featuring a 9-year-old transgender girl on its cover. Produced by Katie Couric, National Geographic and World of Wonder, the film is a nuanced, complex and tender look at the way gender shapes our lives and experiences and the ongoing cultural conversation surrounding the spectrum of gender identity.
"It's hard to avoid hearing about some aspect of gender these days," Couric said in a press release sent to The Huffington Post. "Every time you check your phone, turn on the TV or scan Twitter, there's another story that's challenging our preconceived notions of what gender is, how it's determined and the impact these new definitions are having on society," Couric added. "I set out on a journey to try to educate myself about a topic that young people are living with so effortlessly — and get to know the real people behind the headlines. Because the first step to inclusiveness and tolerance is understanding."
Throughout the course of the film, Couric meets a number of different activists, entertainers and everyday people whose lives are shaped by our culture's understanding of gender in a multitude of ways.
"Gender Revolution" opens with a discussion about intersex identity ― a set of experiences that inherently destabilize the gender binary ― and moves into a discussion dialogue about the lives of gender-variant children.
One of these children is a transgender girl named Ellie, whose parents, JR and Vanessa Ford, also appear in the film.
"Through our story and other people who participated in this documentary, I hope viewers come away with stories that they may be able to relate to because we believe if you are able to connect yourself to someone going through a situation, viewers may find a new sense of compassion, understanding, inquiry into learning more about gender," the pair told The Huffington Post. "We hope this sparks people's interest into thinking outside of their world and taking a glimpse into something that may challenge how they have perceived the LGBTQ community. "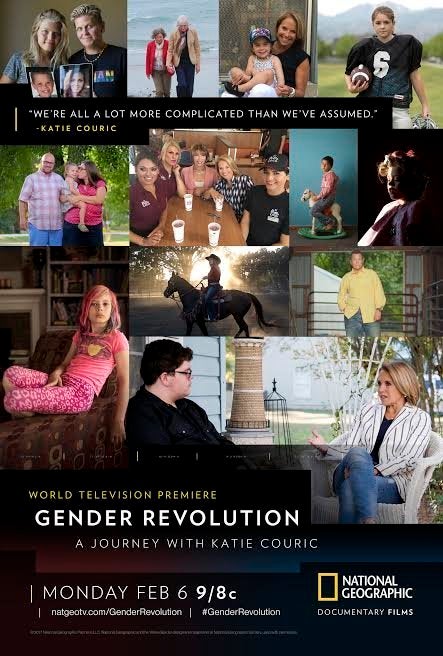 For Fenton Bailey and Randy Barbato, Executive Producers and founders of World of Wonder production company, the film builds on a rich history of projects they've overseen that focus on gender exploration.
"It's been ten years since we produced 'Transgeneration' with Jeremy
Simmons, and since then we are proud to have created a world of
documentaries and series exploring gender," the pair told The Huffington Post. "Over the years we have seen the mainstream open its mind and heart to gender. Katie Couric's curiosity and National Geographic's commitment is an important step in continuing down that path, and more important now than ever."
They also emphasized that the film highlights the commonalities all humans share despite their differences. "We also believe that there is no such thing as normal," they said. "Each and every one of us is unique and vulnerable, and deserving of recognition and respect. The people featured in 'Gender Revolution' are fighting for that for all of us. We are so thrilled to
have had this opportunity because we believe it is a world of wonder
thanks to the infinite variety and diversity of everyone in it."
"Gender Revolution" will premiere on National Geographic on Feb. 6 at 9/8c. Head here for more information.
Calling all HuffPost superfans!
Sign up for membership to become a founding member and help shape HuffPost's next chapter
BEFORE YOU GO
PHOTO GALLERY
48 Transgender Pioneers