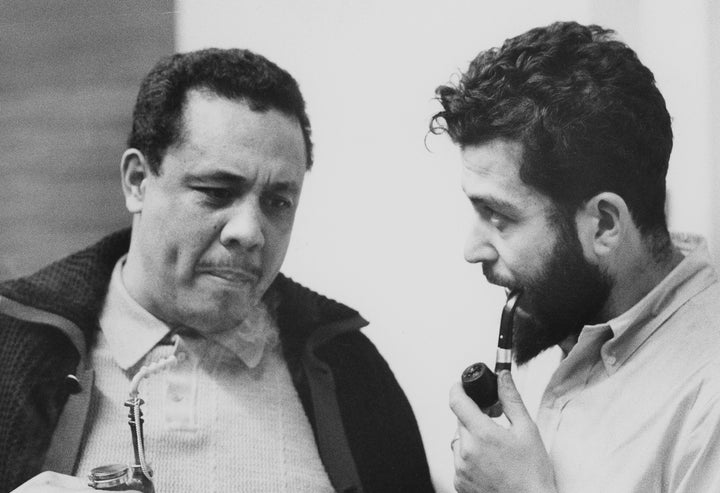 Nat Hentoff, the longtime journalist, jazz critic, activist and provocateur known for his commitment to social causes and his defense of the First Amendment, died Saturday at the age of 91.
Hentoff died in his Manhattan apartment of natural causes, according to his son, Nick, who announced the death on Twitter. He died "surrounded by family listening to Billie Holiday," Nick wrote.
Hentoff started in New York journalism as a jazz critic in the the 1950s for Down Beat magazine, but his body of work would eventually encompass 35 books, 50 years at The Village Voice — where he railed against the Vietnam War, racism and the media itself, among other targets — and stories in The Washington Post, The New Yorker, The Wall Street Journal and Esquire, along with dozens of other publications.
Above all else, Hentoff was a crusader for free speech, a cause that brought him into clashes with conservatives and progressives alike. He staunchly opposed abortion and capital punishment, supported pornography as a form of free expression, and was willing to attack gay people and feminists if he believed they were trying to stifle dialogue in the name of "political correctness."
Hentoff told Clyde Haberman of The New York Times after he was laid off by the Voice in 2009 that Duke Ellington himself taught Hentoff the perils of being pigeonholed. "He said, 'Never get caught up in categories. That'll imprison you,' " Hentoff recalled.
He relished his role as a troublemaker, and reportedly embraced this description of him by a colleague: "He puts on his skunk suit and heads off to the garden party, week after week, again and again."
Hentoff was born in Boston's Roxbury neighborhood in 1925 to Russian-Jewish immigrants Simon and Lena Katzenberg Hentoff. His early loves included Bessie Smith, Duke Ellington, Fats Waller, Louis Armstrong, Thelonious Monk and Charlie Parker, affairs that would last his lifetime. He became the editor of his student newspaper at Northeastern University, and moved to New York after a stint with a Boston radio station. By 1958 he was writing for The Village Voice.
His jazz pieces evolved into eclectic columns on civil liberties, politics, education and ― again and again ― free speech. His books ranged from jazz studies to young adult novels to profiles to social commentary. A classic Hentoff work was his 1992 book Free Speech for Me ― But Not for Thee: How the American Left and Right Relentlessly Censor Each Other, in which he excoriated just about everybody.
After he was finally forced out at the Voice, Hentoff continued to hammer away at his keyboard. He spoke to Haberman of a "perilous time" for media, with fact-checking vanishing and readers gravitating toward websites that only reinforced their beliefs.
Hentoff then said that the jazz musician Ben Webster once told him: "Listen, kid, when the rhythm section ain't making it, go for yourself."
"I've tried that with editors all the time," Hentoff went on. "That's the fun of all this. You keep surprising people. And angering them, I might say."
Calling all HuffPost superfans!
Sign up for membership to become a founding member and help shape HuffPost's next chapter
BEFORE YOU GO
PHOTO GALLERY
Writers We've Lost In 2016