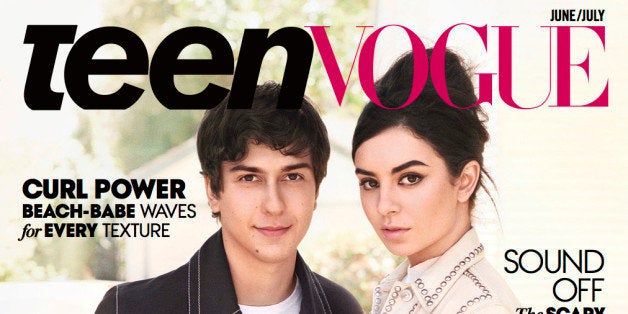 Nat Wolff is best known for his film roles, and Charli XCX has made a name for herself by giving an edge to her pop tunes. Together, the duo is going vintage with a '60s-themed Teen Vogue cover with a bit of a twist.
As the magazine's joint cover stars for its June/July issue, Nat and Charli opened up to their interviewers who also happen to be pretty famous. Since Nat is starring in "Paper Towns," one of the most anticipated movies of the summer, it only made sense for John Green, the author behind the book-turned-movie (and Nat's friend), to interview him. Their interview revealed what it was like on the "Paper Towns" set and Nat's admiration for co-star (and supermodel) Cara Delevingne.
As for Charli, a fellow artist got the scoop on her rise to fame. Before Bleachers frontman Jack Antonoff hits the road with Charli for their upcoming tour, he learned more about her touring experience with Katy Perry, haters on the Internet and the exact moment she decided to stop worrying about what other people think.
Teen Vogue's June/July issue hits stands on June 2. Scroll down for photos of Nat and Charli and head over to TeenVogue.com for more.
Charli XCX on touring with Katy Perry...
"I felt comfortable and at home, which was really nice. I've never opened for a superpop-tastic artist before. It's amazing to see the props and the amount of production she had. She's in the air, then on a horse, and then she's dancing, and the whole thing is mental."
On reading about herself on the Internet...
"It used to stress me out when I was younger, because I would take everything really, really personally. But, to be honest, I don't read it too much anymore. No, it doesn't really bother me. My assistant sends me screen grabs of, like, really funny Daily Mail clips when they write about me, and there's always hideous and hilarious comments."
On the exact moment she decided to quit caring about what other people thought of her...
"At the end of 2014, I had this moment where I began to genuinely not worry about what people think of me. I would always say I didn't care in interviews, but I never really meant it. Then I wrote 'Sucker,' and I knew I wanted to make a pop record on my own terms and take risks with it."
Nat Wolff on working with Cara Delevingne...
"It was great being involved in the casting process, which, honestly, I hated it in the beginning because I hate auditioning. I know how awful it is for actors. Cara came in, and I was the only person in the entire world who hadn't heard of her. And then she blew me away. She's the only one who made me feel nervous, because she's such a spontaneous actress."
On people underestimating Cara...
"People think, 'She's so hot and so rich -- how can she be talented?' She's not an airhead model. She is so talented."
On the rest of the "Paper Towns" cast...
"Weirdly, with this movie, everybody ended up being similar to their characters and somehow got close. We decided to all call each other by our character's name, which is kind of hokey. The boys had three separate apartments and we stayed in one together every single night. It was so dorky. We liked each other. Movie sets are romantic in that way -- you almost delude yourself into believing that the world outside doesn't exist. We all became so close that we became each other's worlds. Everybody says on every movie that they 'became a family,' and it's bullsh*t 95 percent of the time. But we became a family."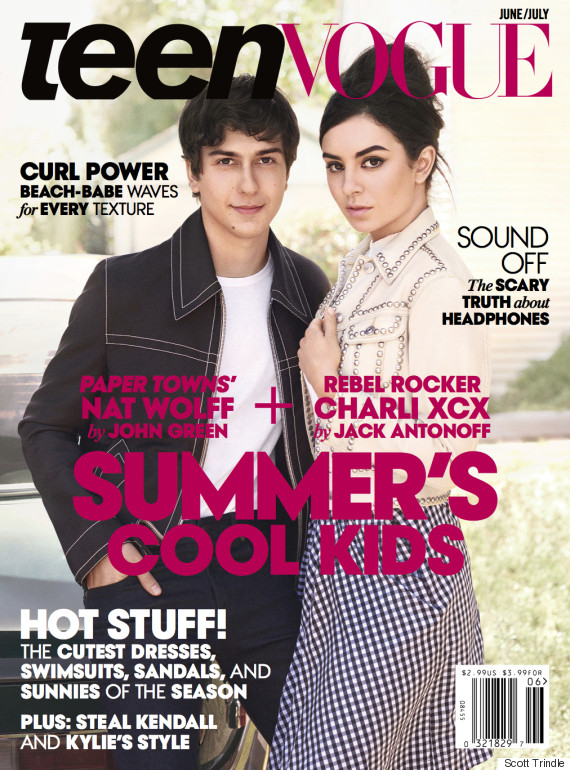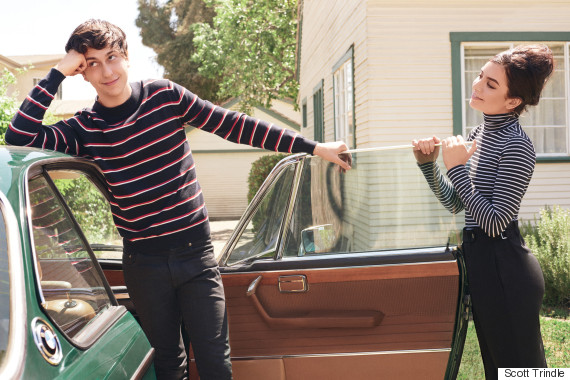 REAL LIFE. REAL NEWS. REAL VOICES.
Help us tell more of the stories that matter from voices that too often remain unheard.
BEFORE YOU GO
PHOTO GALLERY
Charli XCX: 9 Facts In 90 Seconds