 The son of jazz pianist Michael Wolff and actress Polly Draper, the actor got his start starring on the Nickelodeon show "The Naked Brothers Band" with younger brother, Alex. While still balancing his music career, Wolff has explored his passion for acting, starring in films such as "Stuck In Love" and "Admission." He's also set to play the lead role in John Green's other book-turned-movie, "Paper Towns."
"Nat is one of the funniest people I've ever met," Green told HuffPost Entertainment of his "Paper Towns" star while promoting "The Fault In Our Stars". "He's become a very close friend of mine and the chance to hang out with Nat for a few months is pretty great."
"Nat kind of took me under his wing and really went out of his way to connect off-screen, which really helped us onscreen too," his "Palo Alto" co-star Zoe Levin said during a separate interview. "He was always pulling out ideas and saying, 'Oh, we should do this in this scene.' He was great, he was the leader."
Wolff sat down with HuffPost Entertainment at The Conrad hotel during the Tribeca Film Festival in New York last month and opened up about his career, his inspirations and his goals for the future.
Congrats on "Palo Alto." How did you get involved in the film?
I read the script and I just immediately fell in love with it. Then I had a meeting with Gia [Coppola] at the Chateau Marmont, which was very weird and exciting, and we started talking about "Mean Streets" with Robert De Niro and Harvey Keitel and I thought their relationship in that movie was a lot like my relationship with Jack Kilmer in "Palo Alto." And she said, "That's exactly what I was going for." From then on she really wanted me to play Fred, but I was like, "No, I'm not Fred. As a guy, my reactions are much closer to the Teddy character." And she said, "Yeah, that's why I want you to play Fred. I want you to find all the fun, humor and sweetness in Fred." I loved the character Fred, but I just didn't want to see myself like that, but then I realized, there are a lot of things that are really unattractive parts of myself that I can draw on. A lot of things like the need to be seen and heard all the time and bringing the stuff I usually keep hidden to the forefront.
Fred is one of those characters who's always thinking, but not necessarily thinking about his actions.
I just thought of him as a guy who needs tons of attention and is just going to go about it in a way that's unpredictable, and unpredictability can be dangerous. He wants to connect, he just doesn't know how to. And it's the same with Teddy, just he goes by it in a different way. Teddy and Fred are the two sides of, as James Franco said to me, the devil and the angel.
I was going to ask you if James Franco gave you any pointers or feedback on your character and the movie.
That was the main thing. I said, "I think Teddy is you, right? But I'm not even in the book, so who am I supposed to be?" And he thought about his answer and said, "You're the devil version of me. You're the angry, fucked up side."
Yeah, because you're the guy Teddy can never seem to let go of.
We both see in each other what we don't have. There's a recklessness and excitement in being friends with Fred. And, to me, Teddy is what Fred wants to be. He wants to be a better person. In the movie, Fred wants to feel things so badly, but he just has this wall up and he's just always pushing that wall.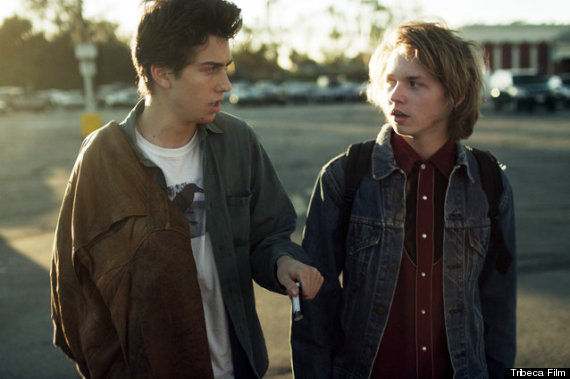 You also have another movie coming out, based off of a book, "The Fault In Our Stars." This is going to be pretty huge. Are you excited?
I had one person come up to me in the airport and this guy was like, "Ummm, you're in 'The Fault In Our Stars,' right?" And I'm like, "Yeah!" And he was like, "Isaac's my favorite character, don't fuck it up!" [laughs] But I think the main thing with that character was it's a heavy, tear-jerking movie and a lot of my part is comic relief. It's fun that I'm in these two movies that are so different, but they're both good movies about young people -- and there are so many bad movies about young people.
Now that you mention it, you're in a lot of these "young adult" movies.
Yeah, movies about people my age, and it's great. Now I'm starting to have more control over my career and really, I just want to do movies like I did this year. These are the kinds of projects I want to be involved with [and working with] really talented people who have something to say. "Palo Alto" is way darker than "The Fault In Our Stars," but "The Fault In Our Stars" is really honest and gets people thinking in a different way.
What was it like working with Shailene Woodley, who plays Hazel?
Amazing. She's just a brilliant actress. I worked with so many good young actresses, and she's awesome. She convinced us not to wear deodorant because she doesn't wear deodorant. But she has these crystals or something so she always smells fine, but the guys? We started to smell horrible. The set got smellier and smellier [laughs].
How did you balance the heavy drama of "The Fault In Our Stars" with those light-hearted moments?
That was the hard part of the role. My part is probably the funniest part in the movie, but the comic relief is a kid who went blind and gets dumped by his girlfriend. So, I had to take that into consideration. But, working with [director] Josh Boone, who's an amazing director who I worked with on "Stuck In Love," and working with John Green, Ansel [Elgort], Shai, [producer] Wyck Godfrey and the studio, they were all amazingly talented people. So it was basically about finding the tone of the book, which everyone was worried about on set, but the tone of the movie works.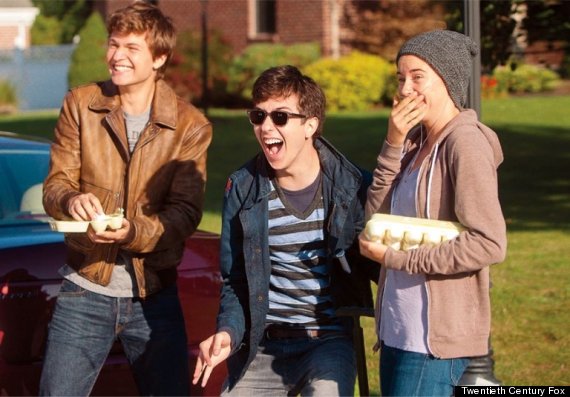 So are you ready for chaos to ensue?
It's funny because since I was like 11 years old, I've gone through different periods of being more famous and then less famous and then more famous, and I'm lucky that I went through that because I realize, it just doesn't matter. I'm so happy that people are seeing the things that I'm doing and I love that people are passionate about "The Fault In Our Stars" and I love that people want to see "Palo Alto" and still listen to my music and all that stuff. But, it's just not worth stressing over because I just have to focus on making music and being a good actor.
So are you taking some time to focus on your music?
The hardest part about touring and doing music with my brother is that he works on movies too, so our schedules are hard. I actually got to meet Jared Leto, who I love, and I told him about our band. I told him that I'm an actor and he was so excited and he knew Shailene, so then we were talking and I was like, "How do you schedule the things you're doing?" And then this beautiful blonde model walked up and he's like, "One second." And I was like, "Ugh, I'll never talk to Jared Leto again. That's it." And yeah, I never got the answer, so I don't know!
"Palo Alto" hits theaters May 9 and "The Fault In Our Stars" opens June 6.
This interview has been edited and condensed.
Calling all HuffPost superfans!
Sign up for membership to become a founding member and help shape HuffPost's next chapter
BEFORE YOU GO
PHOTO GALLERY
Celebrity News & Photos