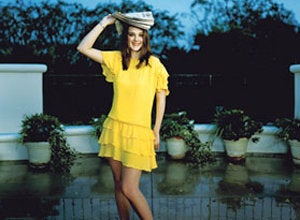 Natalie Bancroft, News Corp.'s newest board member, is standing in a hotel parking lot belting out the opening notes of "In the Silence of the Night." The song is by Rachmaninoff, her favorite composer, and showcases Bancroft's dramatic mezzo-soprano, a vocal type with great power and a broad range. Before starting to sing, she chooses an isolated corner and warns, "I'm noisy."
Bancroft, heiress to the Dow Jones fortune, doesn't usually perform in public. At least not yet. An aspiring opera singer, conservatory trained, she's currently working with a private teacher. Her voice, she says, is still developing. When she does sing for others, it's in small church performances, recitals, or for friends and family at her father's home in Rancho Santa Fe, California.
But today, Bancroft is game--or wants to show off her talent. The impulse is understandable, given the events of the past few months. Last October, Bancroft was handpicked by Rupert Murdoch to fill a News Corp. board seat after the company bought Dow Jones & Co. from her family for $5.6 billion. Public reaction to her appointment ranged from disbelief to ridicule. The Wall Street Journal, the prize holding of Dow Jones, dismissed her in news coverage as a "relative neophyte." Experts in corporate governance predicted that she would end up planning the board Christmas party. Even an opera website run by a drag queen weighed in, questioning in a post whether Bancroft should be considered an opera singer at all. (Meet the other members of the News Corp. board.)
REAL LIFE. REAL NEWS. REAL VOICES.
Help us tell more of the stories that matter from voices that too often remain unheard.