Upon first glance, a sculpture from artist Natalie Baxter's "Warm Gun" series resembles an adorably lopsided creature from a Dr. Seuss-like imaginary land. The soft, cartoonish forms droop awkwardly and endearingly, their candy-colored bodies clinging adoringly to anyone who attempts to handle them.
Upon closer look, however, one realizes that those wayward appendages are in fact triggers, safeties and trigger guards. That squishy butt? A magazine. The wilting head? A muzzle. Friends, these cuddly and charming forms are, in fact, representations of deadly assault weapons.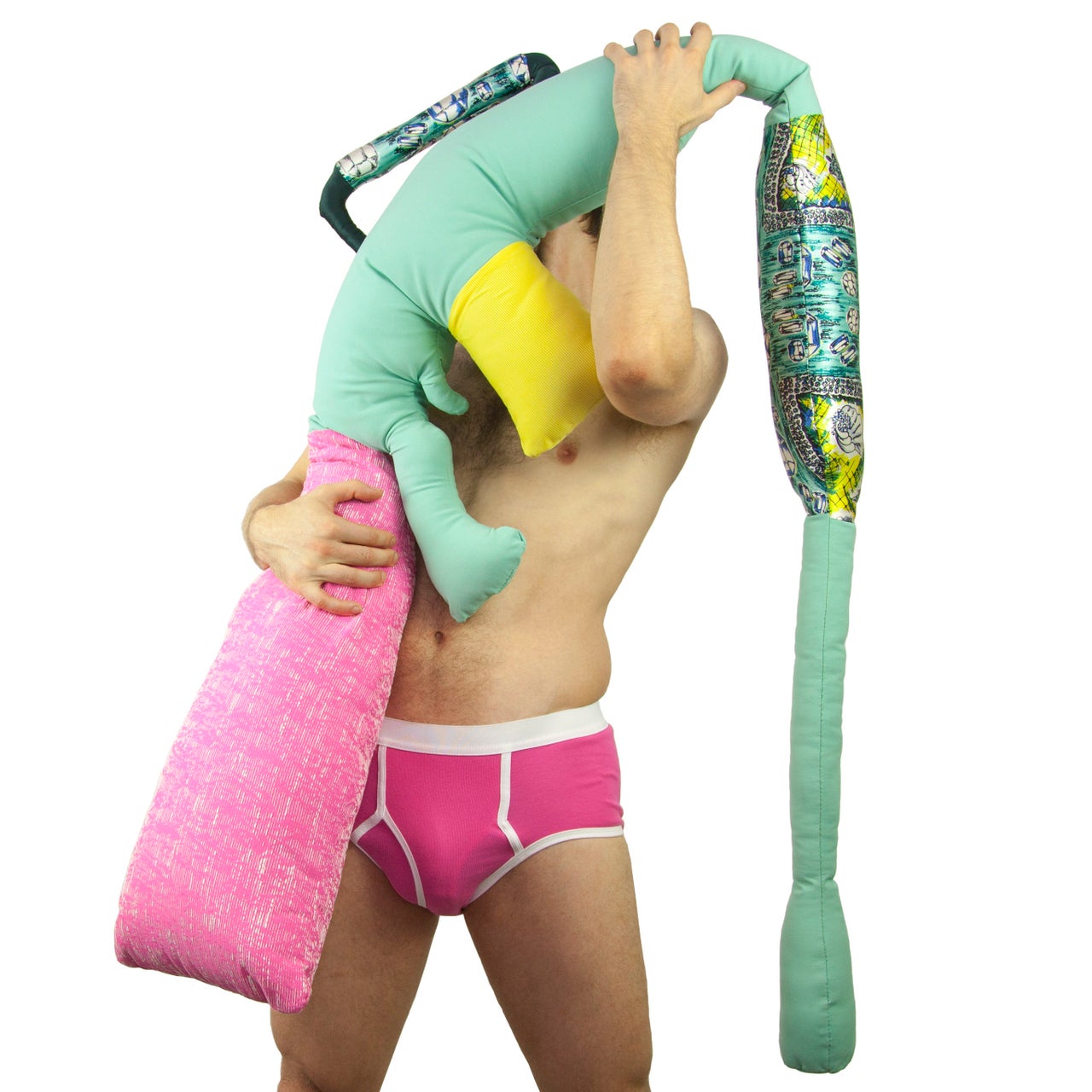 Baxter was inspired to embark on this soft sculpture series in late 2014, during a Christmastime visit to her hometown of rural Kentucky. "I was at a friend's house who had a collection of handguns hanging on his wall," Baxter recalled in an email to The Huffington Post.
The jarring image struck Baxter, specifically in combination with the slew of gun-related violence plaguing the nation. "This was in the wake of Ferguson, Tamir Rice, Trayvon Martin. Black Lives Matter marches were happening across the country and police brutality and gun violence were hot media topics and fresh on everyone's mind."

Staring at the firearms adorning the walls, Baxter was also reminded of her grandmother, how she would comfort her uneasy offspring during spooky childhood nights by saying, "Don't worry, children, I've got a gun."
It was this same grandmother who taught Baxter how to quilt at a young age, culling multicolored scraps from the heap of fabric she kept in her attic. "Granny was a hardworking homemaker and was always keeping herself busy with quilting, cooking or gardening," the artist said. "She didn't make it past eighth grade but she was wise from experiences very different than my own upbringing."
Suddenly, Baxter had an idea. Kentucky, her grandmother, quilting, the wall of deadly weapons displayed so cavalierly ― they all came together in a single, very soft vision. "I wondered what a wall covered with stuffed, quilted guns would look like in contrast," Baxter said. "Thus, 'Warm Gun' began."

Since she began in 2015, Baxter has crafted almost 100 hand-sewn guns, brightly colored and soft to the touch. She started out finding fabric from clothes in her roommate's Goodwill pile ― "In Ya Genes," for example, is made from three pairs of old pants.
Over time, Baxter began mining New York's garment district for more distinctive patterns, opting for brazenly feminine materials like sequins, pinks, tassels and floral patterns. The combination of "girly" media and sewing ― historically regarded as a feminine craft because of its roots in the domestic sphere ― contrast starkly with the traditionally masculine associations attributed to gun ownership.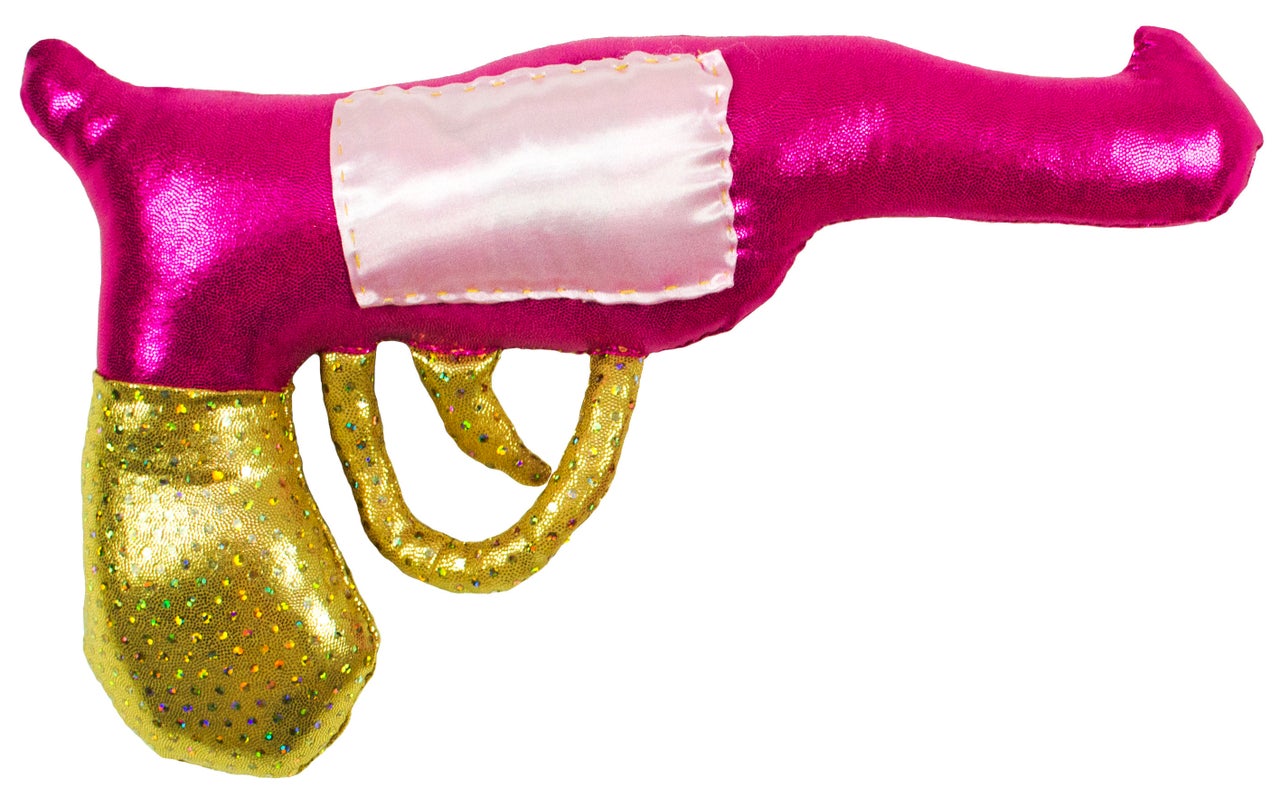 "As many of these tragic mass shootings were taking place at the hands of men, I started to speculate on the relationship between masculinity and gun ownership," Baxter explained. She mentioned the recent strides we've made as a culture in regards to feminism, LGBTQ rights and the sad reality that some people see liberation of others as a threat to themselves.
"I felt like there was some relationship with these changes and male gun ownership but couldn't put any facts behind it," Baxter said. "Then I came across an article written by Elizabeth Winkler for Quartz that explains it really well called 'America's gun problem has everything to do with America's masculinity problem.' She quotes sociologist Jennifer Carlson: 'As men doubt their ability to provide, their desire to protect becomes all the more important. They see carrying a gun as a masculine duty.'"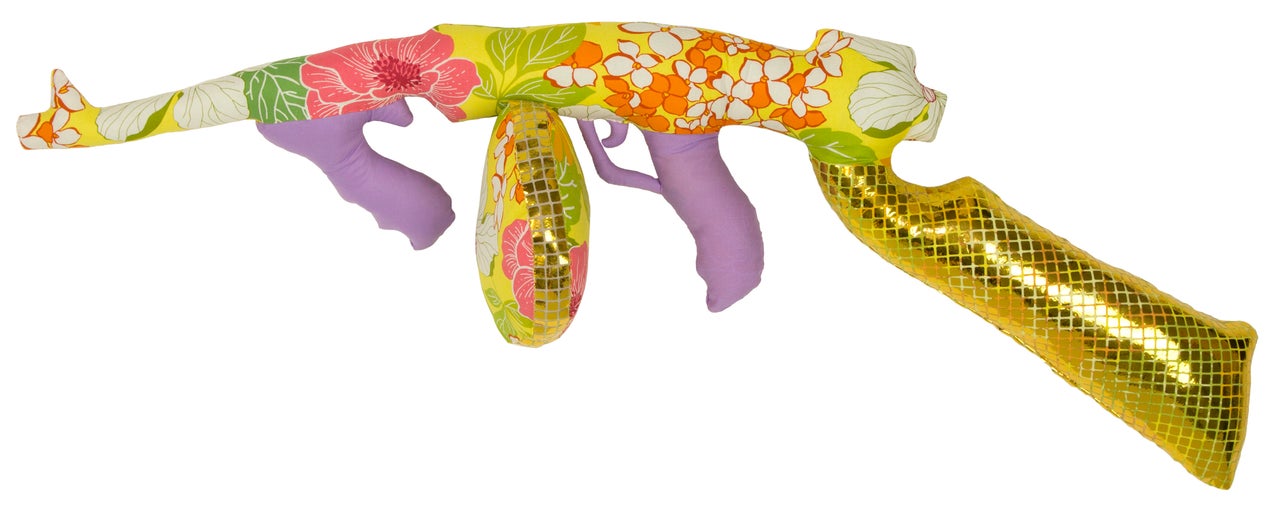 Baxter's response to all this toxic masculinity? More sparkles, more shine, and lots more sagging. "I am using the traditionally feminine craft of sewing and quilting to emasculate these objects of power and destruction into droopy, impotent, soft sculptures."
The artist hopes her benevolent rifles, revolvers, handguns and pistols will bring both left- and right-wing viewers a moment of pause, providing a potential space of mutual understanding for what's most often an extremely heated issue. "Soft sculpture work is really approachable," she said. "It's hard not to smile when you see a recognizable object in an altered soft state, especially when made from brightly colored fabrics."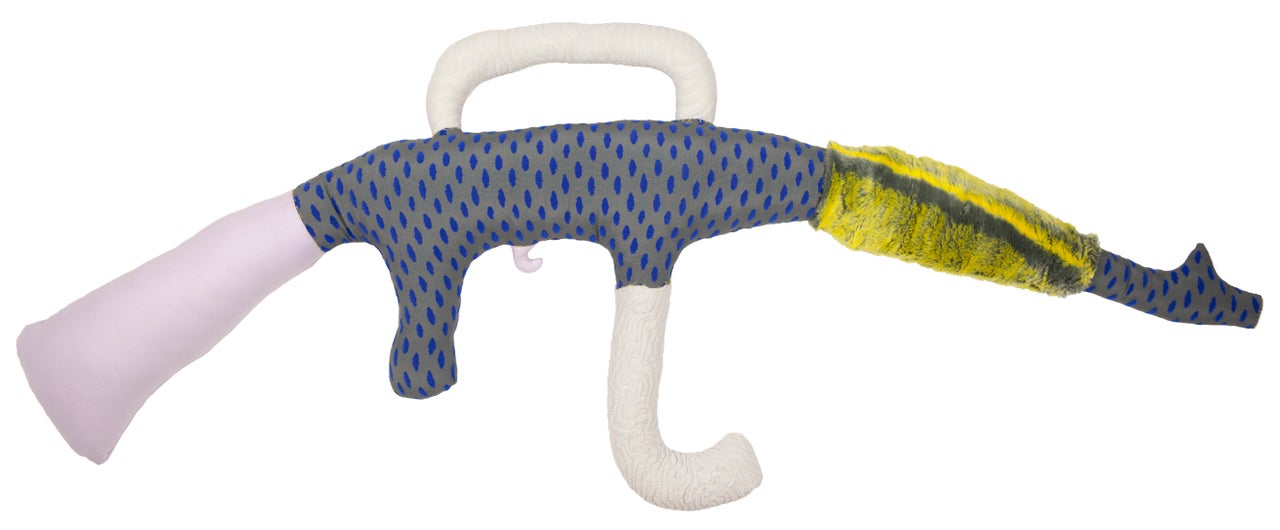 Just like a well-crafted joke, artwork can inspire people to look past their partisan opinions to find common ground. As Baxter put it: "I hope that this work, that appears playful at first, will allow viewers with differing opinions a space where they can share thoughts on gun control, gun violence and gender identity."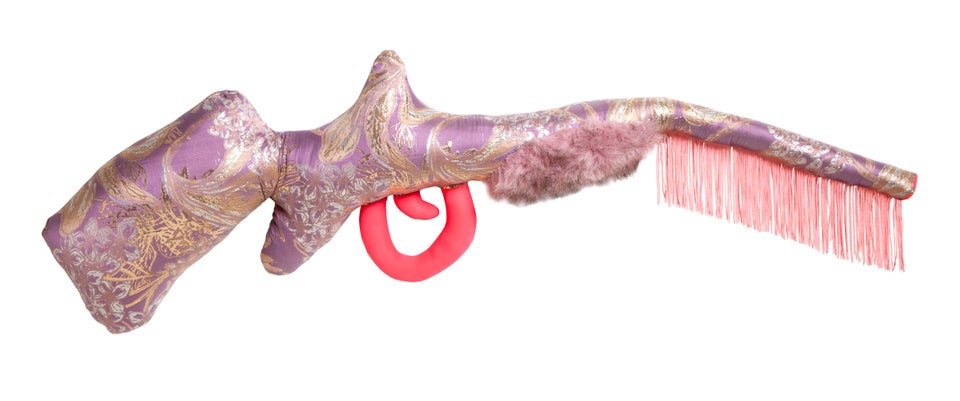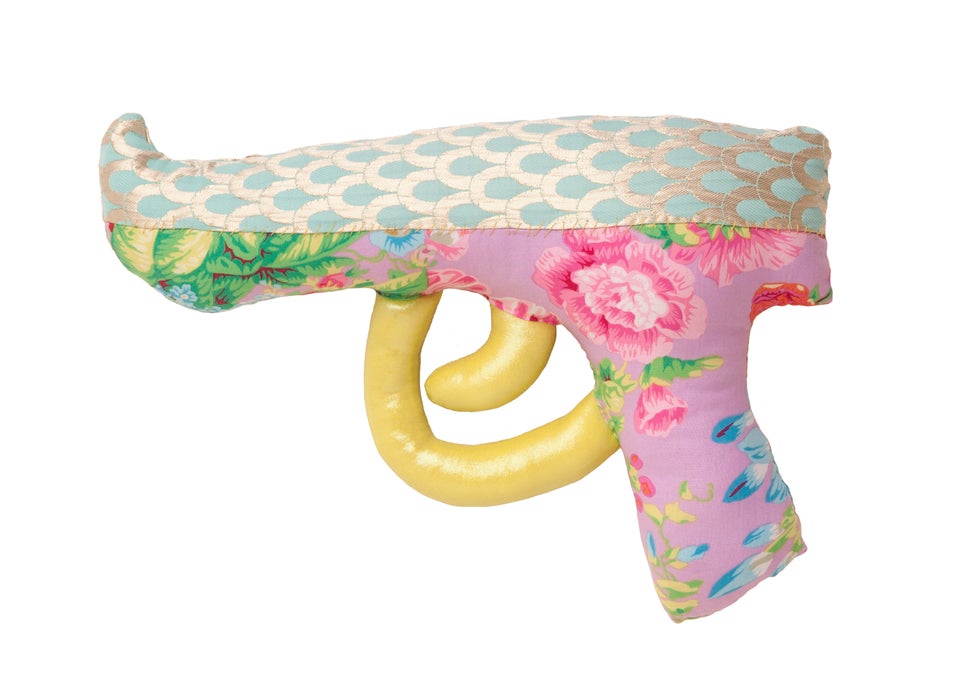 Before You Go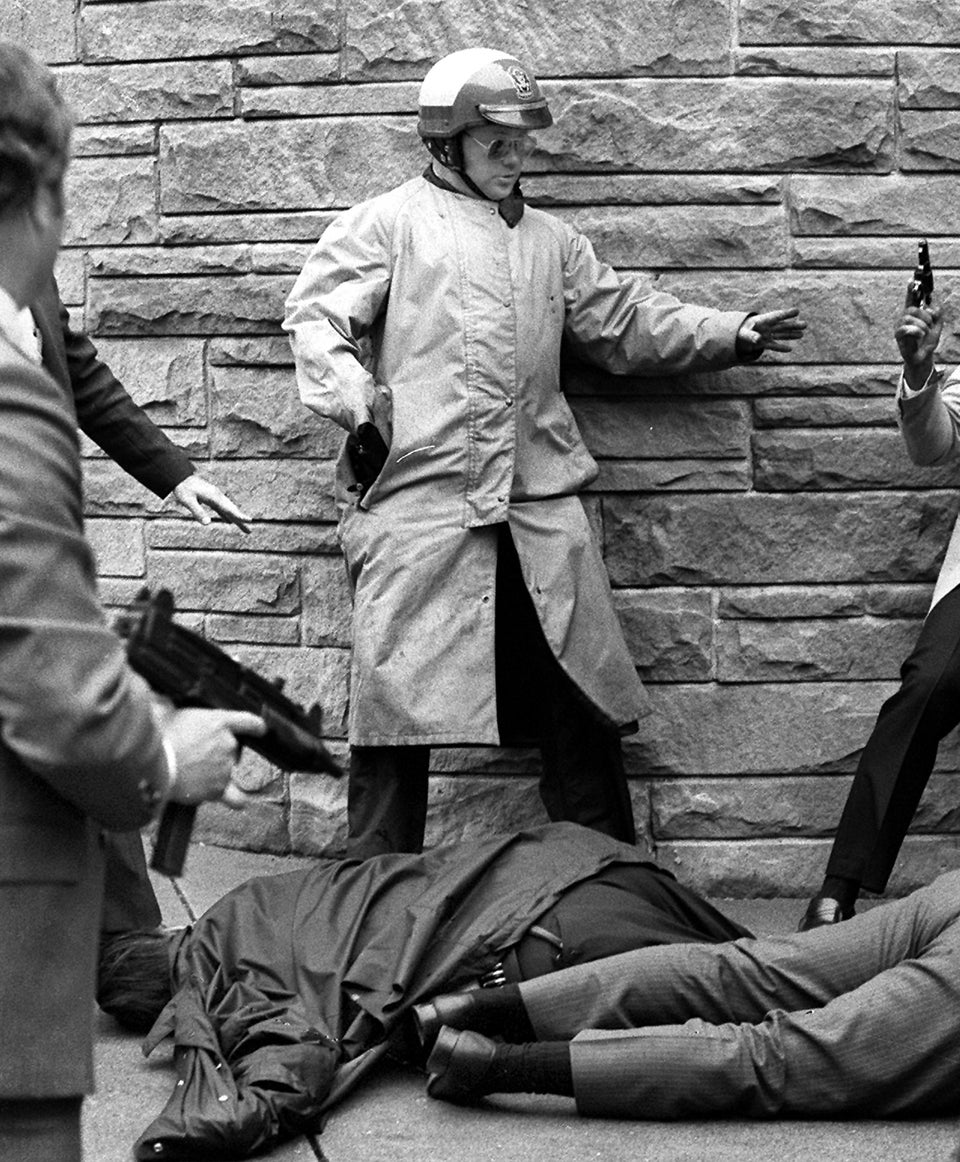 Pivotal Moments In The U.S. Gun Control Debate
Popular in the Community