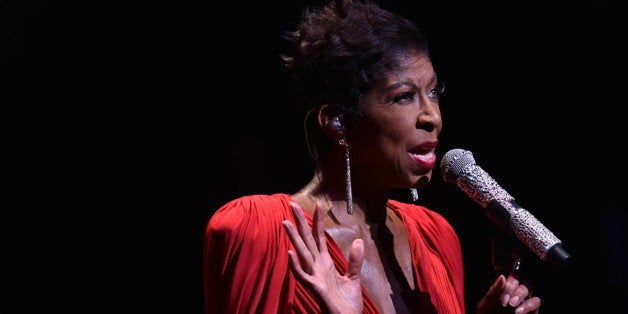 Natalie Cole battled much of her life to carve out a legacy of her own, and in the end achieved her greatest success when she embraced her famous father's.
That's not a loss. That's a win.
Natalie Cole, daughter of the late Nat King Cole (above), died Dec. 31 after suffering congestive heart failure. She was 65 and despite the cushion provided by her father's success, she didn't have an easy life.
She was just nine days past her 15th birthday when her father died of lung cancer in 1965. She had a difficult relationship with her mother in her late teenage years. She was married and divorced three times and her autobiography recounts long struggles with addiction to drugs that included heroin and crack cocaine.
In the midst of all that she also accomplished one of the toughest feats in the music biz for the child of a star. She not only became famous -- which isn't that hard when you have the name -- but she became respected, winning Grammys and selling tens of millions of records in popular, jazz and R&B styles.
Singing almost from the time she could speak, she made her recording debut at the age of 6, a voice on Nat King Cole's iconic Christmas album.
But she didn't plunge into show business. At the University of Massachusetts, where she graduated in 1972, she majored in child psychology and minored in German.
When she did launch her professional career, she resisted everyone who suggested the easy door would be her father's style.
"I always loved his music," she said in a 1991 interview. "But if I had started with that, I might never have been allowed to make my own music, the rhythm and blues or the pop. I would have been stigmatized as someone who does only this kind of music."
Recording in her father's style, she explained was really the easy path not for her, but for the music industry, which would have an instant marketing hook.
"Let's face it," she said. "The music business is not a school of thought. It's not about quality or integrity. It's about making money. People's careers are compromised all the time to sell records."
Only her father's old label, Capitol, was willing to take a flyer on young Natalie, and it paid off. Recording in a style reminiscent more of Aretha Franklin, she scored top-10 R&B hits in the mid-1970s with her first eight singles. Five went to No. 1: "This Will Be," "Inseparable," "Sophisticated Lady," "I've Got Love On My Mind" and "Our Love."
She didn't hold that peak, as life intervened, but she kept singing and a decade later she was back in the top five with songs in a more pop style, including a famous seductive remake of Bruce Springsteen's "Pink Cadillac."
Only after that did she take a deep breath and tackle her father's music and style. That led to the 1991 "Unforgettable" album, whose title track had her new vocal woven into a duet with her father's old one.
"Unforgettable" became a radio hit that went way beyond radio, generating massive buzz and snagging her a Grammy for record of the year. Oh yeah, she also won album of the year.
She was comfortable with the project, she said upon its release, because she felt she had now done enough other material so it wouldn't pigeonhole her.
"Someone who only has one of my albums only sees a small part of what I do," she said. "If you just hear 'Pink Cadillac,' that's not the whole picture."
She also made a point of noting that she didn't simply go to the studio and put her voice on her father's songs.
"My father's music was very different from mine," she said. "His arrangements were very tough and masculine, and since I was obviously singing with a female voice, that made the music a little lighter right away.
"Also, his approach to songs was much more straightforward. So I sing very differently than I sing my own material. The great long wailing notes, for instance -- they're out."
She said she also tried to walk the line between her father's original arrangements and styles that appealed to 1991 ears.
"Some had to be made more contemporary," she said, "because they were so clearly dated. But we tried to do it subtly, like by adding more harmonics. On 'Nature Boy,' we put in a muted trumpet that gave it a Miles Davis kind of vibe. I loved that."
Natalie Cole would return to her father's kind of music several more times in a career that continued pretty much until the end. She also kept recording in other styles, becoming one of a handful of artists to win Grammys in pop, jazz and R&B categories.
So even though the average music fan these days might associate Natalie Cole most immediately with "Unforgettable," she did carve out that legacy of her own.
Now it's up to the world to sort out both the music and the woman who made it, which may be as tricky with Natalie Cole as it was with, well, her father.
"They've made movies and written books about him, and they haven't gotten it yet," she said in 1991. "They all try to understand him through his music, but they didn't know the man. They weren't with him. He hasn't been captured yet and I don't know if he will be."
Calling all HuffPost superfans!
Sign up for membership to become a founding member and help shape HuffPost's next chapter