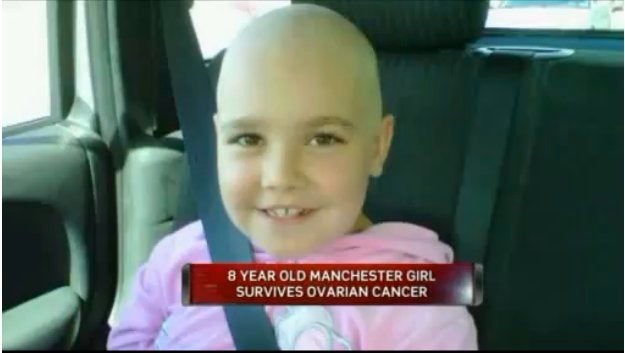 For Natalie Cosman and her family, the bad news came early one morning in June 2011. Melinda Cosman had rushed her then 7-year-old daughter to the emergency room the night before after her stomach pains became unbearable. Her doctors suspected it was constipation or a stomach bug, but called Natalie back into the ER in the morning to run an ultrasound in case of appendicitis.
Instead of a ruptured appendix, they found a 7-centimeter cyst on Natalie's ovary. After a biopsy confirmed the cyst was indeed cancerous, her doctors settled on a diagnosis -- ovarian cancer.
"She didn't really understand," Cosman told FOX News. "We explained to her what was going on as much as we could for a 7-year-old, but I don't know if she gets how important her ovaries are."
Fortunately, Natalie's cancer was caught at such an early stage that she was able to make a full recovery after six rounds of chemotherapy. Though she was unable to attend school during the treatment, Natalie will return to her Manchester, Conn., elementary school this month.
"I'm feeling great because I'm happy that everything is over," Natalie told FOX CT. "Now I just go for checkups every month."
"Natalie was the first case that I heard about last year," Sharon Waxmundsky, a communications specialist with the National Ovarian Cancer Coalition, told WTNH. "Now, more and more cases are coming up with little girls."
"Our goal is to make people realize it can happen to any female at any age," Cosman told FOX News.
CORRECTION: A previous version of this article misstated the number of women under 20 diagnosed with ovarian cancer between 2005 and 2009.