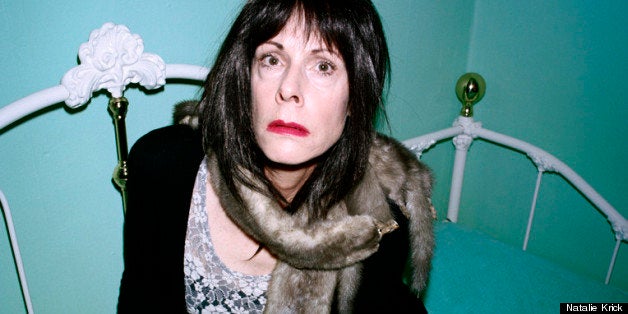 Photographer Natalie Krick is, in the words of Justin Timberlake, bringing sexy back. And she's doing it with her mom in a series of thought-provoking photographs.
The project, which 27-year-old Krick titled "Natural Deceptions," showcases photographs of her mother in various sexualized poses wearing often-exaggerated makeup and wigs. Krick first photographed her mom in 2009 but began working on the series in earnest in 2011. They shoot both in Chicago, where Krick lives, and in Colorado, where her 55-year-old mom is based. The resulting images are striking.
"I was working on another project that was similar -- photographing women in exaggerated makeup and making them look hyperfeminine," Krick told HuffPost Women over the phone. "I dressed her as myself and photographed her. After that, I realized that there was something really interesting there."
Because women in their 50s aren't typically shown in overtly sexual poses, these photos gave Krick a way to expose the performance behind stereotypical female sexiness. "It's so much about artifice, and sometimes it's really fun to perform but theres also a lot to critique about our culture and about how the female body is sexualized," Krick said. "It's always [done] through pose or makeup or styling. And when you think about it, that doesnt really have anything to do with sexuality, it has to do with performance of femininity. It can be powerful, but it's really complicated."
Krick said she gets inspiration for the photos from magazine shoots and celebrity portraits, which present a very specific vision of female sexuality. But her photographs don't just recreate these depictions, they challenge them.
"I find images of glamorous women to be so seductive and something that I really wanna look at," she said. "But a lot of images of women are too easy to look at. I want to make something that's really seductive but is psychological and has an element of tension to it." We think she's accomplished her goals.
When asked whether creating "Natural Deceptions" has changed her relationship with her mom, Krick answered quickly and decisively. "Yeah, definitely," she said. "It's really brought us together."
LOOK: 10 Of Natalie Krick's Portraits Of Her Mother
PHOTO GALLERY
Natalie Krick's 'Natural Deceptions'
REAL LIFE. REAL NEWS. REAL VOICES.
Help us tell more of the stories that matter from voices that too often remain unheard.