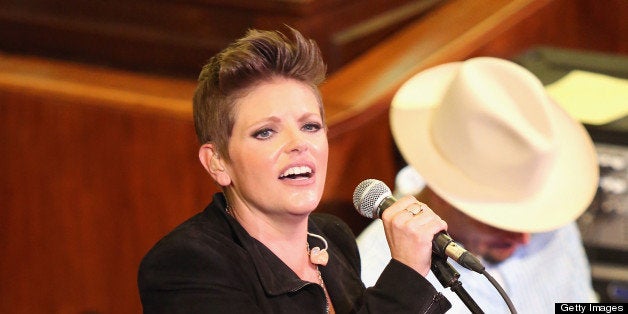 Dixie Chick Natalie Maines has long been outspoken with her views on politics, famously deriding George Bush in 2003 by saying she was "ashamed the president of the United States is from Texas."
In a new interview with Us Magazine, the singer -- who has since started a career as a solo artist -- says she doesn't regret bashing the then-president. "To me, I was right from the beginning, because it's my right as an American to speak up and question our President, have my point of view, have my opinion, question what I want to question, and say what I want to say about our government," Maines said. "It's very scary to me that people actually think we should just follow our leaders. If we can't learn from our history, we're nowhere."
But the country star is hardly proud of having been right about the carnage of the Iraq and Afghanistan wars. "My point I try to make about that is it's not a thing I wanted to be right about," she said. "It's not a good 'I told ya so' with all these people losing their lives. War is horrible."
The dig at Bush set off a maelstrom of criticism within the country music community, with at least one radio station hosting a "chicken toss" party at which fans were encouraged to discard Dixie Chick's tapes and CDs. A number of Texas radio stations also pulled the group's records from the air. (Melodramatic quote from the time: "People are shocked. They cannot believe Texas' own have attacked the state and the president.")
Popular in the Community