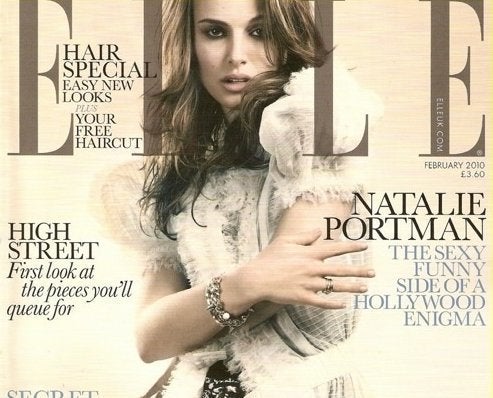 Natalie Portman covers February's Elle UK, and in her interview she discusses the sorts of roles she doesn't like to take on--overtly Jewish characters, one-dimensional girlfriends and sex bombs.
Earlier this year Jerusalem-born Natalie broke one of her rules and played a Hasidic bride in 'New York, I Love You.' She now stars in the war drama 'Brothers' opposite Jake Gyllenhaal and Tobey Maguire.
On playing Jewish characters:
"I've always tried to stay away from playing Jews. I get like 20 Holocaust scripts a month, but I hate the genre. That was the first thing to come my way (New York, I Love You) that really intrigued me."
"It wasn't that I didn't want to do comedy. It's just that I would only get offered girlfriend parts in guy comedies, which aren't exciting to me, or those offensive roles in romantic comedies where the woman has to have a job in fashion so that she can have nice clothes, and her goal is always marriage."
On her role as a precocious 12-year-old in 'Leon' ('The Professional'):
"There was a lot of controversy about the whole Lolita thing. My parents were super-protective about it, but I got a lot of weird letters. It was really upsetting. I didn't want to be seen as a sex object, so I went in the opposite direction. I'm definitely not a prude about sex or nudity, I just don't want to do something that will end up as a screen grab on a porn site."
Popular in the Community