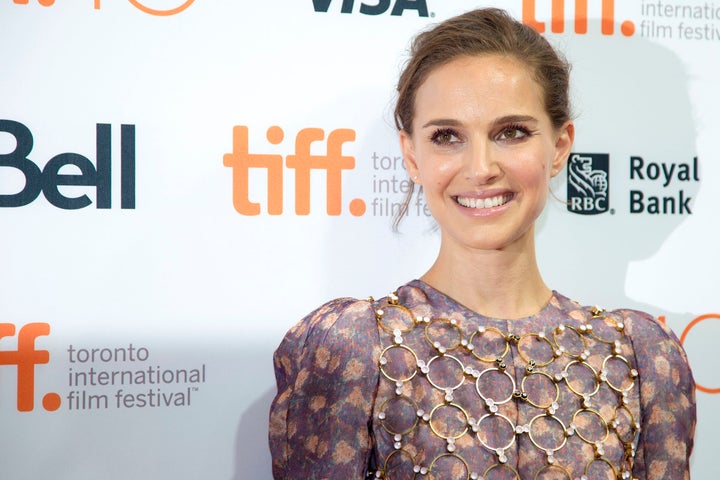 Natalie Portman is pretty much untouchable in terms of natural beauty, smarts and talent in Hollywood today -- but even she has moments from her past that she feels dorky about. Stars, just like us, yadda yadda.
It turns out Portman, who appeared at this year's Toronto International Film Festival in support of her directorial debut, "A Tale of Love and Darkness," keeps up with the same popular shows we do -- namely, "Broad City." The actress is such a fan of Abbi and Ilana's antics that a small dig made on the show about one of her earlier films made her cringe for her past self.
During a conversation with TIFF Artistic Director Cameron Bailey, Portman explained how fun it was to shoot the 2004 film with writer and director Zach Braff. In it, Portman's character is an optimistic, giant headphone-clad foil to Braff's Andrew -- a character later cited in the oft-quoted A.V. Club article that coined the term Manic Pixie Dream Girl.
"I've been insecure about it recently because of 'Broad City,'" Portman told Bailey, according to Vulture. "Best show. If you haven't watched it, watch it. And on the show there's a really dorky character who's a gym instructor, like an Equinox guy or something, and he's the worst. And he's like, 'Oh my God, I love 'Garden State'! I donated all my money to Zach Braff's Kickstarter.' And I'm like, 'Oh my God.' So now, because the people I think are the coolest think it's really lame I'm kind of insecure about it."
Don't fret, Natalie. As teens of the early aughts, we're sure "Broad City" creators Abbi Jacobson and Ilana Glazer also felt their hearts lift when they watched you and Braff scream into the infinite abyss. Maybe it was more about Braff's subsequent Kickstarter than your character's pet funeral. And most importantly: Maybe you can rectify this with a #iconic onscreen cameo a la Kelly Ripa next season. Let's make this happen, Hollywood.
PHOTO GALLERY
Celebrity News & Photos
For a constant stream of entertainment news and discussion, follow HuffPost Entertainment on Viber.
Calling all HuffPost superfans!
Sign up for membership to become a founding member and help shape HuffPost's next chapter