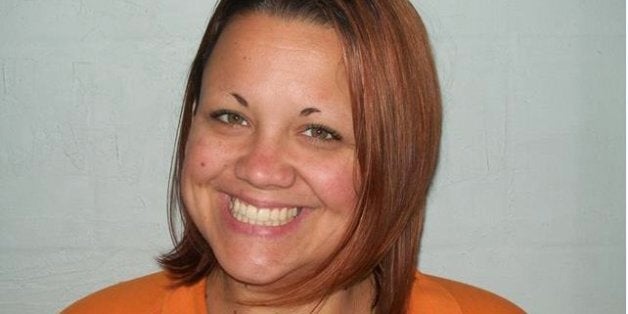 An Oklahoma mother faces serious charges after authorities say she sexually abused her children in the presence of other adults.
Webb is due in Beckham County Court Jan. 6 for a preliminary hearing, and is being held on a $2 million bond. Her four children now live with their grandparents.
A Dec. 18 police affidavit, obtained by The Huffington Post, contains accounts of repeated rapes, beatings and deplorable living conditions through interviews with Webb and her children.
Warning: The following details are graphic.
Webb's 9-year-old son told investigators that his 8-year-old brother and two 3-year-old sisters were repeatedly raped by their mother as other men and women looked on, according to the document. The boy told police that he saw his sisters resist as their mother dragged them into a room, then he could hear his sisters screaming and crying. Police also wrote that the boy told them he saw his mother using a foreign object in the abuse and that people may have paid his mother to watch the abuse.
One of Webb's 3-year-old daughters corroborated her brother's interview, telling investigators that it felt "nasty" when she was being molested, according to the affidavit. The 9-year-old said he also saw his brother being abused, but was able to avoid being sexually abused himself by running and hiding in a dumpster. In interviews with police, Webb denied sexually molesting her children.
Webb told authorities that she often took methamphetamine and sold it out of her house; the 9-year-old described seeing needles around the house.
"[The child] said these things would happen lots of times. He thinks when mom took the needles it would make her act different ... she would act weird and... her arm would have little dots where it was bleeding," the affidavit says.
Along with the allegations of sexual abuse, the children told investigators that they were often subjected to beatings and being thrown against a wall over and over again.
"[The 9-year-old] said his mom would not feed them and he would have to find stuff and cook it in the microwave or pop tarts and stuff," the affidavit reads. "If there was nothing [the children] would just scavenge the floor. On the floor they would find crumbs or cookies that were there from a week ago."
Webb admitted to authorities that she sometimes traded her food stamps for meth. During past interviews included in the affidavit, she demanded to take a polygraph test to prove that she had not sexually molested her children. In late November, Webb told officer Steve Bonds, of the Beckham County Sheriff's Office, that she did not want to talk with the polygraph examiner after the examiner told her she failed the test.
"Somebody hurt 'em," Webb said to Bonds. "I'm supposed to protect my kids."
"Natalie, you didn't," Bonds replied.
According to the affidavit, Webb has past felony convictions for child endangerment and possession of a controlled substance, along with misdemeanor convictions of unlawful possession of paraphernalia, bogus checks and unauthorized use of a credit card.
Calling all HuffPost superfans!
Sign up for membership to become a founding member and help shape HuffPost's next chapter
BEFORE YOU GO
PHOTO GALLERY
Horrors of methamphetamines