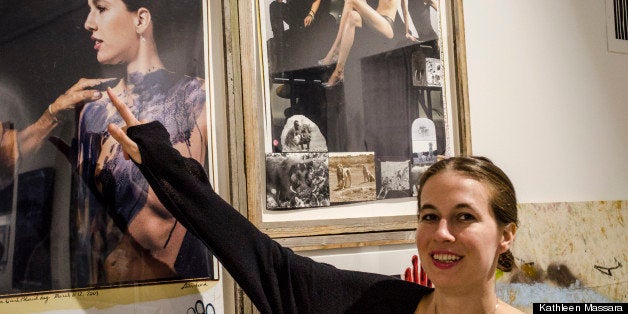 We first found out about Natalie White's exhibition at Rox Gallery after reading a New York Post article about cops visiting the gallery after receiving complaints about White's excessive nudity, only to be charmed by the charismatic (and topless) muse and return for the show's opening on Wednesday evening.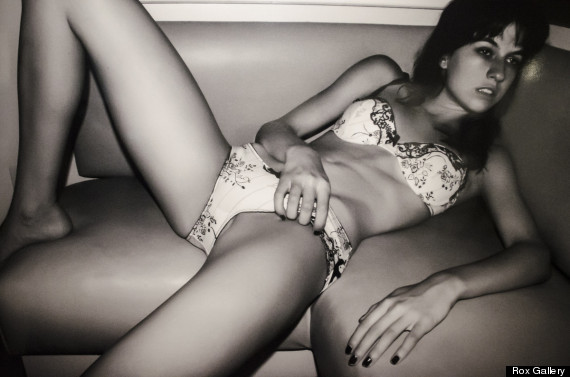 The day after the opening, we arrive at "Who Shot Natalie White," the exhibition comprised of 25 photographers' views of the mostly nude 24-year-old muse. White comes out to greet us outside and, when we ask for a photo of her in front of the gallery, immediately lifts her shirt to expose a bra-less chest. Her dealer, an equally stunning woman by the name Emerald Fitzgerald, soon makes her way outside, deciding to hop into the frame after a few snapshots. Her request: "Can you get a shot of the dealer being the protector while Natalie flashes her tits?" (It's not the usual gallery introduction, but Toto, we're not in Chelsea anymore.)
So how does one become a muse, you ask? Natalie White got her start at 17 years old after being discovered at a New York City nightclub by photographer and Francis Bacon buddy Peter Beard, who was 75 at the time. "I grew up in the Bible Belt in West Virginia," she explained. "At 16 I just wanted to break free." She soon posed before the lenses of Michael Dweck, Jan Frank, Olivier Zahm and Sean Lennon, then picked up the camera for herself.
White guides us around the many manifestations of her impressive physique -- sometimes eating, sometimes touching herself, sometimes lounging in Will Cotton's candy colored clouds. One portion of the gallery contains her own photographs, oversized images of White making love to... herself. "I am obsessed with Francis Bacon's wrestlers," she explains. "But he intertwines bodies in such a dominant and aggressive way. I wanted to show how bodies could be innocent and sensual."
Why intertwine two images of herself, though? "I realized, women don't need men. We can get turned on by ourselves, by the reflections of ourselves in the mirror. I'm not a narcissist. I love myself but I love other people too. But I do find myself getting turned on by own reflection," she giggles as Fitzgerald bursts into full-on laughter from behind the desk.
We roam the hall of nude Natalies and an older mustachioed man in a bucket hat approaches White downstairs as we all watch a film in which White talks about what kind of guys she likes ("Guys with a pulse, a big pulse.")
"Do you still, uh, do this?" He asks.
"Do what? Make art?" She nods.
Bucket Hat Man also makes art and would like to make art with White. She smiles without suspicion and tells him to leave his website at the front desk. He mumbles something about not having a website yet, and we move on. Note: Throughout our tour with White, Bucket Hat Man is surreptitiously snapping photos of the artist as she moves through the exhibition. We inquire as to whether she gets creeped out by her clientele or their reactions to her revealing photographs.
"When I make my work I make it for myself. It's not about how people react to it," she says.
White continues leading us through the space, passing by explicit nude after nude until it seemed nothing could surprise us. That is, until we saw a joint portrait by Elizabeth Waugh of White and Fitzgerald, both topless, in the gallery. "I love this one -- the innocent muse and her dealer, the protector," she says, as if every gallery had one. We secretly hope Larry Gagosian and Jeff Koons have such a shot hidden away for the archives, but we doubt it.
We finally asked the young exhibitionist who flashed a cop at her own show what she wouldn't do. "I would never do porn," she says. "I would never have sex with someone on tape. That would be way too much for my parents to handle." Not surprisingly, she does not see her art as pornographic; in fact, she aligns her photos with the nudes present in the Sistine Chapel.
The bombastic press release for White's exhibition reads: "Natalie, like Aphrodite, has many, many admirers -- gods and mortals alike -- all equally smitten." While tying in the Greek mythology was a bit over the top, there is a strange allure to White that takes her from model to muse. Perhaps it's her childish, goodnatured goofiness coupled with overt sexuality that makes her difficult to dismiss.
"A model is just a hanger," she says. "Art is about capturing a moment in time; it's not about selling anything." We'll see what her patrons think about that statement.
PHOTO GALLERY
Police Investigate Topless Artist's Exhibition (NSFW)
Calling all HuffPost superfans!
Sign up for membership to become a founding member and help shape HuffPost's next chapter