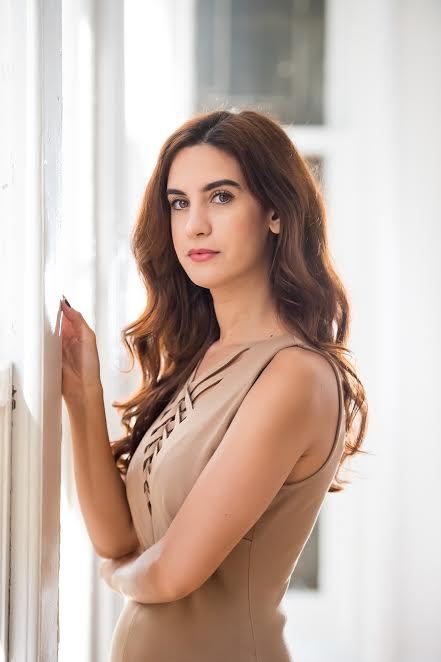 A brave cadre of fearless self-starters are helping to redefine work as we know it. Natalie Zfat, of Natalie Zfat, Inc. is one such person.
After being laid off from her job several years ago, she didn't go searching for a new one. Instead, she capitalized on her talent for blogging and social media, turning her personal brand into a thriving business.
Since then, major brands such as Dell, NBC, Google, the Food Network, Levi's, and Amex have regularly courted her to create content for them.
Now, with a staff behind her and over 400,000 followers across her social media platforms, Natalie Zfat makes a full-time career out of writing about the things she cares about and loves.
How did you create a successful career out of being Natalie Zfat?
I originally started out writing at Rolling Stone. I wrote for them for about two years, during which time I cut my teeth, learned a lot, and gained great mentors in the editorial space. Eventually, I got laid off and I had to make some tough choices about what to next. I watched and participated as blogging and social media were quickly on the rise. It presented me with an interesting opportunity to parlay my writing skills into a digital format. That was really my first time thinking not just as a writer, but as an entrepreneur. Soon, a lot of brands started asking me to write for them, and like any good entrepreneur, I recognized the demand and created a supply.
People must think your job of being a social media influencer is all 'fun-and-games.' That's obviously not the case. Explain what it's really like.
People tend to associate social media with something they do for fun, because most people use platforms like Facebook, Instagram, and SnapChat during their downtime. There's certainly a misconception that a career in social media is all play, and of course it's not. It's my job to post on social media and share content about the projects I'm working on and the causes that are near and dear to my heart. I'm not going to lie. I do have a fun job. But it's still a job.
How did brands take notice of you?
With a social media following of 400,000, I do get a lot of inquiries. A few years ago, I began to publicly share a lot of the insights I was learning about my audience, the data I was collecting, and the knowledge I was culling. As a result, brands started to take a closer look at those who were engaging with my content in order to determine whether or not my audience was one that would respond well to their brands as well. My audience is largely millennial and female. Brands who want to align themselves with that audience, ask me to do what I love, which is write and share my thoughts with my followers. Whenever a brand approaches me about working together, I have to evaluate whether or not the brand a good fit for my personal brand and make sure our values align. In many cases, the answer is yes. Luckily, I have a great team that helps me decide.
Tell me more about Team Natalie.
I have 3 people on my team. They assist me with everything from content creation to graphic design. From a content standpoint, having a team is essential, because it allows me the ability to create quality content regularly and consistently. I also have a solid network of freelancers — copywriters, photographers, coders, etc. who I contract on a needed basis. But it's important to note that we're not a marketing agency. It's really a support team. My personal brand is my business, and a massive amount of thought goes into figuring out who we'll work with. We strive to make sure that every brand we partner with is modern and smart and committed to values such as equality and brand ethics.
Did you always want to work for yourself?
I've always been entrepreneurial. I hoped that one day that I would have a business and a team who too shared my vision. I've been writing since I was a kid. In fact, when I was very little I would write my parents a note if I was upset with them or about something they did. So, my parents knew (probably before I did) that writing was something that I loved, and so they encouraged me to write for a living or, at the very least, make it a big part of what I do. I was raised to believe that I didn't have to compromise what I love doing. I could do something I enjoyed and make a living at the same time.
As a social influencer, brands recognize you and your following as a tremendous asset in helping them build their own brands. What do you think is the future of influencer marketing?
I think partnering with an influencer is very beneficial to a brand for two reasons: One, an influencer can introduce your brand to an audience you may not have had exposure to before. And two, an influencer provides your brand with authenticity. And this really highlights the major distinction that exists between an influencer and a celebrity. When Matthew McConaughey drives a Lincoln in a commercial, the audience knows he's an actor getting paid to do so. But an influencer — whether paid or gifted — is usually not touted for their acting abilities. A good influencer enjoys a relationship with his/her audience that is rooted in trust and authenticity. Influencers are paid to be themselves. 
A lot of people in the industry are saying the future of influencer marketing is 'micro-influencers.' What are your thoughts on that and why might micro-influencers be more valuable than big-name celebrities?
Micro-influencers are influencers who are not mainstream and yet they have more of an authentic feel versus someone with millions of followers. There's an idea that if an influencer with only 50,000 followers or less is talking about a product, she must truly like it. And I've witnessed firsthand that the bigger you get, the more you're going to be questioned and suspicions will be raised that you're "selling out." But, I still think big influencers have an important role to play in the market place. Brands should always consider, first and foremost, whether or not the influencer is a good representation of their brand and has an audience that aligns with theirs. Sometimes the influencer with substantially less followers is the better choice if the influencer creates content more aligned with your brand and has a following that would be more engaged with what you have to offer.
You speak at a lot of university campuses, such as the NYU Stern School of Business and Carnegie Mellon. Why?
One of my favorite things to do is to speak with college students. Social media is a space they understand uniquely well. For college or high school students thinking about what they will do for the rest of their lives, it's good for them to see a person who has turned something they love into a career - and a successful one at that. And if they have an interest in social media, it could motivate and inspire them to make a career out of it.
Many people dream of being able to do what you do for a living. You make your own schedule, travel, and get paid to use the latest products by big name brands. What advice would you give someone amassing a following on social who wishes to capitalize on it?
I get this question a lot — from followers as well as from bloggers and entrepreneurs. Unfortunately, there is no formula for becoming a successful social influencer - or a successful anything, really. If you're hoping to become a full-time personal brand, there are a lot of questions you'll have to answer for yourself. What is my expertise? Can I build an audience that cares about that topic? Can I demonstrate that my audience has purchasing power? Can I show a case study or demonstrate the ROI (return on investment) a brand has earned because of me? On which mediums (e.g. podcasts, blogs, videos etc.) do I create my content? There are many different variables that go into it, but I think it all goes back to supplying the demand. It's about assessing the need and fulfilling it with your content.
Is it ethical to write about a brand that is paying you?
I came from the world of journalism where you can never get paid by a brand you write about. The important thing that I've taken from my journalism background is that I don't write about something if I don't absolutely love it. I've turned down lucrative offers from brands whenever I didn't believe in the product or our values were not aligned. But, at the end of the day, any decent blogger is not paid for their opinion, but for their time spent expressing it.
What do you think is driving this interesting trend toward more people opting to work as freelancers?
We are not our parents' generation. We don't necessarily want to work for one company for 40 years. 50% of the workforce will be self employed by 2020, and millennials are quickly re-inventing what that workplace looks like. It excites me that people are reimagining what a career can look like, and I'm so honored to be a small part of that story.
What would you advise others who would like to work for themselves?
There is no formula for starting a business, so you might as well just try it. A lot of people approach me about wanting to start their own business, and I always ask them is if there a demand for what they want to do. Is it something that you find to be a good idea, or do you a lot of other people (who aren't in your family or friends circle) think it's a strong idea as well? I certainly feel lucky that there is a demand for my writing, and that I have been able to leverage it into into a sustainable business. But nothing happened overnight. It took a lot of work to get here, and we continue to grow.
Are you an entrepreneur, side-hustler, or freelancer with an interesting story? Let's connect! Tweet me @ZevGotkin
REAL LIFE. REAL NEWS. REAL VOICES.
Help us tell more of the stories that matter from voices that too often remain unheard.
This post was published on the now-closed HuffPost Contributor platform. Contributors control their own work and posted freely to our site. If you need to flag this entry as abusive,
send us an email
.