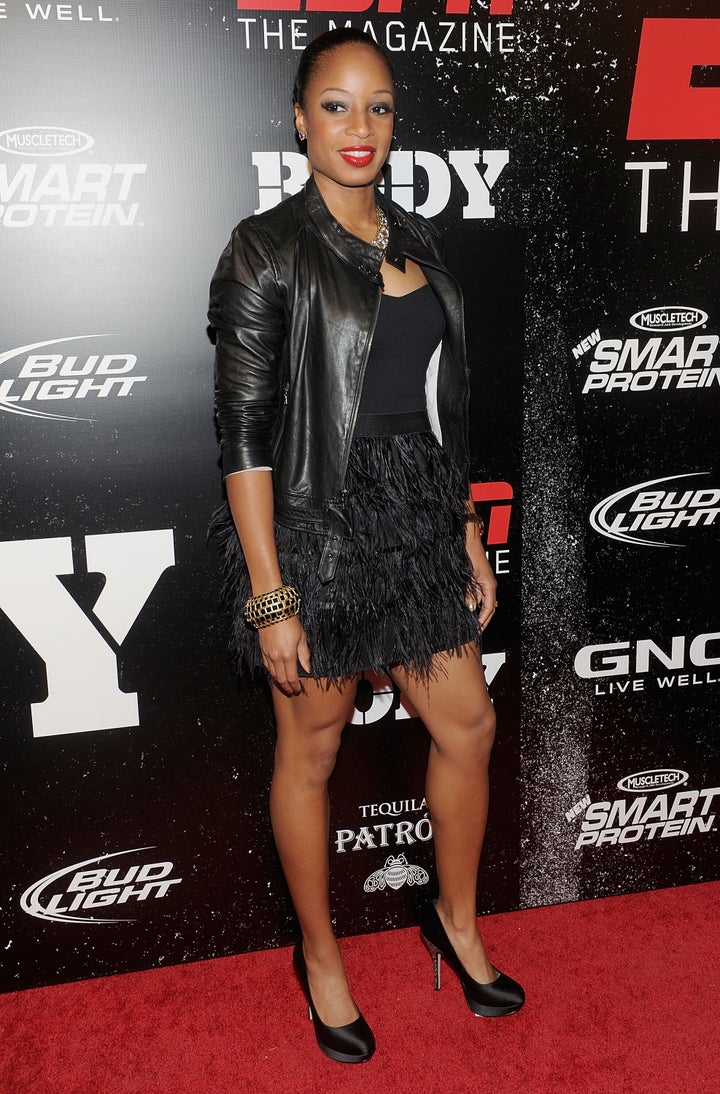 I'm sure by now most of you all have seen my images featured in ESPN the Magazine's "The Body Issue." There has been tons of press and interviews since then, but I wanted to use this month's post as an opportunity to give you guys my own version and reasons for doing "The Body Issue." So, please forgive me. This month's article won't be loaded with fitness tips, but instead I would like to bring awareness to an issue that is equally important.
I first received the call that ESPN was interested in having me in their annual issue from my publicist one Wednesday afternoon in July. I was out doing my usual mid-week rituals of running errands, grabbing some coffee, manicure and pedicure. I knew right away what issue my publicist was talking about. I was immediately honored and flattered that ESPN wanted me for this issue. This wasn't an opportunity that we actively sought after or went to them to be a part of. They wanted me. So, naturally I was excited, and without even giving it much thought, I told my publicist I was almost certain that I would do it. I let all the excitement overwhelm me, and didn't even take the time to weigh the impact this may have on my family and my career. I called my mom, and she was equally excited as well, but after some talking we realized I had way more talking and thinking to do before giving ESPN my final answer.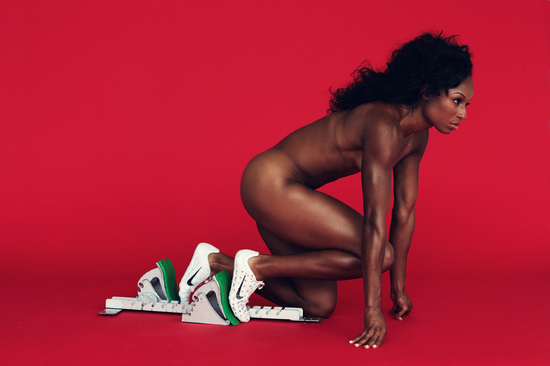 Photo: ESPN the Magazine / Luis Sanchis
I'm 25 years old, and those that know me know that I am extremely family-oriented. I hardly ever make a move without consulting with my mom, and I always think about whether or not my actions would be approved by my family members. I've always felt not only am I a representation of myself, but I am also a representation of my family. So, the next couple days I spent talking to different members of my family about how they felt about me posing for the issue, as well as explaining to them what the issue meant to me.
My main concerns at this point were making sure my family and my boyfriend were comfortable with my posing nude for the issue. I have a 13-year-old brother who was going to be entering his freshman year of high school, and I certainly did not want to embarrass him in any way. He insisted that he was ok with it, and thought I should do it, but I was still a little hesitant, not sure that he even completely understood what may come of it. My mom was on the fence. Like any mother, she was unsure about her daughter posing nude, but she understood the message ESPN was aiming to portray and trusted my judgment. She told me it was my decision and whatever I decided she would be proud of me.
My boyfriend was the kicker. I had to wait the longest to talk to him since he was in training camp at the time. When I finally got him on the phone he, like me, knew right away what issue I was referring to. His reaction right away was absolutely not! He explained that the magazine is delivered to their locker room, and everyone knows we are dating. Like any boyfriend, no one wants their friends and colleagues to see their girlfriend in the nude. So, then I was sure I had to turn ESPN down. But surprisingly, a couple hours later he called me back, and said that he had time to think about it and he thought it would be a great opportunity for me. He gave me his blessings to go ahead with the shoot. But even with his blessings I was still wary of how it would affect my brother.
I spent the next few days talking with people over at USA Track & Field (USATF) and the U.S. Olympic Committee (USOC), making sure that this was something they were okay with. I wanted to make sure this wasn't something that would put my career or image in jeopardy. I also spoke with the editors at ESPN. I had loads of questions for them. How has this affected the athletes that have posed in the past? What would the shoot be like? How do we go about getting the right shot? How much control do I have over the images that are used? In the end I think they were tired of me, because I had so many questions, and I still was unsure about my little brother. It wasn't until the last day that I had to make my decision that I had one last talk with my brother and made sure he was ok with it. That was when I made my final decision to go through with the shoot.
The shoot was an experience in itself, as this is nothing I've ever done before. I brought my mom down to Miami with me for the shoot to help with my nerves. Although I wouldn't allow her on the set when it was finally time to shoot, I have to give ESPN their credit. I don't know if someone can be totally comfortable with posing nude for total strangers, but they did their best to make sure I was as comfortable as possible. They answered all my questions as best they could prior to the shoot. They assured me that it would be a private shoot, and they would not use any images without my approval. On set it was me, the photographer, his assistant and the photo director. The hair stylist came in and out but only to touch up my hair here and there. It was all about making sure I was comfortable.
Now, I've given a lot of background on how my family felt and what the process was like, but I wanted to explain what doing this issue meant to me. I mentioned when I got the phone call I was immediately flattered. I knew what the issue was and what they were asking. I had seen the previous issues and thought the images were tastefully done. For me, it was a celebration of the athlete's body. It was a way of showing how we come in many different shapes and sizes, and a way of showing the hard work that we put in every day. The poses reflect our sport in some fashion, so it wasn't just aimless, nude photos. There was a story to tell. We've all achieved some great things in our careers, and our bodies and looking the way we do played a big part in that.
I know that I have a large following, particularly from young girls. So, I'm sure a lot of you are wondering what message I was trying to send to them. I understand this is an issue that is for a more mature audience, and if it's going to be shared with young adults, an adult should explain to them what the magazine is portraying. For the younger girls, I remember being in high school and being teased because I was lean and muscular. I can't say that it bothered me much, because my mom always encouraged me and made me feel good about myself. I also understood that a lot of what I had achieved was because of my fitness level. However, so often we hear young women and even adults say they don't want to play sports or work too hard for fear of looking manly. Now tell me, did any of the women you saw in this issue, as "buff" as we are, look manly? Society has a way of making us believe one particular look or size or shape is attractive. I can tell you, I hardly fit in any of those categories. I am not a size 0, I don't weigh 100 pounds, and I don't have big breasts, but I am still a woman and I am still beautiful.
I remember growing up and visiting my grandparents' home in Trinidad. My grandmother loves art and has several paintings around her home of nude women -- all maternal figures. I remember one time standing in line at the grocery store with her, and Britney Spears had done a nude cover shot when she was pregnant with her first son. My grandmother grabbed the magazine and exclaimed, "I like to see a naked pregnant woman!" I was young, and it struck me as a little odd, but as I got older I realized it was art. It was an expression of how God made us and the beauty in which he made us. Now, I'm certainly not pregnant, nor do I intend to have children anytime soon, but my body is art too! It's a display of all the hard work I've put in throughout my entire life. People travel across the world to see the naked statues outside the Olympic Stadium in Rome. The statues show the bulging muscles and tip top form of the athletes' bodies. So my photo was simply an imitation of Roman art. In fact, there is a statue outside the stadium in which my pose is very similar to.
So, I said I wasn't going to give any tips this month, but I think I have to share at least one. Every month I come to you with fitness tips and healthy eating habits and ways to lose weight. But this month I want to express that while all those things are important, it is just as important that we love ourselves and we love our bodies. Don't let society tell you what is beautiful. You create your beauty. God made you the way you are for a reason so embrace it!