These days, Natasha Lyonne is most loved for her portrayal of Nicky Nichols on Netflix's "Orange Is the New Black." But 14 years ago, Lyonne played another iconic LGBT character in the satirical indie "But I'm a Cheerleader."
Written and directed by Jamie Babbit, the movie used campy humor to tell a story about a gay-rehabilitation camp for teens, run by its uptight founder (Cathy Moriarty) and pseudo-masculine "ex-gay" (RuPaul). The film is a cult favorite in the LGBT genre for its hilarious and smart jabs at gender norms, sexuality in suburban America and real-life ex-gay Christian organizations. This summer marked the 14th anniversary of the film's release, which first hit theaters on July 7, 2000, after premiering at the Sundance Film Festival in 1999.
Over the course of a half-hour phone conversation with Lyonne, as she made her way to the Los Angeles airport, it became clear that the details of surrounding the release of the film are a bit fuzzy. "Nah, nah. Don't remember it, don't remember the movie. But how can I help? [Laughs] It's so weird that it's 14 years ago because I always like to call it 20 years ago. I like to round up. A lot of actresses round down, but I like to round up," she said. But the actress did remember the unlikely story of how she wound up starring in the film. At 15 years old, the New York native would visit Los Angeles for auditions, but there was one problem: She didn't have a car. "I'd harass all the other actresses and bully them into giving me a ride," Lyonne said, before sharing an anecdote about the time she made Jessica Alba drive her home, apparently against the "Sin City" actress' will. Eventually Lyonne met Clea DuVall, whom she still remembers from auditions for "Girl, Interrupted" and "The Faculty," two jobs DuVall got that Lyonne didn't. (Lyonne swears she's not still bitter.)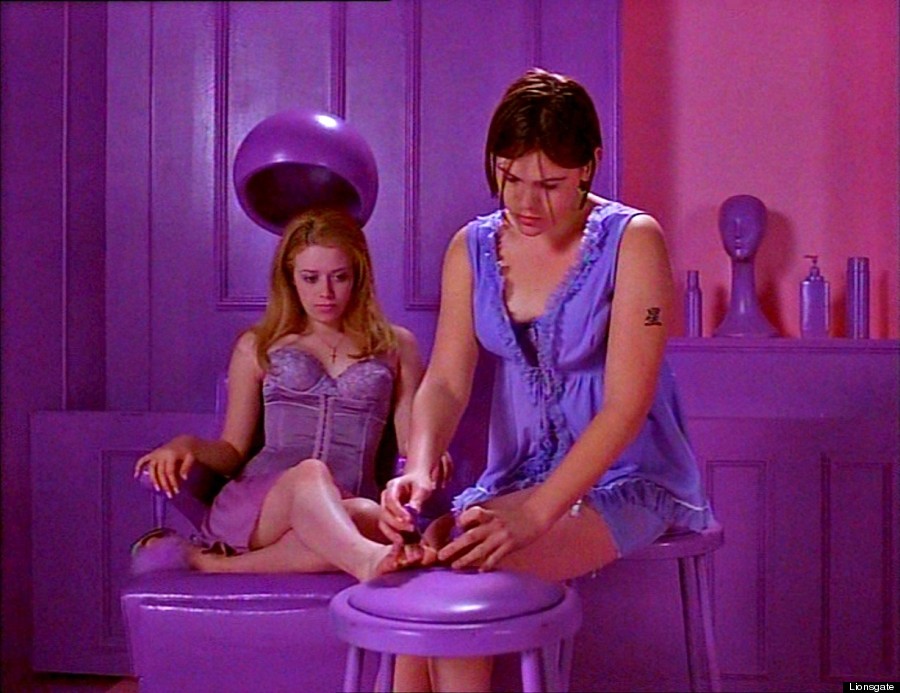 "She was like my L.A. friend," Lyonne recalled. "I was in her car and there was a script just sitting on her passenger-seat floor. I was like, 'What's this movie? Can I be in it?'" As it turned out, it was the script for "But I'm a Cheerleader." DuVall was already cast to play Graham, a disillusioned lesbian with disapproving parents. DuVall made a quick call to her good friend Babbit and the next thing you know Lyonne was set to play Megan, a cheerleader and the film's protagonist. "This was the '90s, this is how deals were made," Lyonne said, laughing.
"It was really very sexist -- it was homophobic, yes, but it was also more just about that it was women."
The original concept for "But I'm a Cheerleader" was conceived in a similarly unexpected way when Babbit discovered a newspaper article in a coffee stop. "I was reading one of those free gay newspapers in San Francisco in a coffee shop -- bored," Babbit said. The writer discovered an article about a man who had recently left Exodus International, the ex-gay Christian organization that operated from 1976 until 2013. "It just sounded totally absurd to me and it seemed right for a satire." As an openly gay filmmaker, Babbit said that, at the time, she not only wanted to tell a lesbian love story, but also one that was personal and satirical. "I wanted to poke fun at both people who were ex-gays and really strident and people who were gay and really strident."
"But I'm a Cheerleader" certainly shines light on both sides, from the movie's hilarious and absurd rehab lessons -- how to be masculine: play football; and how to be feminine: change diapers -- to the prideful ex-ex-gays that shelter the camp's runaways and sneak them into gay bars. Yet even though the film's humorous commentary on sexuality and gender norms were groundbreaking at the time, Babbit still didn't get to say everything she wanted. The filmmaker told HuffPost Entertainment about the controversy she faced with the MPAA ratings board before the film's release. There were two scenes in question that, according to the board, merited an NC-17 rating. One was a masturbation scene involving Megan. "[The MPAA] thought that it was gratuitous," Babbit said. "I mean, it was literally her just touching herself over her nightgown, and they said that that was scandalous. I didn't cut it entirely, but I had to cut it down."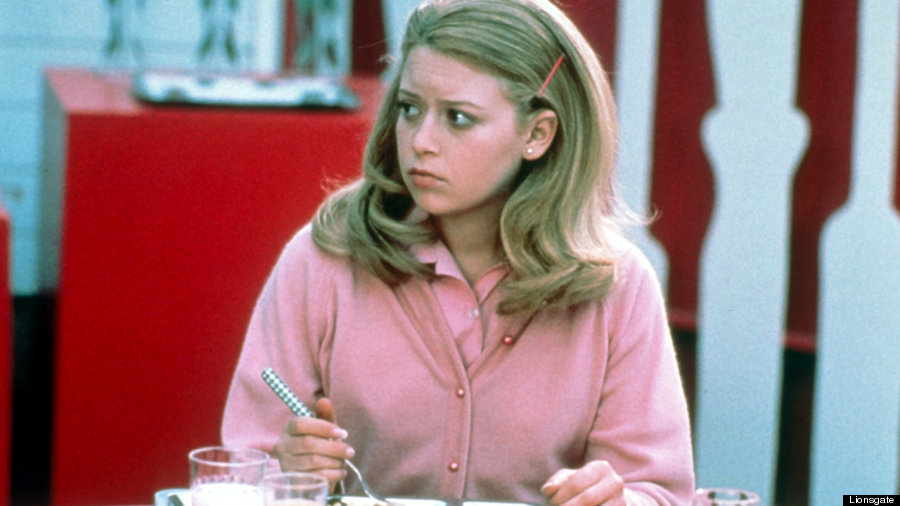 In another scene, which was completely cut, the prim Hilary (Melanie Lynskey) asks Megan if she "ate out" Graham. "The ratings board said you weren't allowed to talk about a girl having oral sex with a girl," Babbit said. Since the filmmaker initially wanted the movie to be for a lesbian teen audience, noting how few films there were for that demographic at the time, Babbit said she ended up cutting the line to get an R rating so it could be shown in theaters. The board, however, didn't seem to have a problem with a similar reference to oral sex in the film between men. During the gender identity training montage, Mike (RuPaul) says, "Who wants to go down with me," to which all the boys respond with eagerly raised hands. "It was really very sexist -- it was homophobic, yes, but it was also more just about that it was women," Babbit said. "They were very uncomfortable with a woman masturbating, with a woman saying she's going to go down on another woman." Babbit noted how the industry's blatant sexism at the time was also made apparent with "American Pie," which came out in 1999. "That trailer where he's jerking off in the apple pie, it was playing in every theater, and that had an R rating," Babbit said.
"You would never say, 'Oh what's this movie about?' 'It's this straight lawyer and he falls for this straight doctor and they go on a straight honeymoon.'"
Comparing "But I'm a Cheerleader" to the most recent LGBT film to get an NC-17 rating, "Blue Is the Warmest Color," Babbit agreed that the ratings board's stance on same-sex characters and sex scenes have drastically changed since 2000. "It's literally full nudity and girls, like, eating each other's butts!" she said of the French lesbian drama. "I had zero nudity and I got an NC-17. It was just a more conservative, ridiculous time." Although Babbit and her lead actresses, Lyonne and DuVall, each said, in separate interviews, that representations of LGBT characters have improved over the past 14 years in film and TV, they all still believe there's more work to be done. "I think definitely we've seen a lot of breakthroughs since then," Lyonne said. "But I do think there's a bit of a stereotype going on. I'll read [a script] and say no on the basis that [the character's] the tough-talking lesbian sidekick. It almost seems like an archetype at a certain point." Lyonne went on to add that many of the lesbian roles she's read are "specific to a male point of view of what a gay woman would be."
Lyonne has played a variety of lesbian characters, something she feels "well-versed" in, despite not being gay herself. Still, she wishes audiences and the media would avoid categorizing them as such. Back in June, while promoting the latest season of "Orange Is the New Black," Lyonne made a comment about the media defining a show or its characters by their sexuality, saying it breaks her heart when something is called a "gay show." Asked about it again, in regards to "But I'm a Cheerleader," Lyonne explained, "This idea that back then we had made a 'gay' movie, [Megan] was a 'gay' cheerleader, and now I'm a 'gay' prisoner ... is such a glaring injustice." Lyonne compared this way of typifying sexuality to heterosexual characters: "You would never say, 'Oh what's this movie about?' 'It's this guy, he's a straight lawyer and he falls for this straight doctor and they go on a straight honeymoon.'" Lyonne called such categorization a "subtle, more nuanced homophobia" that she hasn't seen change in the past decade and a half.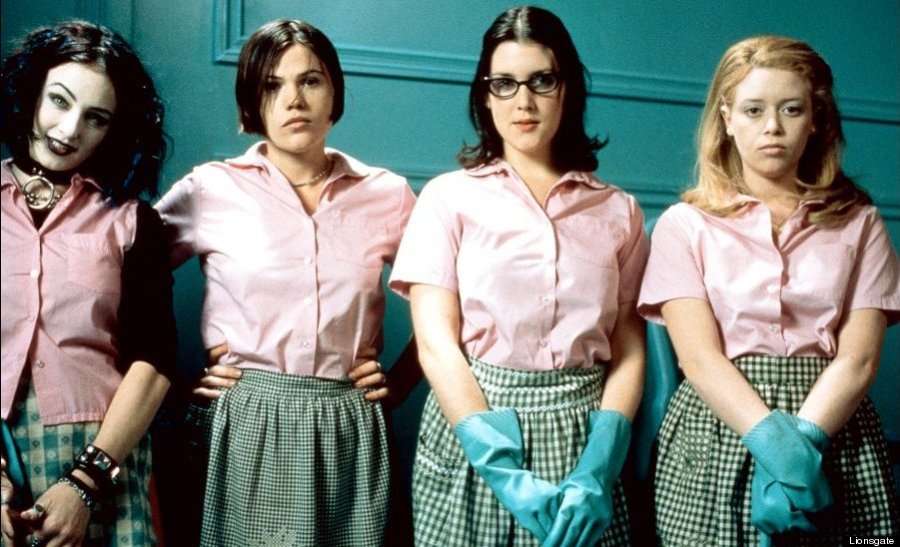 "I had zero nudity and I got an NC-17. It was just a more conservative, ridiculous time."
DuVall, who has remained close friends with Lyonne since they met, had similar hopes for how the media and the industry might adjust their views on LGBT storylines and characters. "What I always like to see in movies or TV shows, is when there's a gay character in it and they're just gay and the show doesn't have to be about that, it's just an in-passing thing," DuVall said. While she believes there's much less hysteria over LGBT roles today, citing "OITNB" as a positive example, she still wishes it would be less of a big deal when there's a gay, married character on TV.
With actresses like Lyonne and DuVall, who have both played lesbian characters over the years, and a bold filmmaker like Babbit, there is hope for the future of groundbreaking LGBT content. Lyonne spilled that she's starring in Babbit's new untitled comedy, in which she'll play a lesbian, but she wouldn't say more than that. Babbit is also directing an episode of "Girls" for the upcoming fourth season, her second time working on the HBO series. The director revealed that her episode will introduce a new gay male character to Lena Dunham's fictional world. Lyonne will also make a cameo on this season of "Girls," and there's still the third season of "OITNB" to come.
Before hanging up to board her flight to New York, Lyonne recalled one particularly positive and touching memory about "But I'm a Cheerleader" that proved just how important the film was in its time. "I remember Clea and I went to Sundance together and a lot of the Mormon girls were coming up to us," Lyonne said. "Clea and I would be crying because it was so moving that they had come out because of that movie. They had never seen anything like it."
While the MPAA might have hindered Babbit's complete creative freedom, the message still got through to those who needed it most. "I feel very privileged for being a part of something like that," Lyonne said. "I mean, it's great to make a great movie and have people like you and want to sleep with you and think you're cool, but rarely have I ever been a part of something that helped people figure out who they are."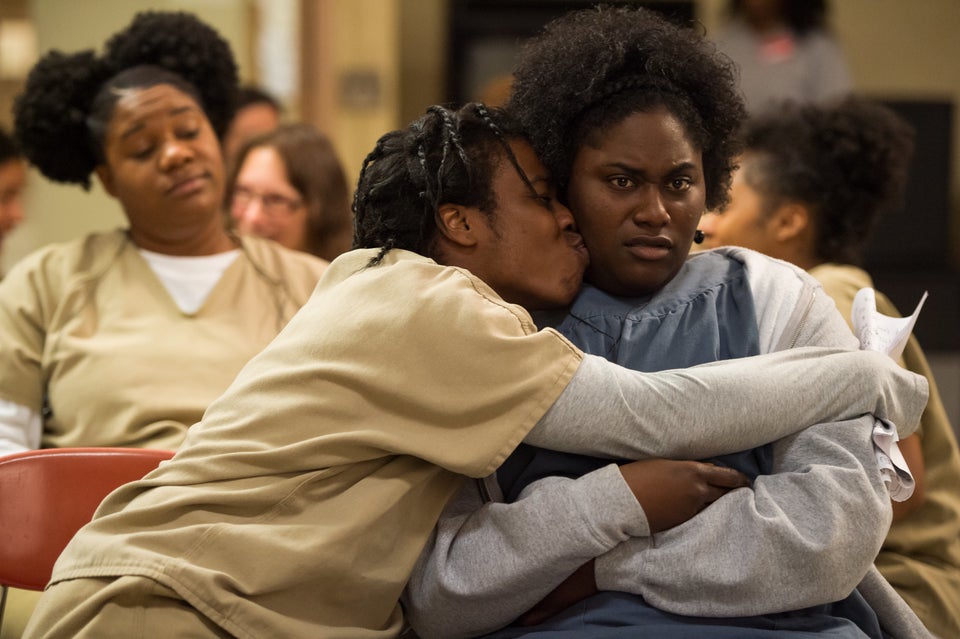 "Orange Is The New Black"
Popular in the Community