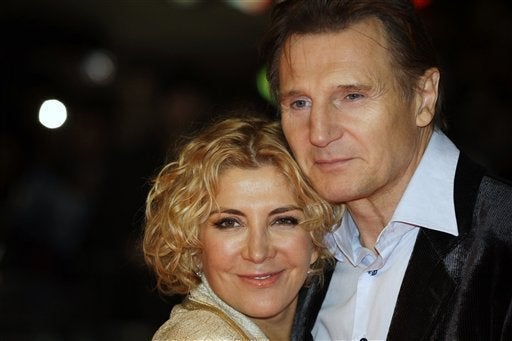 Liam Neeson, his sons, and the entire family are shocked and devastated by the tragic death of their beloved Natasha. They are profoundly grateful for the support, love and prayers of everyone, and ask for privacy during this very difficult time.
Richardson, 45, was not wearing a ski helmet when she was taking a private ski lesson on the Nansen, a beginners' run at Mont Tremblant, she added.

Richardson, wife of actor Liam Neeson and daughter of actress Vanessa Redgrave, was at the bottom of the run, in what is known as the flats, during the mid-afternoon lesson when she fell and tumbled down the hill...

She did not hit anyone or anything before coming to a stop. The ski instructor was by her side within seconds, Lacasse said.

There was no external sign of injury, no cut or bleeding, Lacasse said.

Two ski patrollers assisted Richardson but she was not put on a stretcher, Lacasse said. Richardson walked to her room at the resort's Quintessence Hotel, where she had been staying since Sunday.

The patrollers stayed with her for an hour. She started having headaches and she was transported to the Centre Hospitalier Laurentien.
"Liam Neeson left the Toronto set immediately to fly to Montreal upon news of his wife's accident," a rep for his film Chloe said in a statement to Canadian TV. "We do not have any details at this time but we hope for the best and our thoughts and prayers are with Natasha and Liam and their family."
A family member confirmed Richardson had had a skiing accident.

"We know that she has had an accident but we really do not know any more details," said Kika Markham, who is married to Richardson's uncle, Corin Redgrave. "We are very concerned."
LATE MONDAY NIGHT:
Actress Natasha Richardson, daughter of actress Vanessa Redgrave and wife of actor Liam Neeson, has been injured in a tragic ski accident in Canada, according to several reports.
Richardson, who was set to co-star with her mother, Vanessa Redgrave, in a Broadway revival of Stephen Sondheim's "A Little Night Music," was apparently injured in a tragic ski accident and suffered a traumatic brain injury.It is not known whether Neeson is at his wife's side.
People magazine confirmed the unfortunate news:
Actress Natasha Richardson was hospitalized on Monday afternoon in Montréal after suffering a serious head injury, PEOPLE has confirmed.

The Tony-winning star, 45, was first brought to Centre Hospitalier Laurentien near Mont Tremblant, a famed ski area, following a skiing accident. At 5 p.m. she was transferred to Hôpital du Sacré-Coeur de Montréal.
Popular in the Community