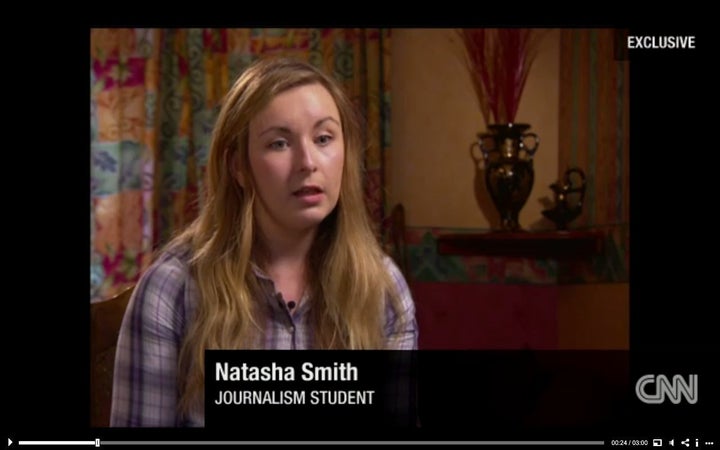 A British journalist has recounted her horrifying tale of near-death experience, after she was groped and sexually assaulted by a mob of men in Cairo's Tahrir Square on Sunday.
For Smith, the atmosphere in Egypt was jubilant; fireworks lit up the sky; the footage was excellent, and it would all likely work well for her final collegiate project – a 20-minute documentary on women's rights and abuses against women in Egypt.
But, as Smith details in her blog, within moments as she walked to the edge of the Kasr El Nil Bridge, the crowd's mentality shifted. Within seconds, Smith writes that as she tried to turn back, she found herself dragged away from her male friend, Callum Paton and immediately was "groped all over, with increasing force and aggression."
"Men started ripping off all my clothes," she told CNN. "First of all, it was my skirt, and that just went straight away, and I didn't even feel my underwear being removed. Then my shoes went and clothes on my upper half were just being ripped off me, and that was quite painful."
A few men attempted to protect her. She wrote that they tried to drag her away from the crowd into a "crushed" tent.
"I was tossed around once more, being violated every second," Smith wrote about her experience within the tent. "I was dragged naked across the dirty ground. Men pulled my blonde hair – a beacon of my alien identity."
She then was moved to another tent, this time, the men trying to protect her formed a "human shield" around her that proved futile. An ambulance roved through the crowds in an attempt to save her, but was infiltrated by mob members and forced to drive away.
"I began to think, 'maybe this is just it. Maybe this is how I go, how I die. I've had a good life. Whether I live or die, this will all be over soon. Maybe this is my punishment for some of the emotional pain I've caused others through some foolish mistakes and poor judgement recently. I hope it's quick. I hope I die before they rape me.'"
Ultimately, Smith was brought to a medical tent after Paton convinced several of the tent's occupants to protect Smith during her transport into it. Smith lost consciousness and awoke to the sound of men pounding at the tent and a whirlwind of women clothing her.
"The women told me the attack was motivated by rumours spread by trouble-making thugs that I was a foreign spy, following a national advertising campaign warning of the dangers of foreigners," Smith wrote in her blog. "But if that was the cause, it was only really used as a pretext, an excuse, to molest and violate a blonde young Western girl."
Smith was cloaked in a burka, and exited the tent holding hands with an Egyptian male who pretended she was his wife. He instructed her not to reveal herself by crying through the streets.
Paton told CNN that if the medical tent's staff not helped, then Smith may not have survived.
Smith has since left Egypt, returning home where she feels resolved to continue her work. Her camera, along with her footage was taken seconds after the mob began its assault upon her.
"My documentary will be fuelled by my passion to help make people aware of just how serious this issue is, and that it's not just a passing news story that briefly gets people's attention then is forgotten," Smith wrote. "This is a consistent trend and it has to stop. Arab women, western women – there are so many sufferers."

Related
Popular in the Community