On Sunday in Cairo's Tahrir Square, tens of thousands of Egyptians gathered to celebrate the official announcement that Mohammed Morsi would become Egypt's first democratically elected president.
Yet amid the celebration, British journalist Natasha Smith reported that a group of men turned violently against her, committing a horrifying mass sexual assault.
Smith, who went to Tahrir to film the crowd for a documentary on women's rights, documented the ordeal in a blog post on Tuesday. She wrote that "the atmosphere was one of jubilation, excitement, and happiness" as she arrived. But despite the presence of two male friends for protection, Smith was quickly overcome by attackers as the crowd thickened:
Just as I realised I had reached the end of the bridge, I noticed the crowd became thicker, and decided immediately to turn around to avoid Tahrir Square. My friends and I tried to leave. I tried to put my camera back in my rucksack.

But in a split second, everything changed. Men had been groping me for a while, but suddenly, something shifted. I found myself being dragged from my male friend, groped all over, with increasing force and aggression. I screamed. I could see what was happening and I saw that I was powerless to stop it. I couldn't believe I had got into this situation.
Smith recounted being wrenched away from her friends, possessions, and clothing, trapped naked in the middle of a large group of men as she was assaulted. "All I could see was leering faces, more and more faces sneering and jeering as I was tossed around like fresh meat among starving lions," she wrote.
"I began to think, 'maybe this is just it. Maybe this is how I go, how I die. I've had a good life. Whether I live or die, this will all be over soon.'"
After several minutes, Smith reports that a friend guided her through the crowd to a medical tent, where local women helped cover her and keep the still-advancing mob of men out of the tent. Given a burka and other clothing, she escaped the tent by posing as a stranger's wife and walking out hand-in-hand with the unknown man. "The women told me the attack was motivated by rumours spread by trouble-making thugs that I was a foreign spy, following a national advertising campaign warning of the dangers of foreigners. But if that was the cause, it was only really used as a pretext, an excuse, to molest and violate a blonde young Western girl," she said.
After the assault, Smith and her friend Callum went to several hospitals attempting to seek medical attention, facing seemingly disinterested doctors and nurses at each one. She was eventually able to find proper treatment on Monday.
Smith did not respond to a request for comment from The Huffington Post.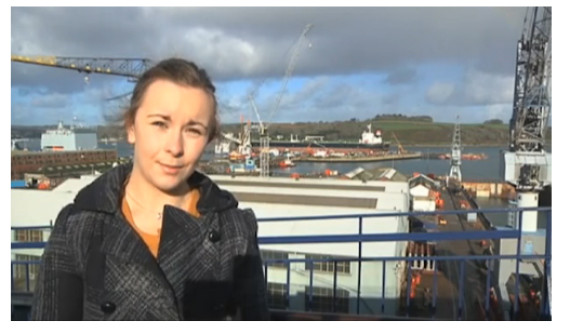 Screen grab/Natasha Smith
Other female journalists have faced sexual assault while working from Egypt in the past. CBS News' Lara Logan was attacked while reporting from Tahrir during the 2011 revolution. She described the incident in an interview on "60 Minutes," saying that men in the crowd had "raped me with their hands." Egyptian journalist Mona Eltahawy also detailed her assault at the hands of Egyptian security forces, who detained her during protests in November.
The trend, however, is not limited to high-profile cases. Egyptian women have reported widespread sexual harrassment and abuse, with 83% of local women saying in a 2008 study by the Egyptian Center for Women's Rights that they had been harrassed. Earlier in the month, a group of women who attempted to protest such treatment were abused themselves as they marched in the square.
In her blog post, Smith vowed that the incident would not stop her efforts to expose the wider issue of sexual assault in Egypt.
"I will overcome this and come back stronger and wiser," she wrote. "My documentary will be fuelled by my passion to help make people aware of just how serious this issue is, and that it's not just a passing news story that briefly gets people's attention then is forgotten. This is a consistent trend and it has to stop. Arab women, western women – there are so many sufferers."
Popular in the Community