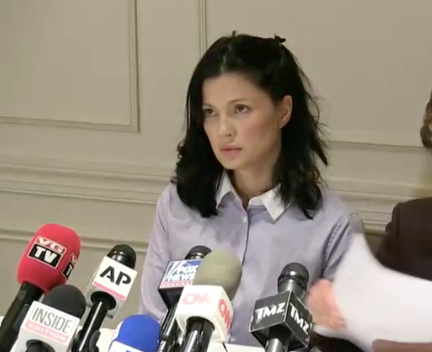 Actress Natassia Malthe has joined the growing list of Harvey Weinstein's accusers, alleging the film producer raped her after an awards show in 2008.
The actress said she first met Weinstein at the 2008 British Academy Film Awards in London. While getting a photo with Weinstein, Malthe said he asked what hotel she was staying at. Later that night, after she had gotten ready for bed, Weinstein allegedly pounded on her door, demanding to be let in.
"Horrified" that other industry people staying at the hotel would hear the commotion, Malthe said she let Weinstein into her room, at which point he allegedly took off his pants and began to talk about how A-list celebrities got to where they were by having sex with him. Weinstein then allegedly began masturbating in front of the actress, asking if she would perform oral sex on him. That's when Malthe says he attacked her.
"He forced himself on me," she said. "It was not consensual. He did not use a condom; however, he did not ejaculate inside me. I was completely grossed out. I believe I dissociated during the time he was having sex with me. I played dead."
The two later met in Los Angeles to discuss a possible film role for Malthe. When she showed up to Weinstein's room at the Peninsula hotel, another woman, whom Malthe did not identify, "took off her clothes and began giving Harvey a blow job," she said. The actress said Weinstein asked her to join in a threesome, and when she declined, the producer called her an "ungrateful cunt," she said.
"I felt that my dreams had been shattered," Malthe said.
Dozens of women have accused Weinstein of harassment and sexual assault, including rape and forcing women to watch him masturbate.
Allred has proposed that The Weinstein Company "create a substantial fund held in trust used to compensate victims," but has not heard back from the company regarding that matter, she said.
A spokeswoman for Weinstein has said that "any allegations of non-consensual sex are unequivocally denied" by the producer.
Weinstein checked himself out of an Arizona sex addiction rehab center on Saturday after just one week, saying he'd continue outpatient treatment.
Former Weinstein employee Haleyi, whom Allred is also representing, said on Tuesday that in 2006, Weinstein forced her into a dimly lit child's room at his home, where he allegedly "orally forced himself" on her while she was menstruating.
After the alleged assault, Haleyi said Weinstein rolled over on his back and said "Don't you feel like we're so much closer now?"
"No," she said she replied.
Related
Popular in the Community