Everyone speaks about Nastassja Kinski's fragility.
We sat together on the Terrazza Martini at Cannes, in white leather lounge chairs, and she, dressed in a gauzy gown, like the curtain fluttering next to us, spoke to me with excitement about her new project, a documentary on famed sports figures who are involved in a mission called "Sports for Peace." The main point of this documentary is on how these athletes inspire children. "You know, children who are shy, or come from sad backgrounds, can find strength in sports." Nastassja opened her arms and laughed. "They can express themselves, in a team."

photo by Enzo Altana
Even touching, she noted, is essential for self-worth.
She herself had found healing through the body: swimming and dancing, for example. She has danced since a little girl.
Nastassja was here at Cannes to discuss her documentary, as well as to support her friend Roman Polanski, who screened his film Tess in Cannes Classics.
"Yes, Roman and I are still close," she confided, speaking in her girlish California-German accented English. "After 35 years. We don't even have to speak, and I feel connected. He has many layers. Yes, for me, he is always to me the great director. The friend of the family." She noted how on the set, he was always ready to compliment his actors when they did a job well. He also treated everyone as an equal.
He also had been responsible, she noted, for helping launch her career. It was he who invited her to Los Angeles to attend the Lee Strasberg acting school when she was a teenager. "He showed me so many films," she laughed. "He said: if you want to be good, you have to be the best."
What did it feel like for the 50-year-old Natassia to re-see Tess this week?
"Wow!" she said. "I saw that a whole lifetime has gone by. Thirty-five years."
Since Tess, she has acted in over 40 films, and raised two daughters, one of whom is now a burgeoning actress. "At first she did not want to act, but I told her, do it. Expressing yourself feels great."
Today the native Berliner lives in Los Angeles. "I like that in America every day is a new chance," she said joyfully. "You can do it. Try next Monday! The spirit is in the music too."
She shared with me some of her favorite musicians, Lupe Fiasco, Rihanna, Kanye West, and P. Diddy. She laughed impishly and touched my shoulder -- in a very sweet way -- when I did not know who P. Diddy was.
I asked her what strength of hers that she had as a little girl she most appreciated.
"My decision-making," she said. "Making decisions."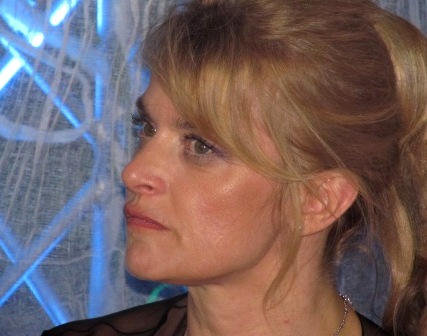 As a woman, what she most enjoyed was the feeling of being "complete. No longer insecure. I've overcome different stages in my life. I was shy and now I am not shy."
And what one piece of advice would she like to share, based on her own life experiences, to the rest of us?
"Be strong," she said. "Be strong!" she repeated with gusto. "Always believe in yourself. This is the one thing I have learned."
She waved gaily as I said goodbye: "Maybe one day we'll go swimming together!"
REAL LIFE. REAL NEWS. REAL VOICES.
Help us tell more of the stories that matter from voices that too often remain unheard.