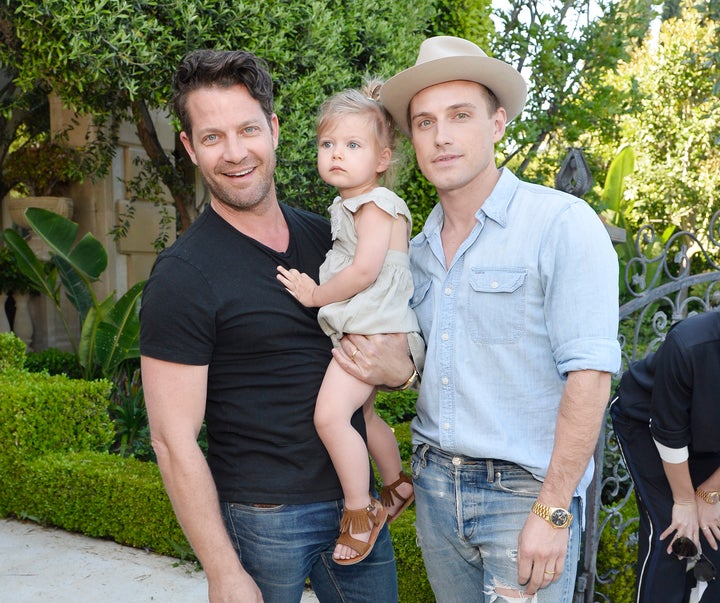 Nate Berkus inadvertently found himself the subject of a heated social media debate last week after reality TV star Derick Dillard assailed him and his family in a shocking tweet.
Dillard, however, blasted the show for "highlighting and celebrating a lifestyle so degrading to children." He seemed particularly offended that Berkus and Brent's daughter, Poppy Brent-Berkus, is featured in promotional images for the show's second season, which debuted April 7 on TLC.
The tweet had drawn more than 1,600 responses as of Wednesday afternoon, many of them negative.
"Your definition of 'wrong' is your own, and you don't have the right to tell others how to live. Judge not lest ye be judged," one person wrote. Added another: "Maybe he should read his bible again before making more horrible statements in a public forum."
When a person asked how Berkus' sexuality impacted him personally, Dillard replied:
Berkus, however, didn't seem too vexed. He responded indirectly to Dillard's remarks with a tweet featuring a photo of him and Brent posing with Poppy, now 3, and their new son, Oskar Michael.
The Duggars, who have been outspoken opponents of LGBTQ rights, are known for their conservative Christian faith.
It isn't the first time that Dillard, 29, has expressed anti-LGBTQ views on social media. Last year, he took aim at transgender teen activist Jazz Jennings, claiming in an Aug. 2 tweet that her gender identity was a "non-reality."
Like Berkus, Jennings didn't seem fazed.
"Every day I experience cyber-bullying, but I keep sharing my story," she wrote at the time. "Today was no different."
Support HuffPost
Every Voice Matters
Popular in the Community