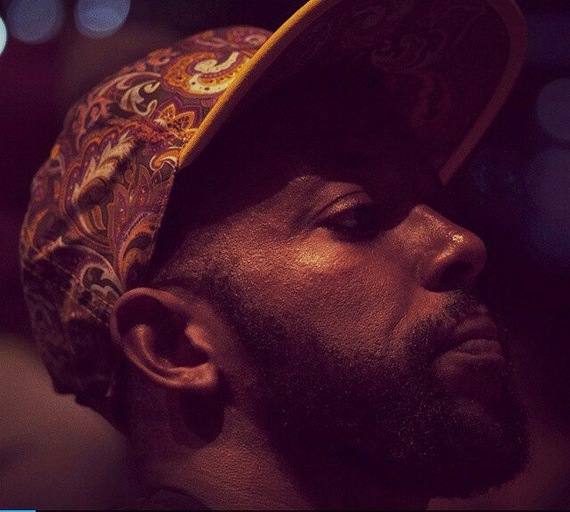 I heard about Nate Dee from a friend, who insisted I check out his art. I am a lover of art, albeit an amateur in this new found love, but I can certainly appreciate the love and passion artists put into their creations. Nate Dee was open to answering a few questions, and his answers are quite interesting and enigmatic as his art portrays. Please enjoy the explorations of this guy's beautiful mind and artwork
Who are you and what do you do?
I am Nate Dee, I am an artist, painter, muralist hailing out of South Florida2
I was born and raised here in South Florida but my background is Haitian.
Does your background have an influence on your art? How so?
The colors I use are definitely a nod to my Haitian heritage. Color is a primary focus in traditional Haitian are. it is used boldly. The colors are rich and very vibrant. In my paintings I often use very bright colors.
What inspires your work, if possible describe a real life situation?
Culture, folklore, history, society, metaphysics, animals. A little bit of everything... for example my current "Masked" series explores the projection of certain character elements by the wearer of the given animal mask framed by a given cultural context.
What themes do you pursue?
Ideas of power and how its projected by women specifically.
Art has been in my life since I was a child... I developed a relationship with it when my then baby sitter (who also illustrated for the local newspaper) would draw and work on projects as he watched us. I was transfixed as he would start out with a blank piece of paper and in a mater if 30 minutes create an entire two dimensional world. I wanted to be able to do the same. He saw my interest and let me doodle on my own piece of paper as he worked. it was then that my artistic journey started.
What is your dream project?
To be commissioned to do an official presidential portrait, I have my preferences but any president would do, lol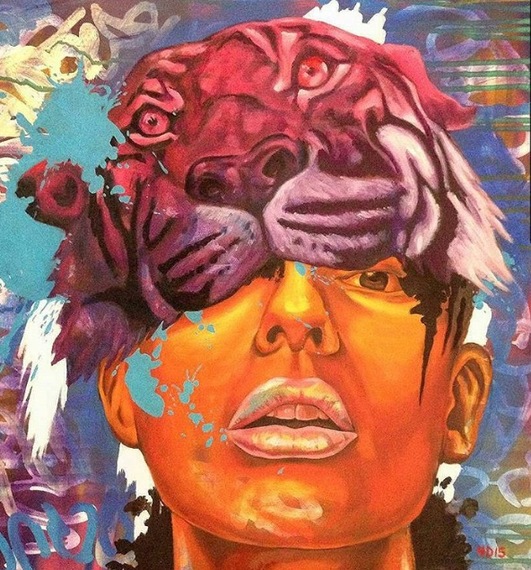 Name other artists that you admire or have been an inspiration and why?
Being in Miami I'm surrounded by so many talented artist and count myself lucky to be friends with many who inspire me in so many ways. There is Trek6 & Ruben Ubiera.. not only are each skilled in his own right... but what i really take from them is their work ethic. These guys really "go hard in the paint". They are never not working.. which is key to success as an artist, no matter how talented you are you wont accomplish much if you are lazy.
I once had a conversation with Trek and he was telling me how he is open to work with any artist... even if they are not fully realized in there skill as long as they have a good work ethic. He doesn't respect any artist that doesn't have one... after being involved on different projects with many different artists.. I really understand what he means and why he feels that way.
Another friend is street artist EVOCA1 , his raw talent constantly inspires me.
What's the best piece of advice you have been given?
"Even If you hate a project, do it as if it was the only thing your talent will be judged by."
How did you find the strength to follow your passion for a living?
After graduating from undergrad, I started teaching art but I didn't create any art professionally let alone as a hobby for just over 5 years, when I went for a certification part of the course involved me making some artwork and I realized how much i missed it. Since then I never looked back. I realized at that time that there was a void in my life that i couldn't put my finger on until I started creating again.
What were the pivotal steps or choices you made that lead you to this point?
First pivotal decisions was to go to grad school. I met a Professor/ Artist named David Chang. Through his instruction a became an entirely new and much superior artist.
The second choice was to pursue an art career with full dedication and conviction.
I am a spiritual person so the third is to show God appreciation in everything that I do, so that my path towards my goal is blessed.
What do you think is responsible for your success?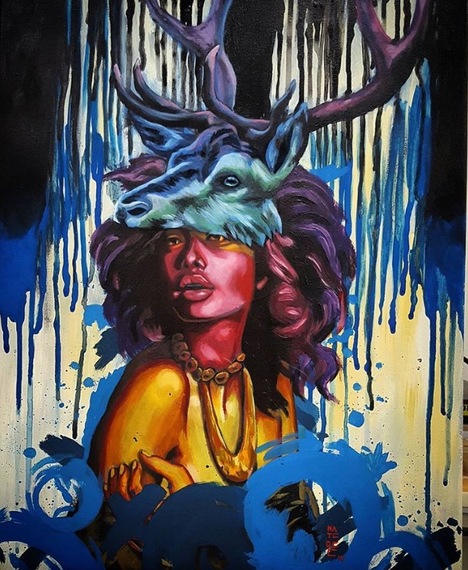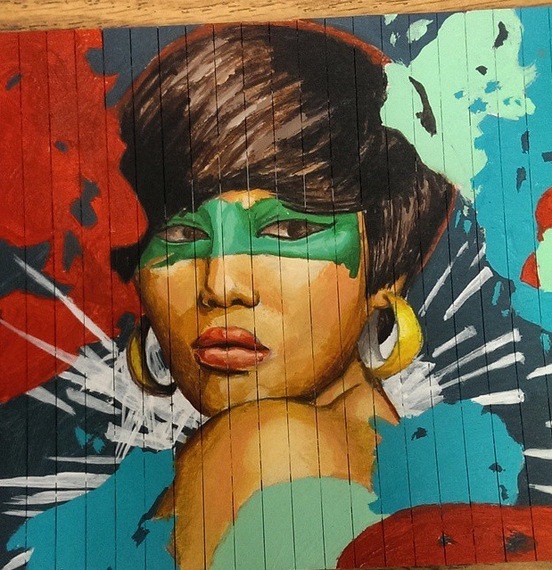 Related
Popular in the Community