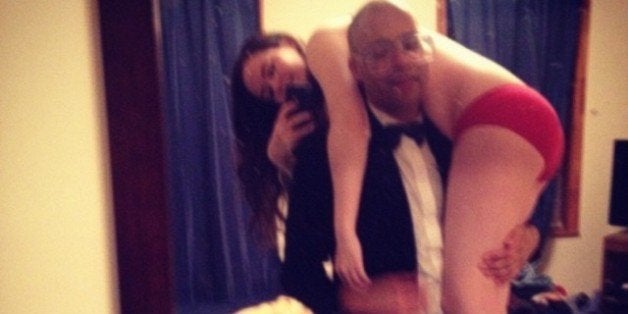 It's that time of year when the weather gets a bit cooler and you've got to pull out your winter gear--big coat, gloves, hat and scarf--there's nothing out of the ordinary about that. But one artist is raising eyebrows with his choice of 'scarves' that aren't wool or even silk, they're white women.
Nate Hill, a New York-based performance artist, is grabbing a lot of attention with his latest work entitled "Trophy Scarves" in which the 36-year-old travels to the homes of different white women and drapes them over his shoulders. Some women are scantily clad and others completely naked.
According to the official website, Hill describes the project in one succinct sentence:
"I wear white women for status and power."
Take a quick glance at the "Trophy Scarves" Instagram page and you'll see Hill dressed in a tuxedo with various women, wearing barely anything, over his shoulders.
"Well, there are people who see certain races as status symbols, and someone had to comment on that," he said. "I wanted to find another way to come at that. I guess it's the same kind of satirical, tongue-in-cheek approach that I like to take with things. I like to talk about something serious but do it in a lighter, kind of a goofy way. "
Hill has a history of grabbing attention with his comments on race. In November 2011, he caused a stir on the Harlem streets when he donned whiteface and posed as "The White Ambassador."
Popular in the Community