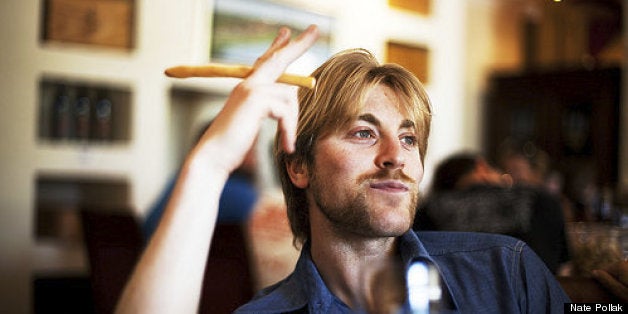 This interview is part of HuffPostSF's My SF series profiling San Francisco's best, brightest and most interesting personalities.
It's a scenario most people who slave in front of a screen all day have imagined at least once: ditching the tie, taking a sledgehammer to the computer and opening a restaurant. That's precisely what Nate Pollak and Heidi Gibson did. (Except maybe without the sledgehammer bit.)
Throwing caution to the wind at the height of the financial crisis, the San Francisco couple opened The American Grilled Cheese Kitchen down the street from AT&T Park. Now, Pollak and Gibson have a second location, a new dinner service (they'll start doing dinner seven nights a week later this Summer) and, best of all, San Francisco's trendy grilled cheese market squarely cornered.
To celebrate the new dinner service, The American Grilled Cheese Kitchen and HuffPost SF threw (what else?) a grilled cheese party in the new space.
Pollak took a quick break from the grill to talk to us about the San Francisco restaurant market, transitioning out of the tech universe and how to make the perfect grilled cheese sandwich.
So how did you come up with this? It all started in 2008. Heidi and I both worked for big tech firms and we met in the elevator. Eventually we started dating, and by the end of 2008 we'd both been laid off in the financial crises. We had no idea what to do.
Ouch. So how did that lead to grilled cheese? As a hobby, Heidi used to compete in this thing called The Grilled Cheese Invitational in Los Angeles. She'd won that competition more than anyone else as an amateur chef. I went down to help her in 2009 and people kept telling us we should open a restaurant. At the time, there were no loans anywhere; it was literally the worst time to open a business. We spent every penny we'd ever made, and on the day it opened I had a negative balance in my bank account.
So what's the secret to the perfect grilled cheese? Well, there are a lot of ways to mess it up. People often use the wrong kind of bread, but the biggest mistake is not using salted butter. You've got to use European-style salted butter so it gets an even crisp. Heidi likes maximum crisp.
What do you like? My personal favorite sandwich is our breakfast jalapeño popper. It's thick-cut applewood smoked bacon, local cheese and an apricot jalapeño relish that we make with three types of spicy chili peppers, onions, apricots and spices.
You spend a lot of time thinking about grilled cheese sandwiches, don't you? It's my business and we take it seriously. We put each sandwich through a matrix of taste, consistency and structure. For instance, when we created our mushroom Gruyere, it tasted great, but you would take one bite of it and all of the mushrooms would fall out. So now we make a mushroom tapenade and spread it on the bread before cooking.
Grilled cheese is pretty popular right now. Do you worry that it's a trend that will pass? I don't really worry about it. You're not going to eat grilled cheese every day. But you don't want to eat at the same place every day, you want to switch it up a bit. That's the beauty of having other cool restaurants around--everyone benefits. Our locations are across the street from 21st Amendment, Flour + Water and other amazing places. We're all good friends, and we're all in this together.
What's something people should know before opening a restaurant in San Francisco? Well for one, you never, ever sit down. In the restaurant industry there's no such thing as weekends, vacation or working from home.
Some chefs and restaurateurs have argued that San Francisco is too hard on restaurants. Do you agree? Very much so. The minimum wage here is higher than anywhere else in the country, and we pay our employees about 150 percent minimum wage because we really value them. The payroll taxes here are really burdensome, and the Health Care Security Ordinance is also really tough on restaurants. We think it's great and we support it, but there have been some challenges in the way it's been executed. Currently we're not charging a surcharge but a lot of places do, obviously. The public doesn't want to pay more for food, but the restaurants can't pay more. You don't even want to know what we pay per square foot for our restaurant in SoMa. There's a reason larger chains don't open in San Francisco.
Where do you and Heidi go when you're not at the restaurant? Magnolia Pub is a favorite; we love their pork chop and brick chicken. Ragazza on Divisadero. And we love Sushi Bistro. When we go out, we want to feel comfortable. We like low-key, but with food that has really high quality. We feel like that really matches who we are: someplace with exceptional food, but where they'll still seat us if we smell like cheese and bacon.
What's your long-term goal? To get a day off.
Want a perfect complement to your homemade grilled cheese? Try your hand at Nate's Smoky Tomato Soup!
6oz unsalted butter
6 Tablespoons/2oz All Purpose flour
1 teaspoon Piment d'Espelette ground
1 teaspoon Pimenton de la vera DULCE ground
2 Tablespoons balsamic vinegar
1 Tablespoon kosher salt
4 boxes (4x26oz) POMI brand strained tomatoes 1
12 cups reconstituted vegetable broth "Better Than Boullion" brand
Make a roux: melt butter in a saucepot, stir in flour and cook over medium heat 5 minutes, stirring frequently.
Add spices, vinegar and salt, blend. Yield: 9 oz soup base. Can be made in large batches and refrigerated, and used when needed.
Add strained tomatoes and broth, bring a boil for 3 minutes, until thickened, stirring frequently to prevent burning.
Taste to adjust salt and spices. We recommend a generous pinch of cane sugar.
Dollup decoratively with crème fraiche and serve.
Check out photos, courtesy of Drew Altizer Photography, from the The American Grilled Cheese Kitchen's party with HuffPost SF in the slideshow below: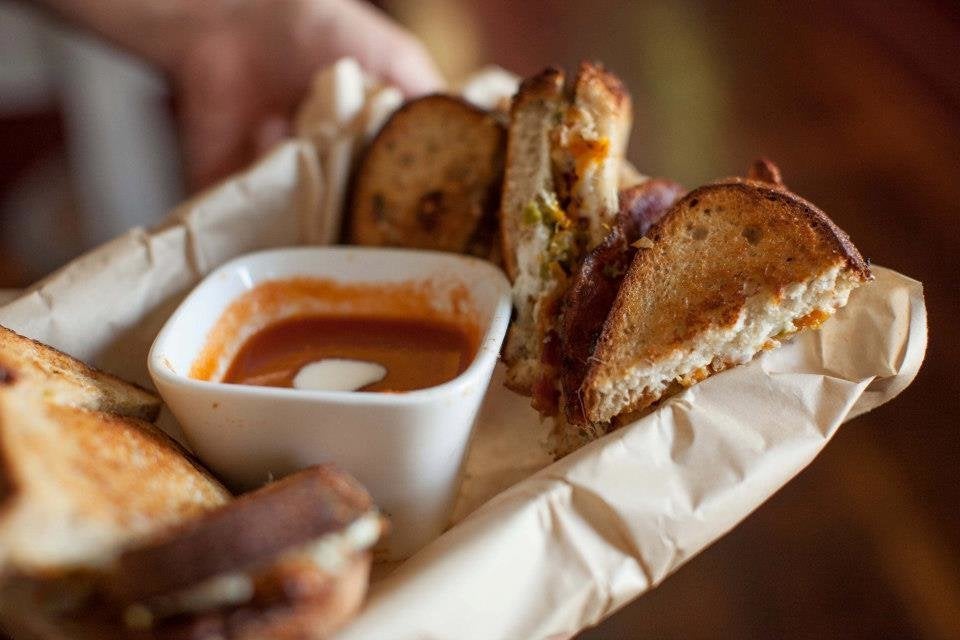 The American Grilled Cheese Kitchen And HuffPost SF
Related
Popular in the Community