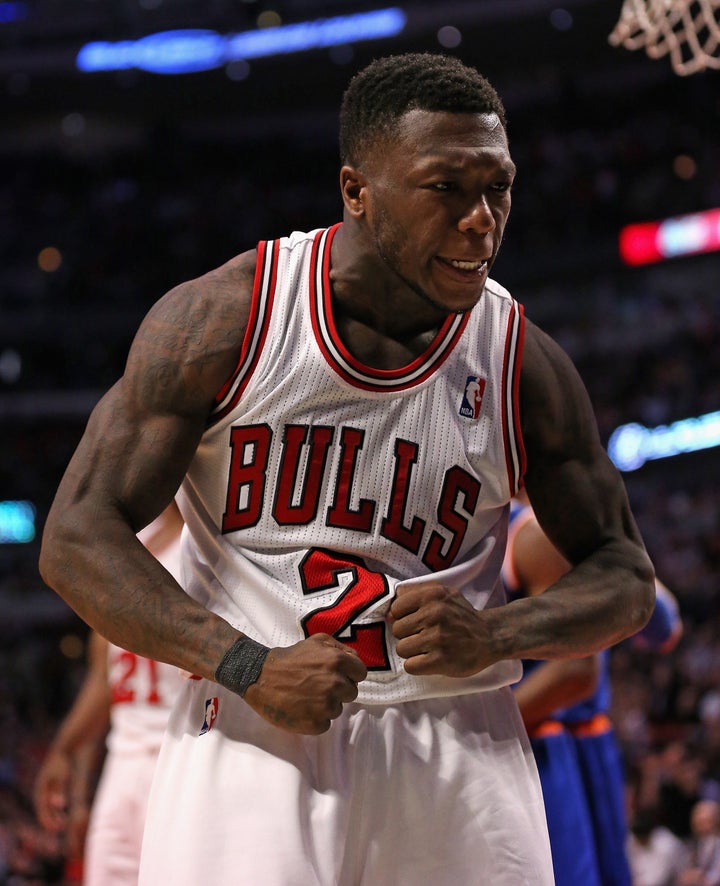 If Nate Robinson can keep this up, he will be one of the hottest commodities in this upcoming offseason when he reaches the free agent market.
If it were not for Shaquille O'Neal essentially trashing Nate Robinson in his most recent book, Shaq UNCUT, Robinson would most likely have gotten more of a look from other general managers around the league during the free agency period. Eventually, Robinson signed with the Golden State Warriors, and played well enough for the Bulls to sign the 5'9" 3-time NBA Slam Dunk Champion this past summer.
Robinson is lightning in a bottle.
At his miniature stature, Robinson can go toe to toe with any superstar on a given night when ball is in his hands. When Nate sizes up a defender, it excites the crowd, the fans at home, even the players on the court, and we all wait in anticipation to what this tiny star will do next.
Robinson has every offensive move imaginable. He can pull up from 30 feet out and drain three pointers, he can attack the rim with reckless abandon, he can get to anywhere he needs to go on the floor due to his tight dribble, and he can leap over a tall building on a single bound.
Robinson has so much confidence that he truly believes he is the best player out there on the court.
"Sure, Rose is injured all year with a serious knee injury, I'll step in and become the go to guy and the number one option in crunch time situation," would be something Nate Robinson thinks to himself. He most likely would not just be whispering words of encouragement to himself, Robinson would be proclaiming for anyone around him to hear. Robinson thinks that he deserves the shoes that Derrick Rose has left for him to fill, which at the moment, fit him quite well.
Whether or not Derrick Rose and the Bulls decide to make a return for a deep run in the playoffs, Nate Robinson has to maintain his mindset and his play, which has distinguished him as the team's best option in late game situations.
On a prime-time Thursday night game, appointment television revealed itself as the New York Knicks brought their 13 game winning streak into Chicago to play the Bulls for a chance to build on momentum while we inch closer and closer towards the postseason.
Robinson was truly phenomenal under the bright lights of TNT. He matched Carmelo Anthony shot for shot and in crunch time, he was the game's brightest star and was able to pull out the 118- 111 victory.
Carmelo Anthony registered a staggering 36 points and 19 rebounds in the overtime loss to the Rose-less Chicago Bulls, but Nate Robinson was the hero of the game registering 35 points and a +17 plus or minus while he was on the court.
Robinson is a player who can make a difference come playoff time for the Bulls. Whether Rose returns or not, Robinson is helping the Bulls build momentum as the playoffs approach and will be a crucial part of this gritty Bulls team if they happen to upset the Nets in the first round and perhaps the defending champion Miami Heat in the second.
Robinson has been playing at a high level all season long, his 35 point effort is not an aberration by any means. Rose is averaging 12.9 points and 4.4 assists. Rose has scored below double digets in only 33 percent of the team's games. He has 12 games where he has scored over 20 points and this was his second game over the 30 point mark.
Robinson is playing only 25.2 minutes a game, mostly due to Chicago Bulls head coach Tom Thibodeau's infatuation with the larger Kirk Hinrich, who gives them defensive effort on nightly basis and is a more talented defender than Robinson.
Whether it's Robinson's ability to hit the three-point shot at a high level, his ability to break down the defensive with his ball handling capabilities and take it to the rim at will, or his jaw dropping dunks in traffic, Robinson can beat you in a number of ways.
Now that he is getting his swagger back from his days in New York, Robinson can put on his superman cape and help the Bulls do the unthinkable and shock the world by defeating the defending champion Miami Heat in the second round of the playoffs.
The ball is in Robinson's court, and he knows it.
Coach Thibodeau has given the ball to Robinson and has asked him to fulfill the MVP's responsibilities: amaze and mystify your opponents and the fans, as well as win ball games.
Robinson has been spectacular in the last 10 games averaging 20.0 points per contest.
As the Bulls look for Rose to make a decision, Robinson fails to spend his time waiting, and looking over his shoulder.
The team is his when the game is on the line, and if he is able to step up and win a series or two with the Bulls riding on his shoulders, Nate the Great can expect a sizable pay raise this offseason from his current bargain of a contract, a 1 year $1,146,337 deal.
We all know the entertainer that is Nate Robinson, but now let's meet star that can fill an MVP's shoes and thrive down the stretch of ball games.
Nate Robinson is recreating his story, and we are all here to bear witness.
REAL LIFE. REAL NEWS. REAL VOICES.
Help us tell more of the stories that matter from voices that too often remain unheard.