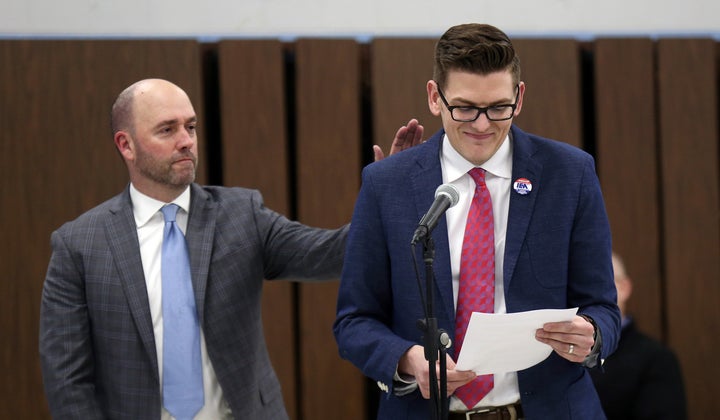 Nathan Etter, who teaches at Prairie View Grade School in Burlington, Illinois, said his first grade students reacted negatively after he received a vase of flowers from his husband, Philip Etter. The 30-year-old told The Chicago Tribune that he opted to use the interaction as a "teachable moment," explaining to students that some families have two moms or two dads.
"When the kids asked, 'Are those flowers from your wife?' I said, 'No, they're from my husband,'" Etter recalled. "There was [a] first grade response, such as 'Ew, gross.' I said, 'Oh no, friends, we're not going to have that response, because that's not showing respect.'"
That "teachable moment," however, apparently backfired. Etter was summoned to the principal's office after a parent contacted the school about his comments, according to an April 13 statement issued by the Illinois Education Association and sent to faculty and staff.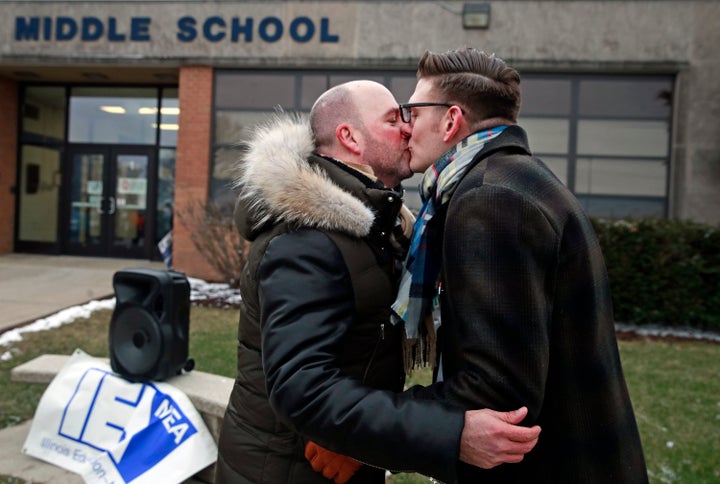 In that meeting, the statement said, he was told that the parent felt he was "using Valentine's Day as a means to celebrate his lifestyle choices." The principal, he said, advised him to "stick to the curriculum."
"The way the situation was handled has brought me great personal concern," Etter said, "and continues to cause me to question my security in my teaching position in the district."
Philip Etter agreed. "This would have never happened if Nathan received flowers from his wife," he told NBC.
About 100 students, parents and faculty members appeared in support of Etter at a standing-room-only school board meeting Monday where the incident was discussed, the Tribune reported. Some carried placards that read "We support Mr. Etter" and "Respect for all."
After Monday's meeting, Jeff Kellenberger, president of Central Community Unit School District 301, said that the district "had no further concerns and considered the matter resolved," adding that Etter's employment "was never in jeopardy."
"A primary value of 301 is we are welcome, inclusive, respectful to all faculty, staff, students and families," Kellenberger told NBC.
Support HuffPost
Every Voice Matters
Popular in the Community