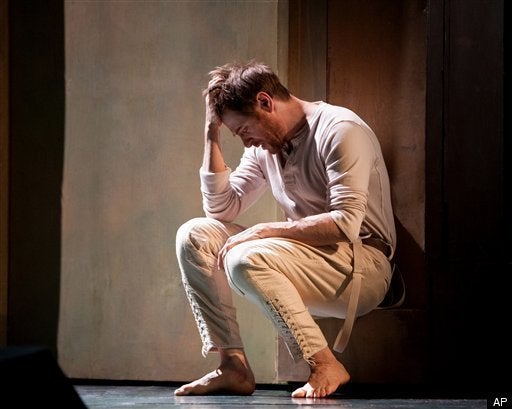 I was lucky enough to check out one of the funniest pieces of live theater I've ever seen in Los Angeles this past week. It's called The Thrilling Adventure Hour and it's performed in the style of an old time radio show. One of the best parts? It's chock full of guest stars. This performance included Community cast members Alison Brie, Danny Pudi and Gillian Jacobs, G4's Chris Hardwick and the God of the Geeks, Nathan Fillion. I got to chat with Nathan backstage before the show. We talked about the upcoming 'Castle' kiss and what that means for the show, the status of 'Dr. Horrible's Sing-a-long Blog,' his feelings on a return to 'Firefly,' Joss Whedon and what he'd love to reboot. So... anyone care to start an internet campaign to make this happen? Please?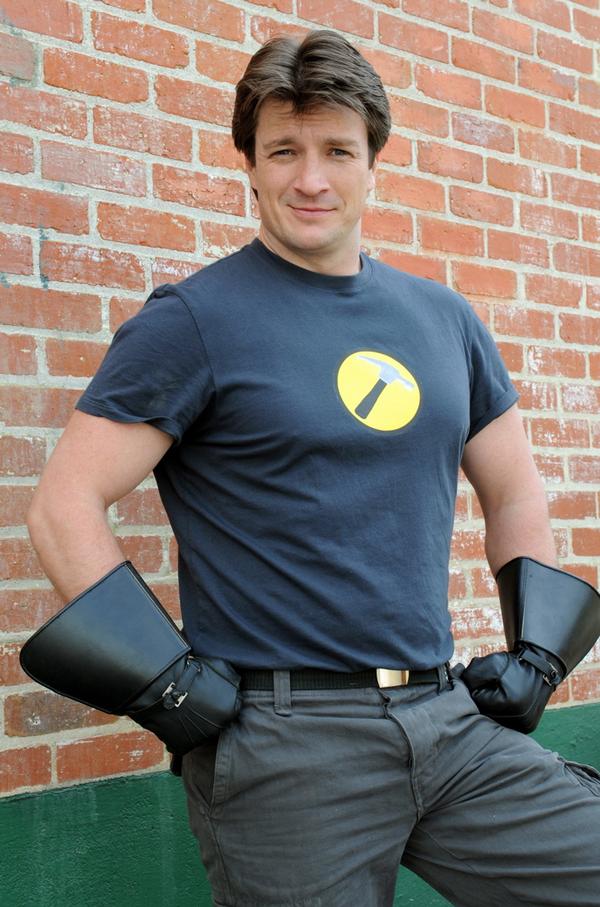 Nathan Fillion as Captain Hammer in 'Dr. Horrible's Sing-a-long Blog'
So what has it been like, the experience of doing live theater?
This is where I got my start, doing live theater. We have the advantage here that it's all scripted. I used to do an improv show, which was a little more nerve wracking. Not only is this scripted, but you actually get to hold your script. There isn't very much by way of staging. There is a number on the floor. They give you a number, "go stand on the number," it's really easy. It's like coloring by numbers, only you stand rather than color.
Are there any favorite stories you have in the show?
Sparks Nevada, absolutely my favorite. The last time I was here, I played a character, Jefferson Reed, Ace American, a Nazi-smashing super spy. That was a real pleasure. I really enjoyed that vain, kind of egotistical super dude. I like that kind of stuff. That's kind of my niche. I've kind of locked it down. Mel Gibson has kind of a one man against everybody. I have a vain, ego-maniacal super dude.
I have to ask you about 'Dr. Horrible.' Sequel? Please? Please?
I've kind of learned this about Joss Whedon. Never say never. I've learned that. I also have another rule about Joss Whedon. Never say no. Just... whatever Joss Whedon wants to do, just do it.
How can you say no to Joss Whedon?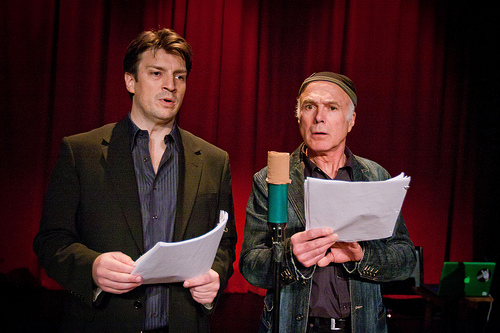 Fillion and 'Battlestar Galactica' star Michael Hogan in 'The Thrilling Adventure Hour'
Photo credit: LifeofReilly
If there was a sci-fi franchise that you could reboot and act in, what would it be?
Reboot and act in? I've said this before. I think we're running out of superheroes to do. I thought what would be really just choice for a revamp and a reboot is 'The Greatest American Hero.' I think I'd be just that kind of perfect not prepared for this kind of thing, but thrust into circumstances he's not prepared for... that's another niche of mine. Unpreparedness. Not knowing what to do. I'm good at being that guy.
Can we start a Twitter campaign?
It's one of my favorite shows!
That's actually something I would speak to Stephen Cannell (Executive Producer of The Greatest American Hero) about, when he would come and do episodes of 'Castle.' I'd say, 'So hey, that 'Greatest American Hero,' you're not really doing anything with that now, are you?' Kind of putting the bug in his ear all the time.
So give us a little scoop on 'Castle.'
Well, this has just hit the airwaves, that Castle and Beckett have finally had enough of the tension and they finally lock lips. They finally do the tongue wrestle, the lip lock, the mouth push-ups... what can we call these? [laughs]
Mouth push-ups? I've never heard that one. [laughs]
Me neither. I'm making these up right now. The tongue twister... not the kind you're thinking. How's that?
[Laughs] So is it just a kiss?
Just a kiss? Not the way they do it. I don't think you can fairly watch what we're doing and say, oh it's just a kiss.
That's one of the things about shows like this...when there is tension, and it's resolved, it can be an issue. But you guys have a really smart show, so I'm not really worried.
I agree. And Stana (Katic) and I disagree on this. She says we're perfectly capable of putting these two together and having the show survive. I say, personally, I love watching the characters that I love on television fail. I love knowing better than they know. I love it when they're flawed and they need to grow and they need to learn something... not one at a time. They both have to do it at the same time. Even when one's ready, the other is not. There is always this kind of ill-timed thing. It's always, 'never the two shall meet.' And I think our writers have been excellent at performing that very difficult dance and making it a tease without going, 'nah nah, it's never going to happen.' It's always just about going to happen. They're getting closer, then they get farther. Then they get even closer, then they get even farther. Like they can't win for trying. That's what I enjoy. I enjoy being smarter than the people I watch on TV.
One of my favorite things about the show is the relationship your character has with his daughter.
You missed it! Molly (C. Quinn) was here last night. I haven't seen her in a week and a half. She wasn't in this episode we're doing right now. I enjoy her tremendously. The only problem I have with her... when she started the show, she was fourteen, going on fifteen. Now she's seventeen years old. It's tough meeting someone and going, 'Oh my god, you're the greatest little kid. And...oh my god, you're actually becoming an adult.' I don't even want to know. 'Don't talk to me about boys. I don't want to know about that. Okay, here's what you've got to do. Don't call him back! No... okay.' I get twisted up! It happened to me on 'One Live to Live,' right about the same age. I had a younger sister on the show. And all of a sudden she's grown up and getting her own apartment in NY. And I was like, 'What? You're a child!' And she was like, 'Nathan, I can vote.' Arrgh. It was driving me nuts. Watching someone you consider a little sister and feel a certain amount of responsibility for grow up. I think that's a difficult thing. And I'm not even a father! I have the sin of pride when it comes to Molly. I don't know why. I am not responsible for her amazing-ness in any way. She has great parents. I get all, I don't know, wrapped up. It's tough. It's tough for guys who play people's fathers! [laughs] It's tough for people who play fathers on television.
Will you be doing anymore 'Firefly' references? Because those are fantastic.
That's another thing. I'll never say never. I was... I'd had shows and pilots canceled on me and it broke my heart. I decided, I'm not going to fall in love with a TV show anymore. It's just a business. It's a work thing and there are no guarantees in Hollywood. And I fell in love with 'Firefly.' I had just long enough with it to just sink in deep. I loved it from day one. I really loved that show. I was the guy running around going, 'Don't worry everybody! I know it's looking kind of dark, but we're doing a great job. We're doing a great show. We won't get canceled!' Boom. We get canceled. Ugh, I was so heartbroken. And Joss said, 'I'm going to find another home for 'Firefly.' We're going to do something else with 'Firefly.' But it was already too late. I was like, 'Too late! Good luck with that Joss! Whatever. I'm going to go home and eat ice cream and drink myself into a stupor.' And I did. And then he did! He got us the movie. He got 'Serenity' for us. Joss has taught me so much and one of the things he's taught me is, never say never...there is nothing in the works. There are no talks with Universal. No talks with 20th. But I've just learned, never say never. Why not?
I know Jewel Staite just tweeted that she found a box of 'Serenity' memorabilia and it contained a drawing that you did of a middle finger. Want to explain that?
That was a thing... [laughs] you know, you're hanging out on set all the time and all of these people are your best friends. That was my thing with Jewel, one of our many games we would play. One was, I'd give her a compliment that I'd always wrap up with, 'if you like eating horse sh*t.' Then the other game was, find the extra. When you're doing a scene, there's always one of them staring at you in a weird way... I would have them turn their backs and count to ten and hide in a crowd of extras, staring at them in a hee-bee gee-bee way. And they'd have to find me. The other one was how many different ways could you give each other the finger? And you can get really creative. On a sci-fi show, you've got a lot of props, you've got a lot of stuff going on. You've got a holster. That was always a fun one.

If you want to check out 'The Thrilling Adventure Hour' while you're in Los Angeles, you can get tickets here.
Support HuffPost
The Stakes Have Never Been Higher
Related
Popular in the Community