The first question posed in Philosophy 101, a course frequently described as an introduction to the art of critical thinking, is some variation on, "How do you know what you know?" About -- whatever. A challenging question when applied to the subject of Jesus and Mary Magdalene. Depending on the teacher, Part B of that query might be, "And who told you so?"
The world premiere of The Gospel of Mary Magdalene is now at San Francisco Opera through July 7. Popular baritone Nathan Gunn portrays Jesus, referred to here as Yeshua. No matter the format or venue, even for the most equipped candidate, acting-out the Son of Man is not an opportunity that comes around very often. Nathan has sung the role in Bach's oratorios, The Passion of St. Matthew and The Passion of St. John. But the plot has thickened in this unorthodox opera by Mark Adamo and the familiar characters are pushed through an altered lens. In this story, Yeshua's illegitimacy is common knowledge. Life has been about sustaining an immutable social stigma. When Yeshua challenges the wisdom of the Elders, they dismiss him with, 'But we were not born of fornication!' His mother, Miriam endures the never-ending snubs and half-muttered insults. She even absorbs a cheap shot from her son: 'My mother and brothers? Who are they? He who does not leave [often translated as "hate"] his family loses the kingdom of Heaven'. Adamo's libretto leads Yeshua to a life-altering realization: God is my father.
But how will Yeshua triumph over years of accumulated resentment and arrive to this theological innovation, this new orthodoxy? With the extant fragments of The Gospel of Mary in hand, Adamo's Yeshua is transformed, as are many heroes, through the love of a good woman. Though the subject of Jesus' wedding night with the Magdalene has been a hot topic for at least a couple of generations, the graphics that accompany the event and its larger purpose continue to pique if not sting the collective imagination. But, for the present, mezzo-soprano Sasha Cooke is beautifully persuasive as Adamo's Mary Magdalene. And it's certainly no mystery why People Magazine had its eye on Nathan Gunn for Sexiest Man Alive or that his broad range of fans continue to check him out on the site known as Barihunks. It's just that -- with the composer's alluring score and the scattered pillows -- some of us took a deep breath as the lights began to dim and the happy couple climbed into the nuptial bed.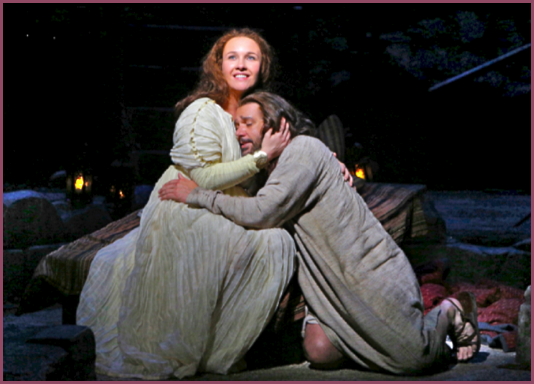 Sasha Cooke (Mary Magdalene) and Nathan Gunn (Yeshua)
Photo, Cory Weaver/San Francisco Opera
I met with Nathan the week before opening night. I told him I couldn't resist asking, "So, what's it like to play Jesus?"
He laughed. "Yeah, right. I think what made it possible for me to even consider playing this role is that he is called 'Yeshua'. The idea that intrigued me was that we would tell a story of people. So, my goal was to make the audience forget they are actually watching an historical figure and start to relate to him as somebody who is newly introduced. That takes some of the pressure off. The story is primarily about Mary Magdalene and her being his beloved and most important disciple. That also deflects a little bit -- it takes us into another direction and around the corner. It makes it easier for me to approach the character and feel that I can somehow relate to him."
For Adamo's re-imagined Jesus, the rallying point is far removed from the vision of Bach or the embroidered screenplays fashioned for Jeffrey Hunter, Max von Sydow and Hollywood's silent but golden saviour, H.B. Warner in Cecil B. DeMille's 1927 epic, King of Kings. No sidelong glances at the Magdalene woman here! Does Adamo's infusion of true sexual energy alter the face and sound of Jesus? I asked Nathan about his approach to Yeshua and his actor's question of, 'What is my motivation for being in the room?'
"It differs a little bit for every character I portray," he said. "A lot of it has to do with this being a brand new piece. Mark talked to me about it before the libretto or anything was written. He wasn't sure I'd say yes because he knows I'm an Episcopalian and that I'd grown up very religious. I've studied and enjoyed reading all the gnostic gospels. That could have been a different road for me. I think if you don't ask the questions, you're not really able to make a decision. To me, it was all a very interesting project. Of course, Mark has gone in his own direction which is different than the one I thought he would go. But that's OK, it's provocative. My character is informed by Mark's libretto, his musical style and motifs. It took a while to decide where Yeshua is coming from and what motivates him -- which also depends on the direction that Mary, Miriam and Peter take. I had ideas about where they would go with their characters, but I wasn't the one making the decisions."
I asked Nathan about the degree of spontaneity during rehearsals.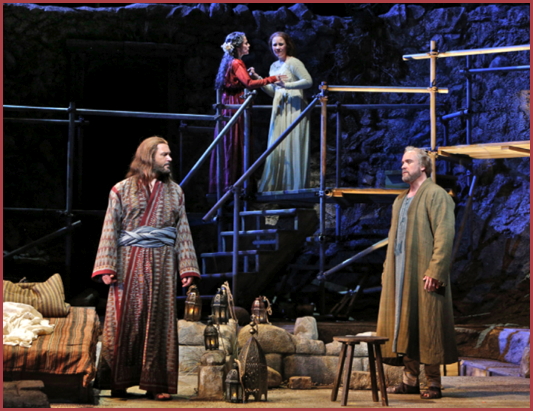 Nathan Gunn (Yeshua), Maria Kanyova (Miriam), Sasha Cooke (Mary Magdalene) and William Burden (Peter)
Photo, Cory Weaver/San Francisco Opera
"There is a moment with Peter where he is vehemently against Magdalene being brought into this inner circle of men whose mission is to progress spiritually and to liberate the Jewish people from the tyranny of Rome. Peter basically says, 'We can't do this. You are going to destroy what we planned on doing.' Then I have a line that comes from the Gospel of Thomas, 'I'll make her male.' What he means is, 'I'll make her think like we think' -- not something else. It's a weird way of saying it, but that's how it translates -- "I'll make her a philosopher." It was delivered in very much of a student / teacher kind of way. There's not a lot of levity in this show and there aren't many opportunities to show how close he and Peter really are. So, for fun, I took it in a much more casual direction so that it became playful. Like, 'C'mon, buddy!' -- that kind of male conversation. Bill played off it very well. I took out the profundity and made it about two guys who are very close. Sort-of how I was with my voice teacher, William Miller, who was definitely my mentor, but also my very dear friend. I was 20, he was 85. After our lessons, he'd say, 'Do you want to get a beer?' and we would talk. It was a very different relationship. That's what this scene with Peter is really about. It's about me saying, 'My friend, she is my soulmate and I love her. It will be OK. C'mon, help me with this, I need your support.' And then, 'Alright, I'll support it, even if I don't believe what you're doing is necessarily right.' That's how it went. The direction was so much nicer than Peter just following begrudgingly."
The sense of benevolence that goes with a master / apprentice relationship is very present in Nathan's performance and in his heart. For the student singer, the exchange is about acquiring a solid technique. In Nathan's case, that happened through another professional singer -- one who proved the reliability and effectiveness of his technique throughout his own career. Thus, the teacher's message lives on through the disciple -- you can hear it. When Nathan was still a senior at the University of Illinois, a panel of judges at the Metropolitan Opera heard what they needed and then signed him into their Young Artist Development Program for two years. Soprano Beverly Sills added her blessing in 2006 when she made him the first recipient of her annual vocal award.
Nathan describes his mentor, William Miller, as a combination of Grandpa Simpson and Yoda. He gives him full credit for his vocal prowess. "It wasn't the school at all," he says. "I was an Open Studies major in order to study with him -- because he was a Professor Emeritus. My major was actually in German art song and pianist John Wustman was there. His plan was to do all the songs of Franz Schubert. As an undergrad, he told me I did 400 hundred performances of 180 Schubert songs. I would coach with him, take German and poetry classes, study technique with Bill Miller and perform the lieder. The combination was great."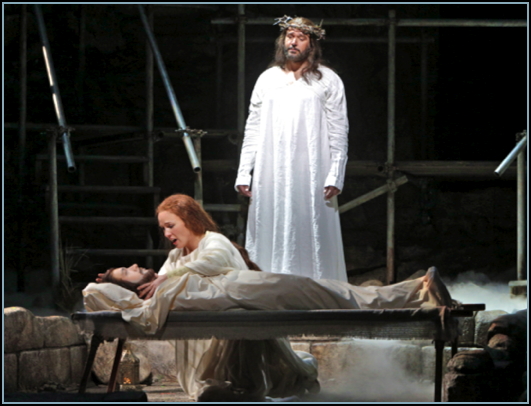 The Gospel of Mary Magdalene - Sasha Cooke and Nathan Gunn.
Photo, Cory Weaver/San Francisco Opera
"Where did you think all that German lieder was going to take you?" I asked.
"I didn't think about it. My parents must have been terrified! When the Met asked me to be in their Young Artist Development Program, I wasn't so sure I wanted to do it. But I accepted and was in the program for two years. I watched the greatest artists on the planet, coached with excellent singers, and found a love for the art form that fit my other kind-of weird loves for music. I knew I wasn't going to be the kind of baritone that sang The Elixir of Love all the time."
Nathan knew he was bent towards Mozart, Benjamin Britten and contemporary works more than the standard bel canto repertoire.
"For me it was Billy Budd. I was the Novice's Friend and Billy's second cover when it was done at the Met. I was 26and couldn't quite sing Billy yet. Two years later, I was offered the role in David McVicar's new production at the Lyric Opera of Chicago. Everybody said, 'You've got to sing this role!' Onegin was another role I was looking forward to in the future. But once Billy came about, I started singing it everywhere in almost every production on the planet. I did a full circle last year when I got to sing Billy at the Met. It was an interesting experience, because I found what I'd been missing at the conclusion -- the understanding that his real strength didn't come from his physical strength. It came from his being terrified to die, but being willing to do it for somebody he loved. I then realized I had maxed-out. At the end of that run, while I was waiting for the flight home and talking with my wife, I said, 'I think I've said good-bye, that's it.' It was a decision I'd made -- to pass the torch and let younger singers do the role from now on. It was really like saying good-bye to a friend. It was brutal."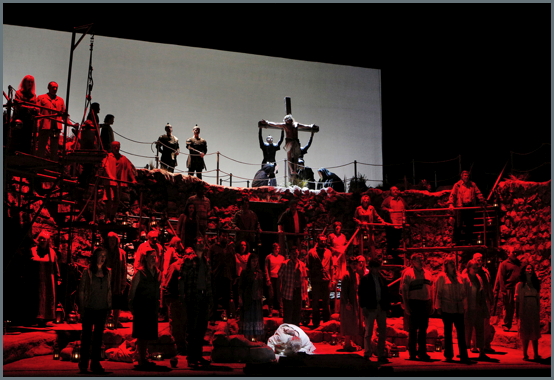 The Gospel of Mary Magdalene
Photo, Cory Weaver/San Francisco Opera
I then offered that Billy provided him the Jesus/Yeshua Connection -- 'I'm willing to do this for a friend.'
"Yes, for the people he loves. He knows that's what he's there for, he has to do it. He doesn't know exactly why, but he knows he has to go. We don't see the end result. We just see these people, they're friends. Something higher connects them, an underlying wisdom. I think you're absolutely right about Yeshua. He is essentially sacrificing himself for his friends and for everyone. And realizing that being the messiah, as he is called, is not about the violent overthrow of anybody, but the acceptance of everybody. That is an interesting message to give. For me, that helps with the whole Divinity stuff. As I said earlier, what I hope to achieve is that the audience will forget they're watching historical figures and start to relate to them and empathize and perhaps become cathartic somehow. Like at the end of Billy Budd. The first time I did it in Chicago, my music teacher came. She said she wanted to stand up and say, 'Don't hang him! He's a good boy!' So, I'm hoping there will be people in the audience saying, 'Don't do this. Stay with Mary, have a family, love your life, don't say good-bye' -- even though that's a heretical thing to say. Which is interesting, right?"
Click here to get better acquainted.
Calling all HuffPost superfans!
Sign up for membership to become a founding member and help shape HuffPost's next chapter