Anyone can tell you who's already made it, but HuffPost Arts & Culture's On Our Radar series is here to tell you who's about to blow up -- and, in some cases, go pop.
There was something so deliciously ugly about Nathan James's paintings that had us hooked from the start.
The UK-based artist's sinister scenarios are as beguiling as they are grotesque, echoing an impressive canon of artists including Weegee, Francis Bacon, George Condo and Peter Saul. We reached out to James to learn more about his warped and wonderful aesthetic. Scroll down for images.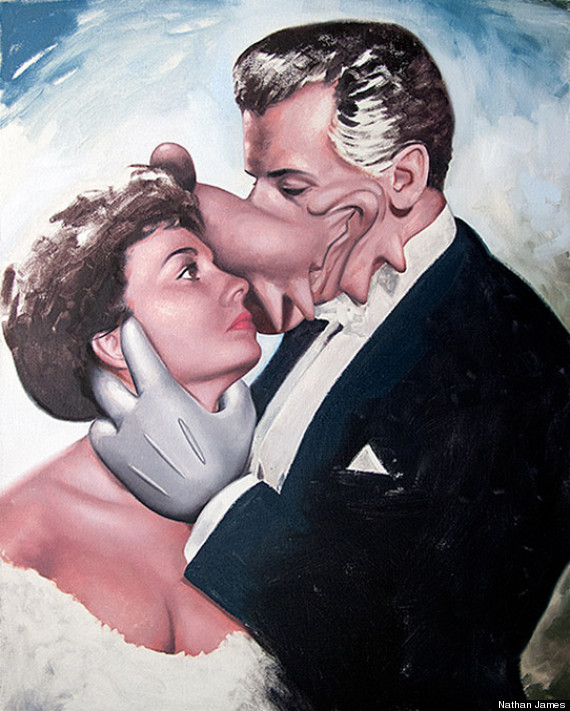 HP: How would you describe your style?
NJ: When I first started making this new work it was quite a massive break from the clean, hard-edged pop-style paintings that I'd been making before. I'd gone through kind of a tough period and was feeling pretty low. I'd once read a thing in the liner notes for a re-issued copy of the Ramones album, Rocket to Russia, about how the genius of that band was their ability to celebrate dark, depressing aspects of their lives by using the styles and conventions of the popular music of their youth, and twist it into a kind of demented pop anthem. That's something that really resonated with me. It's Pessimist Pop.
HP: Who has influenced your work?
NJ: Stuart Shave had a Nigel Cooke show a year or so ago that completely blew my mind. I absolutely love his work and it made me fundamentally want to change what I was doing. Lately I've also been looking at a lot of Dawn Mellor, Kaye Donachie, George Condo, John Currin... painters mostly. I'm a big painting nerd.
Interview continues after the slideshow.
PHOTO GALLERY
Nathan James
HP: What are the lowest and highest points in your career so far?
NJ: I had back surgery in early 2010 to remove a portion of two herniated discs. While I was recovering I started thinking about different ideas I wanted to explore with my work. My recovery was slow, studio time limited, and the fruits of my experiments were not appreciated by the galleries I was then working with. I approached a couple of these galleries with with the idea for what became my solo exhibition, Creepshow, and they all said no. A New York gallery cancelled the solo that we had booked and dropped me, along with my main London dealer...and a gallery in Germany that had offered a solo show stopped returning my emails.
I really liked what I was doing. It felt right but in that situation I couldn't help but think, "They can't all be wrong, can they?" That's definitely the lowest I've been. From there my friend Justin Quirk decided to do the show independently. The high point is easy to pin down: when Jake Chapman got in touch to say how much he liked what I was doing.
HP: What are you obsessed with right now, or what's inspiring you?
NJ: I'm completely obsessed with 3D printing. In my spare time I've been buying up parts to build my own printer; I've been teaching myself various 3D design applications via online tutorials. I'm not sure how or if it will feed into my work but everyone needs a hobby, right?
HP: What movie/book/artist are you embarrassed about not knowing?
NJ: Yesterday my friend sent me a link to an essay, "The Ecstasy of Influence," that Jonathan Lethem wrote for Harper's in 2007. It was so perfectly pertinent to to my work that I was ashamed that I hadn't read it or heard of him before.
HP: How would your childhood art/music teacher describe you?
NJ: Well, now I'm married to a teacher, and I'm not proud of this, but I was a horrible high school student. In college I wasn't great either, but my academic career in high school was particularly atrocious. I think I actually failed 11th or 12th grade art. My then art teacher, Ms. Balford, would probably be surprised to learn that that I ended up becoming a professional artist. I imagine she'd say that I was a nice kid, but wasn't dedicated or focused enough, skipped class too much and when I was there, was often too stoned to participate properly.
REAL LIFE. REAL NEWS. REAL VOICES.
Help us tell more of the stories that matter from voices that too often remain unheard.
BEFORE YOU GO