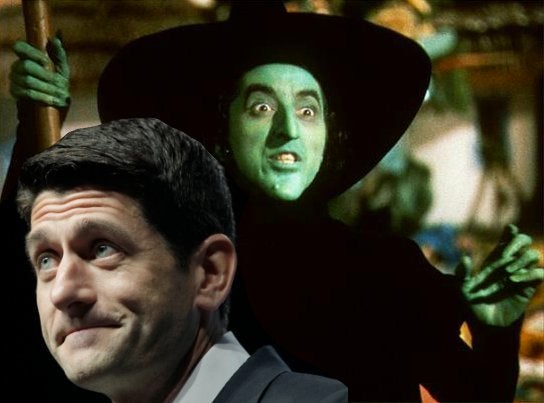 WASHINGTON -- Actor Nathan Lane thinks Paul Ryan's proposal to dismantle Medicare is so sinister that he might be the modern-day incarnation of another evil character: the Wicked Witch of the West from "The Wizard of Oz."
During a Friday night campaign event with Vice President Joe Biden, Lane cracked several jokes at the expense of Ryan and Mitt Romney, according to pool reports.
Lane pointed out that Romney is fluent in French, which means "he can flip-flop in two languages." He also encouraged attendees to go through the medicine cabinets at the home where the event was held and take whatever they needed, a practice he said Republicans refer to as "our plan to save Medicare."
Speaking of Medicare, Lane turned his attention to Ryan's plan to turn the program into a voucher system. "I think his precise words to Medicare were, 'I'll fix you, my pretty,' as he rode off on his broom," he said to laughs.
Others at the gathering, which took place in the Hamptons, included musician James Taylor, Sens. Kirsten Gillibrand (D-N.Y.) and Frank Lautenberg (D-N.J.), and Rep. Tim Bishop (D-N.Y.). Lane lamented that actress Edie Falco, a co-host of the party, couldn't be there because she was filming her show "Nurse Jackie."
"I love 'Nurse Jackie'," Lane told the group. "She can't get through the day without Vicodin, Adderall, Percocet, Xanax and Oxycodone, which oddly enough also happens to be the names of Mitt Romney's five children."
Even Biden, the guest of honor at the event, couldn't escape Lane's ribbing.
"Welcome to Joe Biden, unchained," Lane said at the start of the night, a reference to Biden sparking controversy this month by telling a Virginia crowd, which included African-Americans, that Wall Street wants "to put y'all back in chains."
Calling all HuffPost superfans!
Sign up for membership to become a founding member and help shape HuffPost's next chapter
BEFORE YOU GO
PHOTO GALLERY
Political Reaction To Mitt's VP Pick