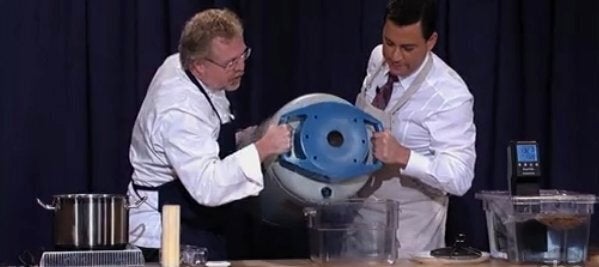 He poaches ground beef patties sous vide for half an hour, then plunges them in -321 °F liquid nitrogen for 30 seconds, freezing the very outer layer. Finally, he deep-fries the burgers, ensuring a crispy shell without a gray interior.
Sound crazy? Myhrvold stopped by "Jimmy Kimmel Live" to demonstrate his technique. Not surprisingly, he breaks out the liquid nitrogen pretty quickly. Between the sous vide bath, the nitrogen and the hot oil, Myhrvold's demonstration is pretty fascinating to watch.
In the second clip, Kimmel gets to taste this ultimate burger. "The meat, it's very strange," he says. "The consistency is so smooth."
Is all the effort worth it? Check out the clips below and judge for yourself:
Related